When you feel the need for speed, check out the .357 Sig. I'll confess right up front that I like quirky calibers, but only if they bring something interesting to the table.
The .357 Sig has been called a lot of things. Three stand out:
A 9mm on steroids.
Expensive.
Loud.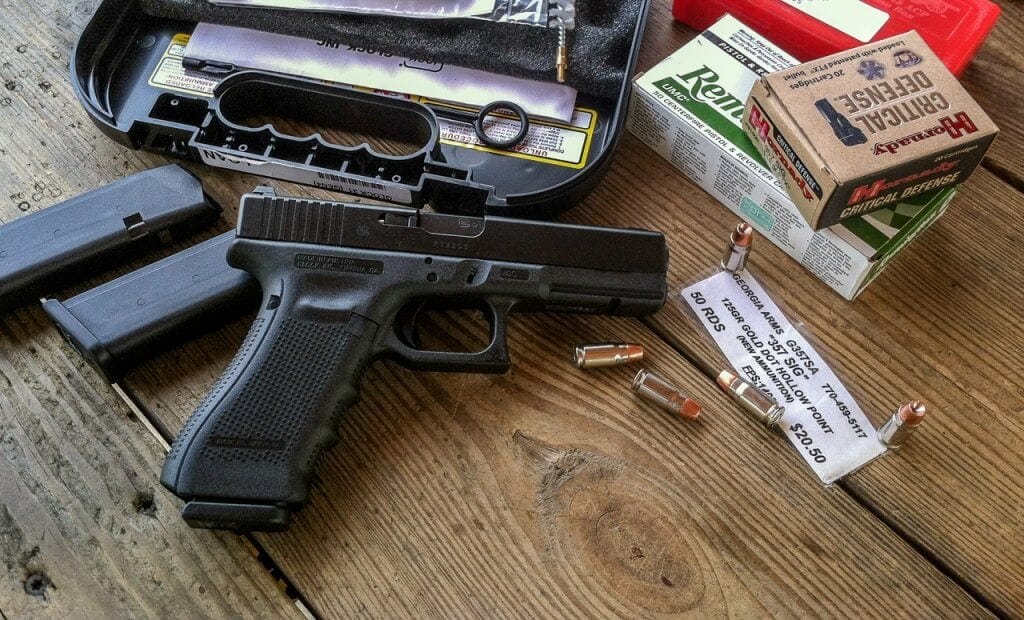 All of those are true, but it's also true that the caliber has been used at various times by some fairly interesting law enforcement agencies including various State Trooper organizations, the Texas Rangers, the Air Marshalls, and even the Secret Service. I have to think that it's not coincidental that many of these find value in the velocity and penetration given their frequent proximity to vehicles.
The .357 Sig is often described as a "necked down" .40 S&W. That's not true. Even though some reloaders do it, the case of a .357 Sig is NOT a .40 S&W case with a re-shaped mouth. If you do that, you'll end up a hair short of the proper case length for the .357 Sig. However, it is "like" a necked down .40 S&W. The base of the case shares the same dimensions, so magazines are generally compatible. At the fiery end, the case mouth fits a 9mm projectile.
Since the .357 Sig is "like" the .40 S&W in terms of some of its key dimensions, magazines are almost always compatible between the two. In fact, with the pistols mentioned here, the factory provided the same magazines as they do for their .40 S&W pistols in the same model family. As you might guess, capacity almost always matches that of a gun's .40 S&W sibling. I've yet to find one where the same gun in those two calibers differ in magazine capacity. If you're like me and sometimes want more than the standard 9mm, but don't want to sacrifice capacity to the degree that a .45 ACP requires, it's an interesting option.
Back in the 1990s, the folks at Sig Sauer dreamed up this caliber with the goal of replicating the proven performance of a 125-grain .357 Magnum fired from a four-inch barrel. Does it?
In my velocity testing using five different .357 Sig pistols, a Sig Sauer P229, P226, P320, Glock 32, and Glock 31, I've gotten pretty darn close with a number of loads using 125-grain bullets. These are my phonograph measurements (15 feet from the muzzle) and not manufacturer claims.
| | | |
| --- | --- | --- |
| Ammo | Pistol | Velocity (fps) |
| Cor-Bon JHP | Glock 31 Gen IV | 1,468.7 |
| Cor-Bon JHP | Sig Sauer P320 | 1,449.0 |
| Doubletap Bonded Defense | Sig Sauer P320 | 1,438.0 |
| Doubletap Controlled Expansion JHP | Sig Sauer P320 | 1,522.3 |
| Sig Sauer V-Crown | Sig Sauer P320 | 1,415.6 |
| Winchester PDX1 Defender | Sig Sauer P320 | 1,426.0 |
If you're a reloader, you can break the 1,400 fps barrier without having to stray outside of published (and tested safe) loads. I've put together several using powders like Longshot and Power Pistol that work just peachy in that velocity range.
Of course, if you want to stray from the "traditional" 125-grain bullet weight, things get interesting. I've clocked 100-grain Cor-Bon Pow'Rball at over 1,600 feet per second from both a Glock 32 and a Sig Sauer P320. The Barnes all-copper TAC-XP hollow-point screams along even faster. From that same P320 pistol, I measured the 80-grain bullet at a whopping 1,782 feet per second. If you prefer more than standard weight, you can find (or load your own) 147-grain bullets and get them moving at right around 1,200 feet per second. The .357 Sig is a versatile round, no doubt.
With all that velocity, expansion performance is usually epic. I've gel tested both the Barnes TAC-XP 80-grain and the Sig Sauer 125-grain V-Crown load, and both doubled in diameter after passing through the standard FBI four-layer cloth barrier. The Barnes bullets expanded past maximum diameter and all petals bent back during their travel.
If you're an energy freak, you'll love that the .357 Sig gets you into 500+ foot-pound territory with a semi-automatic pistol. A 125-grain bullet moving at 1,450 feet per second gets you about 585 foot-pounds of kinetic energy at the muzzle. Fired from both a Sig Sauer P226 and a Sig P320, that 125-grain Doubletap Controlled Expansion round broke the 600 foot-pound barrier with energy levels of 612 and 643 foot-pounds respectively.
Recoil is sharp, as you might expect, but not hard to control. Physics is physics, and you're pushing a bullet a few hundred feet per second faster than a comparable 9mm pistol. Subjectively speaking, I much prefer the recoil of the .357 Sig to the .40 S&W in the same gun, but that's just my opinion. The more noticeable difference is in muzzle blast and noise. When you fire a .357 Sig defensive load, you'll know it.
So what's not to love? Usually, the answer to that question boils down to cost. As a not-quite-mainstream caliber, prices are significantly more than those for 9mm, especially for practice ammo. The defensive stuff doesn't usually carry the same premium, and you use a lot less of it on a yearly basis, so it's the range time that will cost you. On the other hand, if you reload, the cost is barely any different than that for 9mm. Many standard 9mm bullets will work just fine for .357 provided they have a long enough bearing surface combined with a short enough nose profile to meet seating and overall length requirements.
I've resigned myself to the fact that it'll never meet the popularity of 9mm, .40 S&W, and .45 ACP. That's OK. I still dig it.