The Smith & Wesson Model 60 bridges gaps. I've owned a few Smiths over the years, J-frames mostly, but I've got a 686 that I'll never willingly part with. The 686 is a monster with a 6″ barrel, and most of the J-frame .38s I've owned were snubbies with short grips, but the 3″ S&W Model 60 feels like the perfect blend between the two.
The Model 60 has a full-sized grip, and a 3″ barrel, but it still runs .357s without punishing recoil. It is big enough, without being too big, and small enough to carry comfortably and conceal.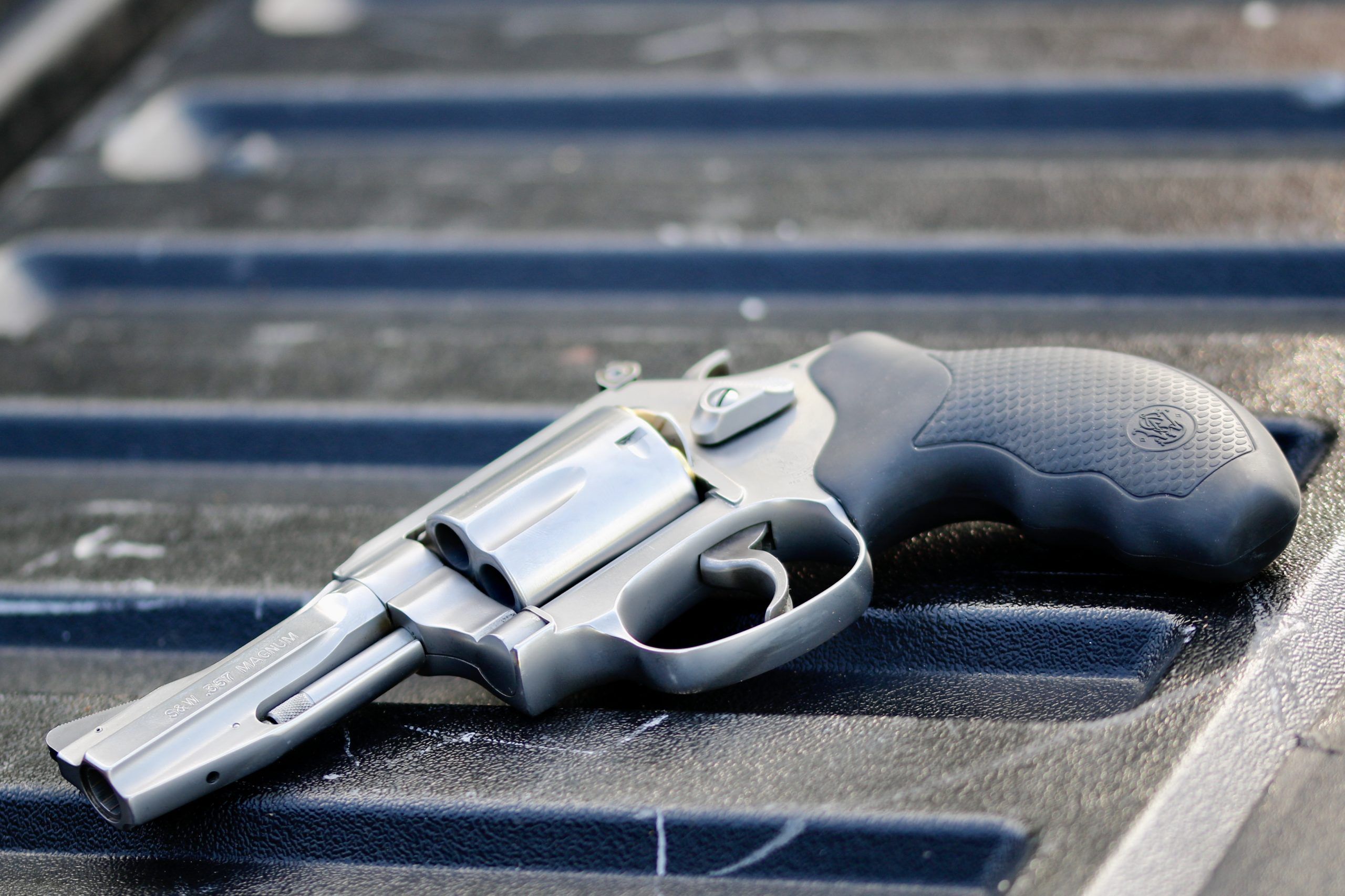 I sound a bit like Goldilocks, but that's what it is. This revolver is, for me and the way I shoot, just the right size.
The Smith & Wesson Model 60
Smith introduced the Model 60 way back in 1965. That's before my time. But like a lot of the artifacts of that era, it feels timeless.
Even then, the Model 60 wasn't a new design. This gun is essentially a stainless Model 36. The Model 60 was the first all stainless production revolver—just the first of many for S & W.
S&W Model 60 Specs
Model Performance Center Pro Series Model 60
Caliber 357 Magnum, 38 S&W SPECIAL +P
Capacity 5
Length 8.7
Front Sight Night Sight
Rear Sight Adjustable
Action Single/Double Action
Grip Wood (maybe walnut?–mine has the rubber grips)
Cylinder Material Stainless Steel
Barrel Material Stainless Steel
Frame Material Stainless Steel
Frame Finish Satin Stainless
Barrel Length 3″ (7.6 cm)
Weight 22.9 oz.
State Compliance CA, MA
The Model 60 has a long J-frame grip. When the wood or rubber is off, the grip will still comfortably support three fingers, though the pinky has limited real estate. With the extended grips on, the gun fills my hand perfectly.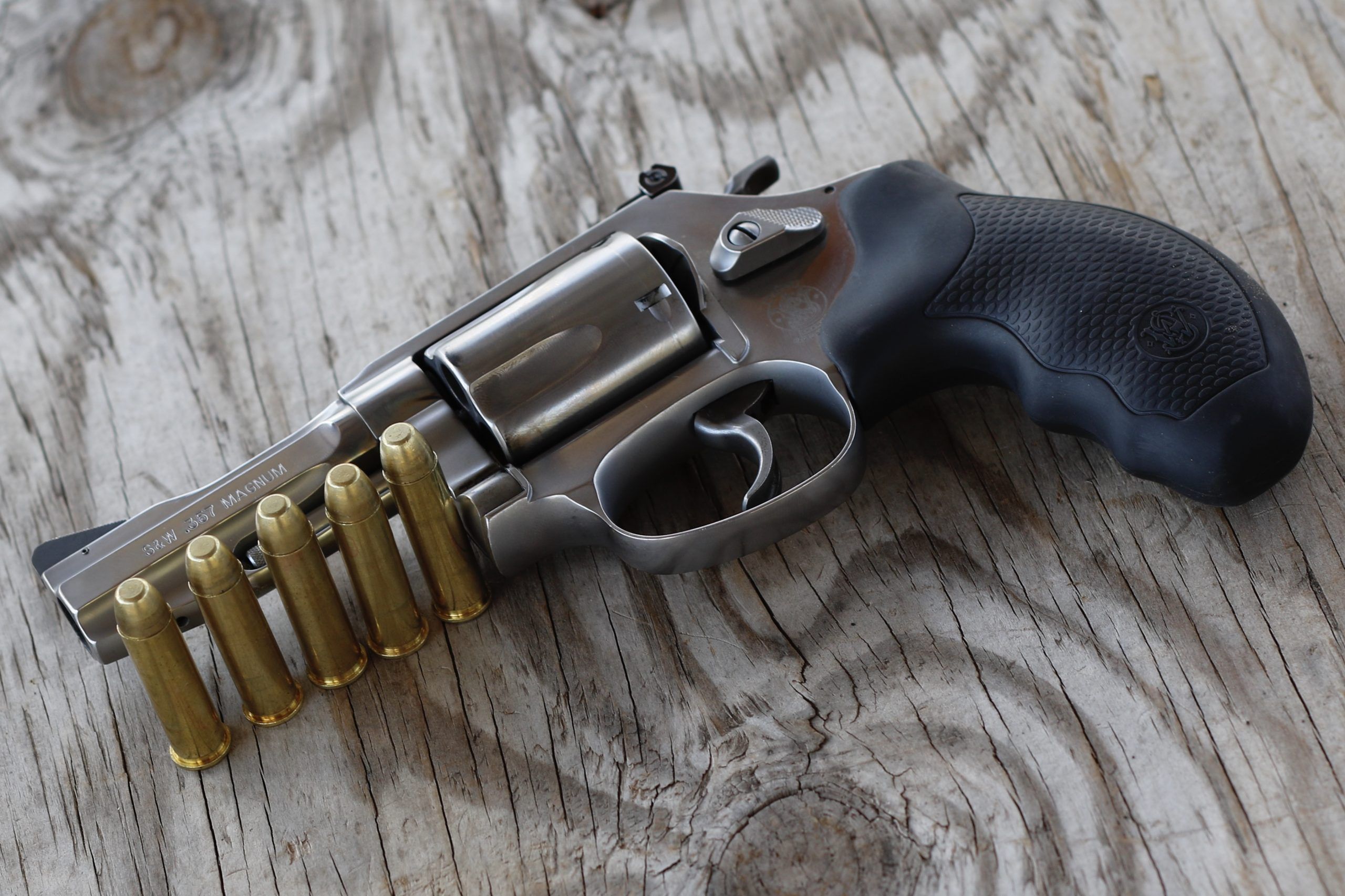 For those of you accustomed to the flared grips on Colts or bigger Smiths, these will feel small. The grip is more compact, even, than those of most autos.
Shooting the S&W Model 60
This has always been a gun I shoot well. More on that below.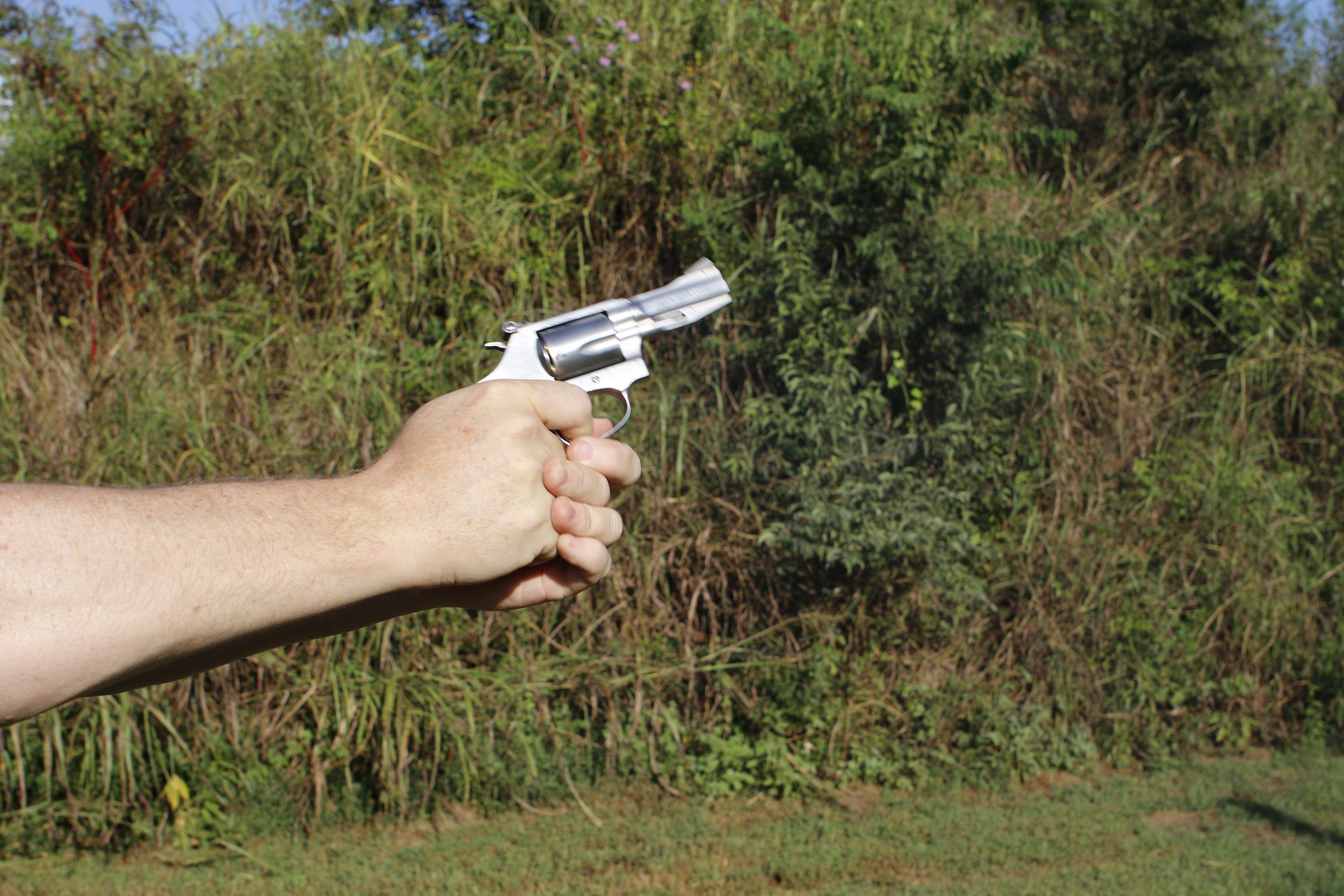 Owing to the grip size, the S&W Model 60 points naturally. That helps when I'm moving at speed. With .38s, I can run impressive five-shot strings.
The .357 is a bit harder for me to control at speed. Working on a torso-sized target, I can almost always keep the rounds on the plate, but some of them miss center mass.
I like running failure drills with this one—three shot groups from the holster, two in the chest, and one in the head.
Shooting slowly, I can dial in the accuracy. I get similar results when shooting controlled double-action pulls and when I cock the hammer before each shot.
I've shot this revolver at contact distances, and all the way out to 100 yards. While I'm not calling shots at 100 yards, I can put rounds on a 12″ plate with little difficulty.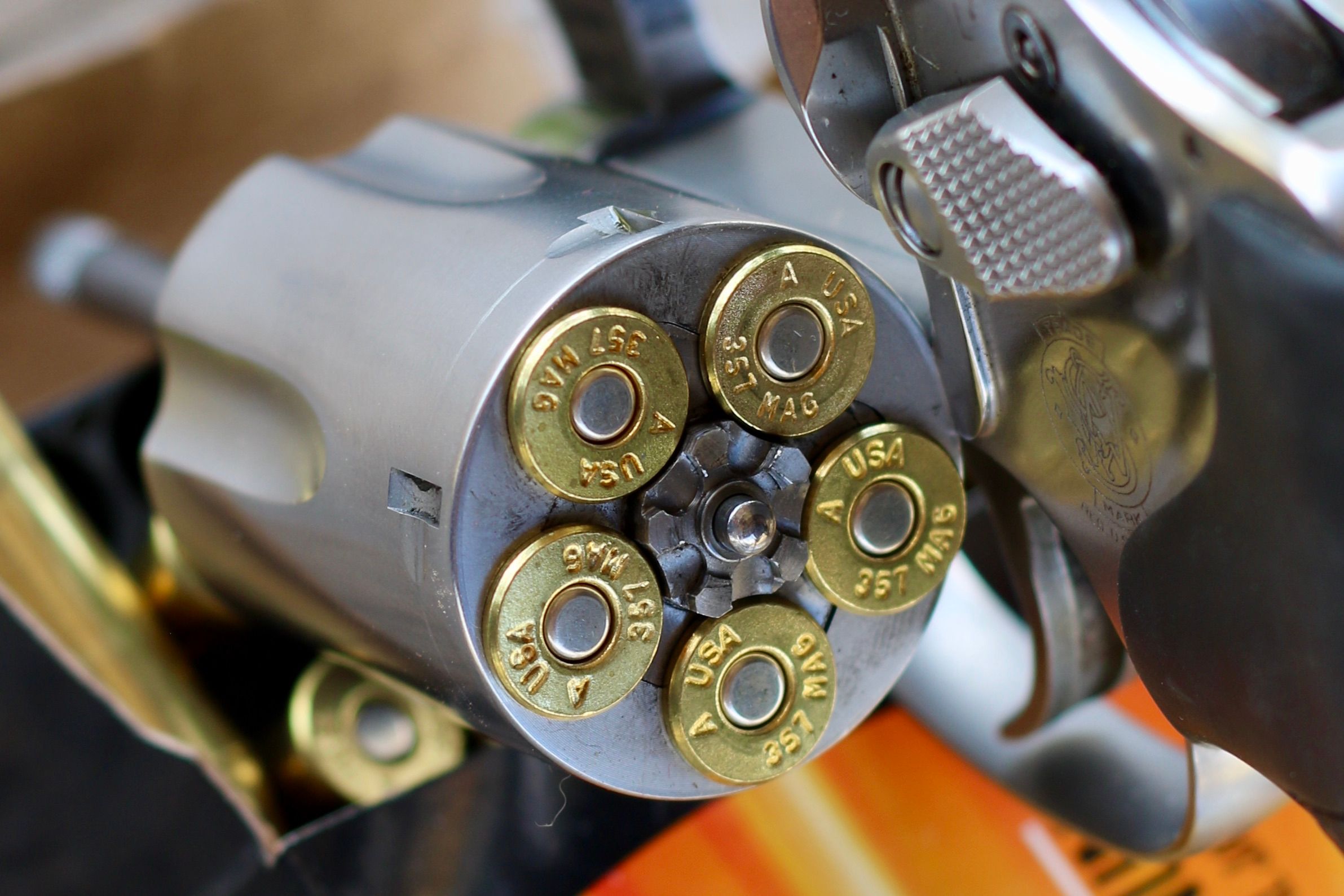 No matter how you shake it, the gun only holds five rounds. Your best option for a fast reload is a speedloader. I've used several models on revolvers and they work, though never as well as an old-fashioned tactical reload on a semi-auto.
Performance Center Upgrades
Having owned both a standard Model 60 and this Performance Center version, I can't tell much about the actual performance upgrade. They both shoot exceptionally well.
The front sight is pinned and has a glowing element in the blade. The wooden grips are cut for a high grip, to drive the hand up.
The barrel itself is slab-sided and has a touch more steel in the lug. The look of the barrel may be the most distinctive difference. Otherwise, the two models are just about the same.
A Bit of Personal History
Years ago, when a good friend took me down to the rent-a-gun indoor range so I could try out guns, one of the first serious training sessions I ever had, I fell for the Model 60. We'd taken his girlfriend, too, in an attempt to convince her that guns weren't scary. I chose a Beretta 92FS, he rented a 1911, and we got the Model 60 for her.
I'm not sure the decision was meant to be sexist, though it was clearly gendered. The Model 60 had a full grip, but it fit her hand well. And he thought she'd do well to begin with a .38, and a revolver, for the obvious reasons.
She may have fired ten rounds through the gun before she'd had enough. After running through all of my 9mm, I shot the rest of her box of .38s.
I'd struggled to get control of the 92. I was abysmal with the 1911. But the Model 60… all I had to do was look at the target and I'd hit it with a level of accuracy that made me feel accomplished.
I'm bigger than average, so I wasn't expecting to like the small Smith. Yet it ran flawlessly for me. Even with almost no instruction, and no actual handgun skills, I was capable with this revolver.
Capacity, though, being what it is, won the day. I should have bought a Model 60 then, but I didn't. It would be almost 15 years before I bought my first—a gun I later sold when I needed some cash. This one is my second, and maybe my last.
Final thoughts
The S&W Model 60 is not easy to find. Smith is still making them. This may be changing as, at the time of writing, gun sales have slowed to a crawl and the shelves of most dealers are, once again, filling up.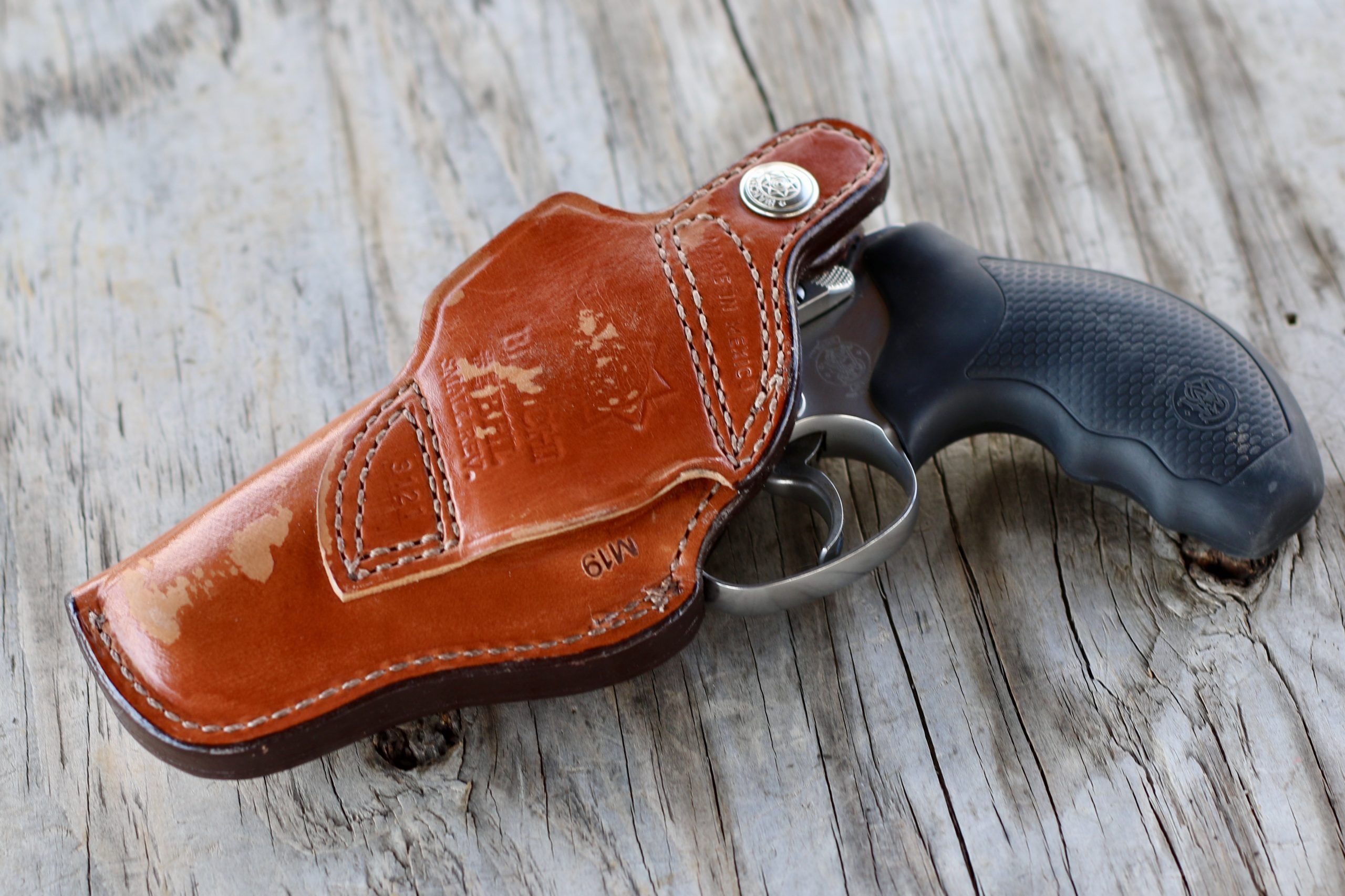 The Performance Center version lists for $879. Street prices are pretty close.
As far as revolvers go, S & W's production models have set the bar really high. They've kept this quality going for generations. And designs like this one, as simple as it is, are part of the success story of the brand.
This gun is more than 50 years old. From the short snub-nosed versions to a 5″ barreled version that was available 15 years ago, the Model 60 is the type of gun any American manufacturer would love to have in its catalog.