The Kel Tec Sub 2000 has a real cult-like following, and this cult makes sense. The gun has a lot going for it, and while it's rough and unpolished in a lot of ways, it's still a fun and reliable gun. The Kel Tec Sub 2000 is smartly designed for the budget consumer. Kel Tec took the wise route of utilizing a wide variety of existing magazine platforms to allow you to pick and choose the Kel Tec that matches your handgun.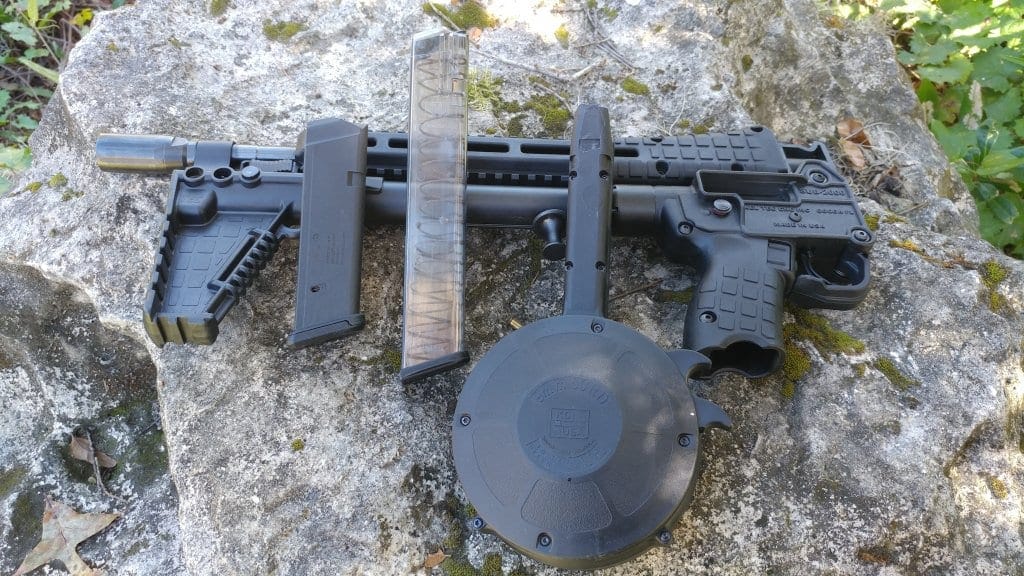 Plus, the gun is cheap. I paid less than 400 for my brand new Generation 2 model in 9mm compatible with Glock magazines. The only bad thing is it seems to be challenging to find specific models, and this includes the 9mm Glock variants. The Sub 2000 is available in 9mm and 40 S&W with magazine compatibility with the Glock 19/17, 23/22, Beretta 92/96, SIG P226, and the S&W M&P. Heck the only one they are missing is some kind of 1911 frame model in 45 ACP.
Why Does it Make a Good Truck Gun?
First off its cheap, which is a big concern for a gun I'm going to have it get banged up riding around in my truck. After that the reasons all regard the gun's ability to perform and what it is. One of the primary draws to the Kel Tec Sub 2000 is that it folds in half. The barrel folds over the receiver and stock to form a very compact package.
I firmly believe a rifle or long gun, in general, should be the gun of choice for truck guns. They offer more control, longer range, and better accuracy than any pistol.
This makes it easy to store, easy to hide, and easy to secure with a small truck or car safe. It won't take up much room in your car or truck if that room is limited. The gun itself also only weighs 4.25 pound loaded, which makes it quite handy.
The Rifleman
As a rifle, you'll get a more effective range and accuracy than a handgun in a more comfortable handling package. You won't get the same power or range as a rifle, but you still have a capable weapon in a common caliber that may share magazines with your EDC handgun. It will offer more range and control than your EDC handgun, with shots out to 100 yards being within the Kel Tec's purview.
The gun is easy to control, accurate, and rapid fire isn't difficult with the weapon. It springs into action very quickly, and you can be unfolded in firing in about two seconds. Loaded with some solid 147-grain defensive ammunition you can get some serious firepower from this gun. It's more than capable of dealing with most four legged and two legged critters.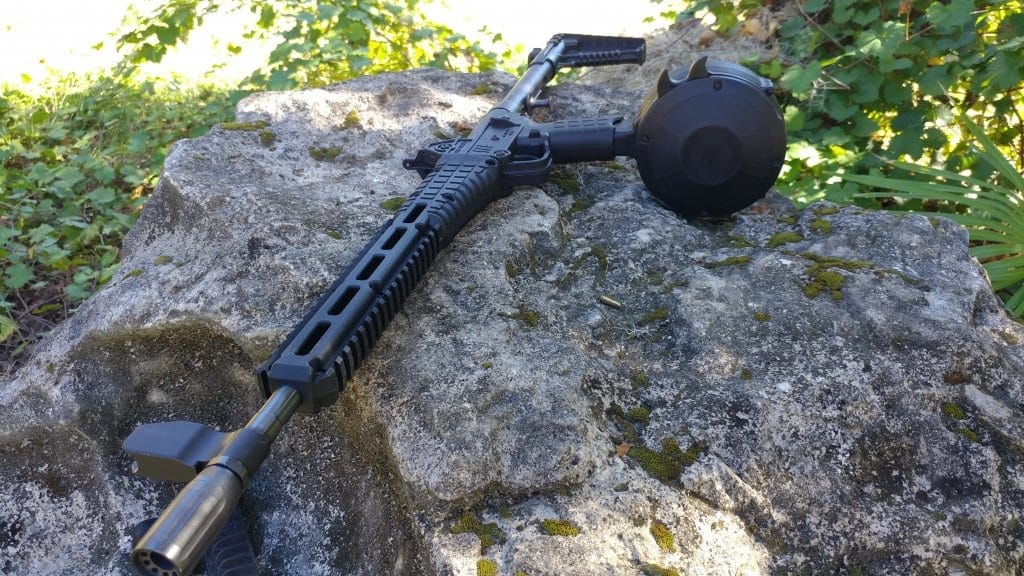 The Kel Tec Sub 2000 Gen 2 is outfitted with M-LOK slots for rails, and a bottom and top slot for accessories. I like to keep mine pretty plain to keep it light and small, but plenty of options are out there. The muzzle is also threaded, so it's easy to suppress or to attach a muzzle device to.
How Does The Sub 2000 Perform?
The Kel Tec Sub 2000 is just a super fancy Sten gun that's semi-auto only and fires from a closed bolt. It hearkens back to the tube style gun design of that period. It's a blowback gun, so there is a bit of recoil to it. Nothing crazy, but more than you'd expect from a 9mm carbine.
The good news about blowback operation is that its reliable and straightforward, and so is the Kel Tec. The gun goes bang every time I've pulled the trigger. Reliability wise the gun runs well. I've had it for a few years now, and I've only run into malfunctions while running that cheap Winchester Forged ammo. The ammo wouldn't always feed, and would often hang up inside the included Magpul magazine.
The gun is plenty accurate, and the peep sight is a nice touch with a high visibility front sight. At 100 yards the gun rings steel like it owes it money. The trigger does suck though, at over 9 pounds its a little ridiculous. However, it doesn't throw off accuracy too much.
The gun is also a hoot to shoot. It's just fun, as most PCCs are. The Kel Tec Sub 2000 is a modular, affordable gun that comes in a variety of different options at a low price. The Sub 2K is well suited for being a capable and dependable truck gun.