Before we get cranking with the Taurus G2c review, let's begin with an aside. My first introduction to the genuine appeal of Taurus came from my local gun store. The owner buys and sells guns at a narrow margin. Instead of price gouging, he relies on volume and repeat business. And he buys so many Taurus guns that he has to stack them behind the counter, in their boxes, on the floor.
The first time I saw it (and this was back when guns and ammo were still available in stores), I thought someone had screwed up an order and added an extra zero. Instead of ordering 5 guns, they'd ordered 50. But when I came back the next week, they were gone. And I've seen it happen again and again.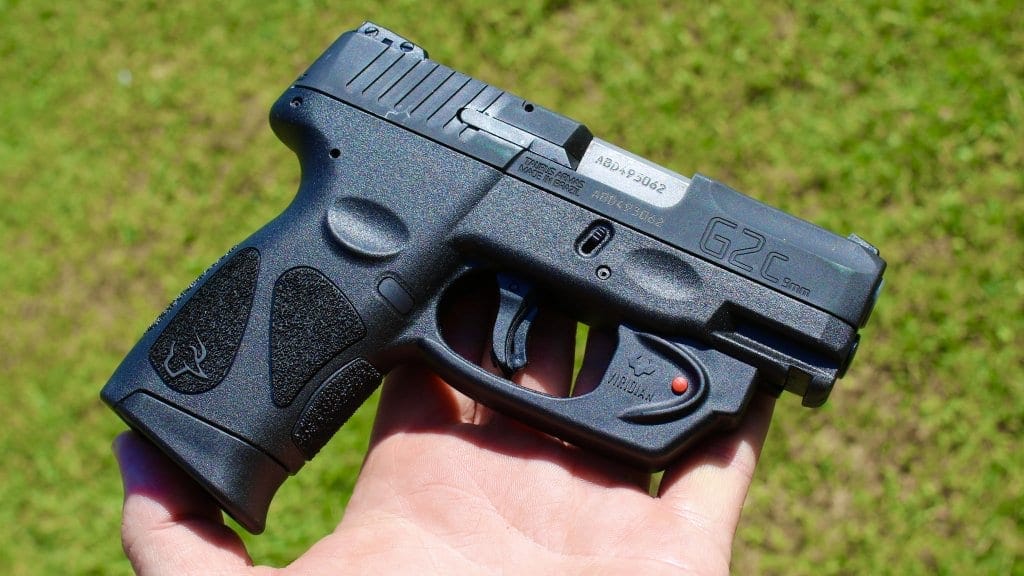 The Taurus G2c is built for concealed carry.
The Taurus G2c has a lot going for it. This is the perfect gun to take with you on a trip. It is ideal for a toolbox. It is small enough to lock in a small lock-box in your luggage when you fly. You're not going to get emotionally attached to it, at all—which isn't to say you won't respect it, or even develop an affinity for it. But if you were involved in defensive shooting and the gun were to be confiscated, it would be easy enough to replace.
And it has a big benefit over some of the single-stacks that dominate the concealed carry market. The G2c holds 12 rounds of 9mm. The dimensions are hardly bloated. It comes in at 1.2 inches wide. And the 3.2-inch barrel is a bit over half of the G2c's overall length of 6.3 inches. The G2c is just 5.1 inches tall. In short, the G2c is very easily concealed.
The wide proliferation of G2cs in the wild means that there are a ton of holster options. While few are going to shell out big money for custom Kydex options for a gun in this price range, there are custom options. Far more popular are the off-the-shelf options.
I've been running a Viridian E-Series laser on this one, and I have a holster from MFT that is made for both. It is a basic IWB option that allows for the light/laser combo to be worn in the standard IWB positions. I'm partial to appendix with this setup—it fits well. The Viridian laser speeds things up nicely. The activation button is just in front of the trigger guard, where your finger falls if you practice good trigger control.
Shooting the Taurus G2c
Ammo
I began working with this gun back in the spring—well before I had come across any 9mm shortages. I put several different flavors of hollowpoints through it with no feeding or extraction issues. Hornady's Critical Defense worked well. Federal's Syntech ran flawlessly. And everything from Tula steel-cased 9mm to the Browning Ball and Winchester White-Box. Ejection was consistent and feeding was hassle-free.
Trigger
Purists will notice a bit of play in the trigger. If you've cut your teeth on some of the finer polymer-framed handguns on the market, the Taurus G2c's trigger will not impress you. That said, I've come across a lot that are worse—and many of those triggers were on much more expensive handguns. As this is a gun meant for self-defense at close ranges, I've got no real complaints about the trigger.
Sights
The sights are functional, too. Many sub-compacts begin to build in gutter sights. The G2c has drift adjustable sights that enable respectable shooting.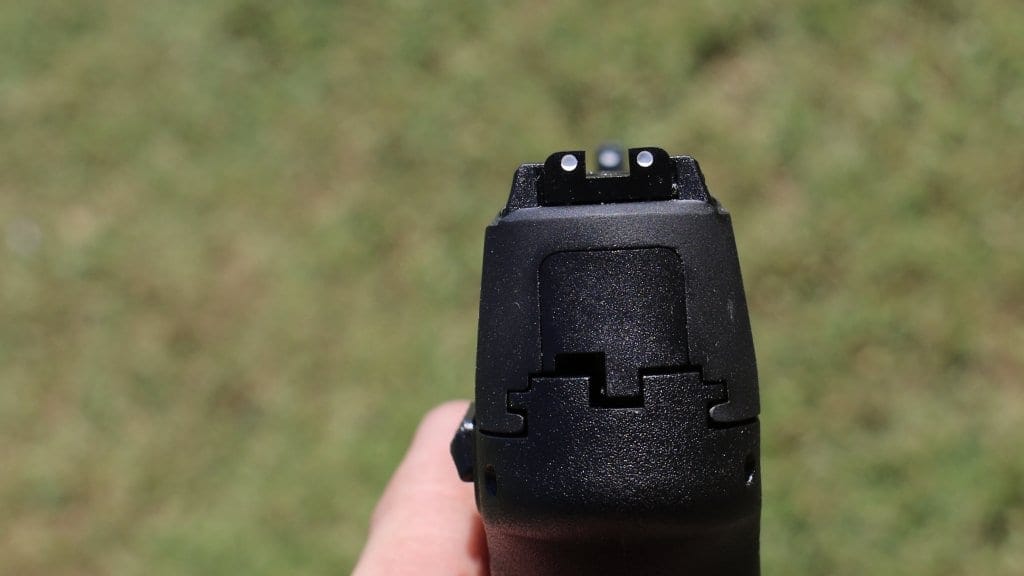 Accuracy
I fired these three rounds from 25 yards, as slow and patiently as I could. The results weren't bad. One was spot on. An interesting observation, for what it's worth— usually pull shots slightly to the right. Either this G2c is shooting slightly left, or I'm not pulling shots right, or the G2c is working some kind of voodoo that has fixed something I've been trying to fix for years.
Final thoughts?
Grip Texture
The textures on the Taurus G2c are not as aggressive as some of its competition. I didn't find this to be a liability, though. Even in the heat of summer, with sweaty hands, I was able to keep a grip on the gun and manage the recoil impulse without having to reposition my grip.
Mag Release
If there was one thing I'd change on the design, it would be the size of the mag release. This button is functional but not as large as I'd like. I'd recommend running reloading drills repeatedly, with an empty gun and empty mags, before you ever hit the range to practice with live fire. There's no flare at the base of the mag well, so building some muscle memory is a logical first step.
Safety
I know the jury's still out on this one, but I know where I stand. I'm not a fan of manual safeties on concealed carry guns. The G2c has a trigger safety and a striker block, but it also has a manual safety, too. Up is safe, down is fire. I don't carry with the safety on, and I've yet to have the safety engaged by the holster (or by a sloppy draw). It is there if you want it, and—if my experience is any indicator—you can easily ignore it. The lever itself is innocuous.
Pricing
As someone who works in the industry and sees a ton of guns, I've developed a genuine respect for what Taurus is doing now. Their guns have set the bar high and the price extremely low. Even if you aren't in the market for a $250 9mm, this level of competition is bound to hold other manufacturers accountable.
Upgrades
For those who want the latest-and-greatest, Taurus has an updated G3c that's available. It offers a few notable revisions. The sights are no longer plastic. The slide has some more noticeable contours and front serrations. Even the grip has undergone a bit of a functional upgrade that allows for more leverage in the unlikely event that you'd need to rip a stuck mag from the gun.
All things being equal, the G3c's upgrades make it a winner. But this is the real world, and all things aren't equal. The Taurus G3c is going to command a slightly higher price. And for many, that's the driving force behind the G2c's appeal. MSRP is $271.21. Real-world prices are significantly lower. And that's something. These days, the G2c costs less than its ammo.