The STANAG magazine or standard M-16/AR-15 magazine is the most common rifle magazine in the United States. Inexpensive, lightweight and available in dozens of capacities, these little ammunition delivery devices can be found in nearly every gun shop in America.
Whether your favorite is HexMag, Magpul PMAG USGI surplus, or Lancer varieties, chances are if you're reading this post, you own at least a handful.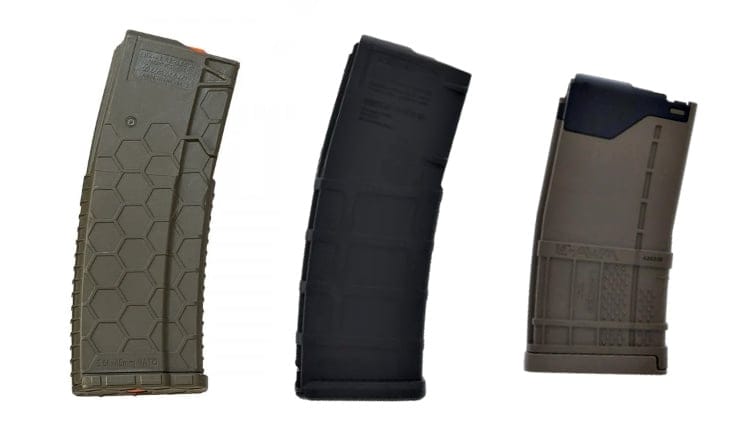 One of the greatest, but least known aspects of the STANAG magazine is its compatibility with different weapon systems. So if you're stocking up on mags in case of a potential ban, it might be equally wise to pick up an extra rifle or two without having to worry about buying enough magazines for them. After spending an inordinate amount of time scouring gun shops, personal ads, and various gun forums I've found four great guns that utilize the prolific STANAG magazine.
This article is from July 2016.
Armalite AR-180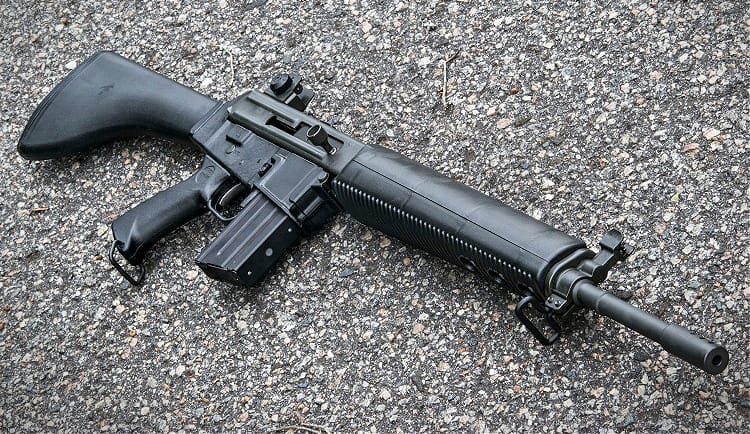 The first rifle on our list of rifles that use a STANAG magazine is the brainchild of the M16/AR16's original designer, Eugene Stoner. Stoner and his partner Arthur Miller envisioned an alternative to their AR15 rifle that would be easier for less developed nations to build than the M16. So instead of aluminum forgings, the AR-18 was built from two major materials – steel stampings and polymer furniture.
While steel stampings are a low-tech solution for developing nations, they're a pricy one for modern firearms. Which is why Armalite reintroduced the rifle as the AR-180B in 2001, replacing the stamped steel receiver with a polymer one.
The bad news for Armalite is that this rifle never gained much traction, the good news for shooters is that this means the guns are still fairly affordable. Plus, if the thought of a polymer receiver worries you (some people accidentally break theirs with repeated disassembly) NoDak Spud makes an awesome replacement aluminum receiver for around $200.
But why would someone buy this over a standard AR15? For starters, it's a dedicated short-stroke piston-driven rifle. Meaning, it tends to run better when dirty or subjected to the elements. Also, the 'B' model is astoundingly light for a piston gun. It barely tips the scales at five pounds. While the AR-180 and 180B aren't currently in production, used examples can be found for around $700 in good to great condition.
Zastava PAP M90NP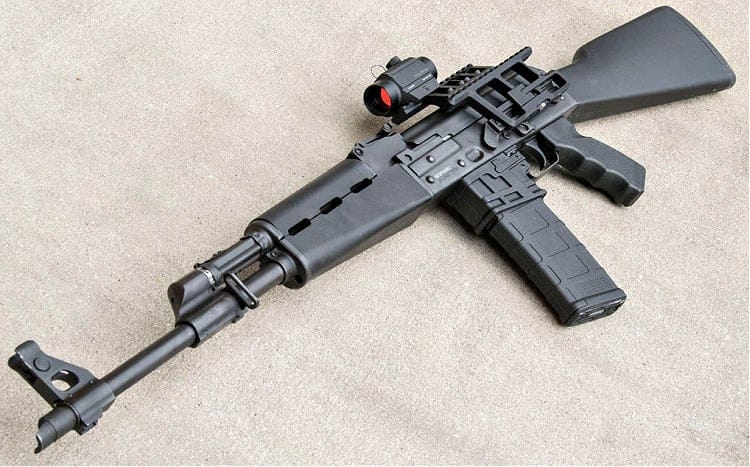 AK lovers just stopped in their tracks at this addition to the list. Yes, there is a full-sized 5.56mm AK rifle that uses a STANAG magazine! (There's also a pistol, the M85NP, but I'm leaning towards shoulder-fired guns in this piece.)
Like all Zastava Products, the M90NP is made in Serbia to demanding standards. The M90 is basically a modified NPAP/M70 rifle rechambered in 5.56mm with a magazine well adapter bolted on. What this means in practical terms, is that the rifle can use both furniture and accessories meant for Yugo or Serbian pattern full-sized AK rifles while still utilizing inexpensive AR15 STANAG magazines.
This is particularly great news for shooters living in states with magazine capacity bans or limitations – since the only standard capacity 5.56mm AK magazine to arrive stateside in appreciable numbers are for the Norinco 56s rifles. This is frustrating for shooters like myself who once lived in ban states since no other AK uses these pattern magazines.
Other cool features of the rifle include an adjustable gas system to regulate its long-stroke piston driven bolt and carrier — this allows the gun to be dialed in perfectly for specific loads. Also, the rifle features Yugoslavian-pattern side rail for mounting optics or optics rails. The only real downside on the M90NP is weight. The hefty blaster is roughly 11 pounds unloaded! While this makes hiking with the rifle a pain in the ass, it goes greatly reduce felt recoil.
SIG MCX / 516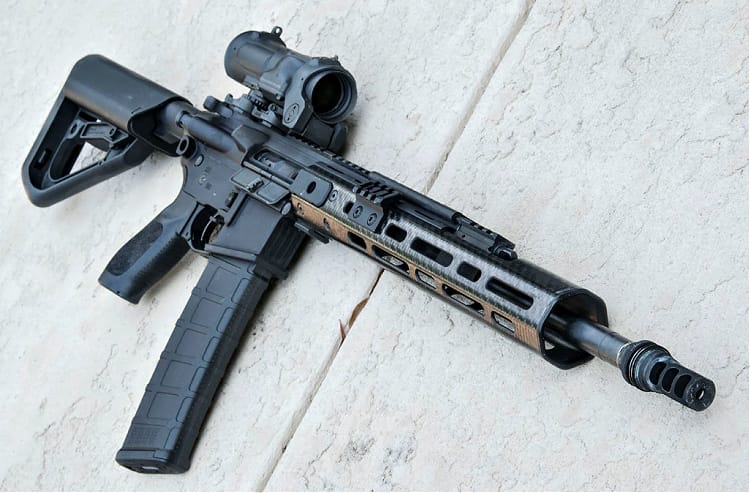 SIG Sauer is known for building ultra-reliable pistols and rifles. On the rifle side of things, they're also good about utilizing commonly available STANAGs – SIG 550 series notwithstanding. While the SIG 516 is admittedly more AR15 than not, it doesn't utilize the same direct impingement system.
I was going to originally limit to addition to the list to simply the MCX, but since I am a die-hard fan of my personal 516 Carbon TS, I wanted to bring more attention to it. One of my favorite things that both rifles have in common, is their use of AR-15 style controls. Shooters like me that learned the majority of their gun-handling on an AR15 or M16, will feel right at home behind either these rifles.
Why pick either gun over a standard DI AR15?
In a word: Reliability.
In two words: Reliability. Silencers.
Direct impingement rifles tend not to play well with sound suppressors, simply because the increased backpressure of running a silencer tends to mess with the timing of a DI gun. This is especially true for newer production guns, because manufacturers tend to intentionally over-gas guns to make sure they run with the most underpowered dog-crap ammo available. Otherwise some guy trying to save money on ammo will otherwise invariably post all over the internet that their gun is junk because it wouldn't run heavily water-damaged Pakistani surplus from the 1970s.
This is particularly problematic when running a can, because the already over-gassed rifle working in conjunction with increased back-pressure leads to filthy guns and premature wear on the action.
What about reliability? Well, objectively, piston guns tend to run cleaner, and are thus less likely to foul up as quickly. But more importantly, both these guns have adjustable gas systems. So shooters can regulate their rifle to run optimally with the desired ammo, suppressor, or combination of both.
The only downside to these guns is price. Both are roughly double the price of a mid-level AR15 carbine. Which isn't to say they aren't worth the money, that's up to the shooter and what they demand of the weapon. Though with the increasing demand for the MCX, shooters who decide they don't like the MCX after buying can most likely sell it used for full price.
IWI X95
Unless you've been living under a rock for the past five years, chances are you've seen or heard of the Israeli Tavor carbine. The polymer-shelled, long-stroke bullpup carbine seamlessly melds the internals of an AK-47 with an ergonomic ultra-futuristic stock. The result is one of the most compact carbines in existence that still manages to stay North of the ATF regulations dealing with barrel and overall length.
While wildly popular, the original Tavor drew criticism for its unorthodox controls stemming from its unusual configuration and layout. IWI's response came in the form of a civilian-legal adaptation of the Micro Tavor: The X95.
The X95 still utilizes the same reliable method of operation as the full-sized Tavor, but swaps out the awkward magazine release for one nearly identical to the M16s. This means a shooter can reload the X95 while leaving their firing hand on the pistol grip.
Though more than that, the X95, like the Tavor it succeeds, shines brightest in terms of ergonomics and compactness. So while their method of cycling the action is more reliable and robust than the AR15's direct impingement, they also tend to be slightly less accurate at long range.
Thankfully, the rifle is still easily combat accurate out to 500 yards and beyond with proper ammunition. Personally, I find it to be an ideal suppressor host simply because its reduced length and rearward point of balance help negate the additional weight of running a sound suppressor like the Surefire RC2.
This is why my wife loves running the Tavor suppressed – most guns are simply too front-heavy and awkward with a can attached for her. Lest you dismiss this by thinking she's not very strong, this gal does 35lb curls. She can handle the weight, but prefers something less tiring to hold.
There are plenty of options available today that run these common, inexpensive magazines. While the overwhelming majority are simply AR-15s or derivatives of them, there are a few exceptions out there for the discerning collector or enthusiast. The four above are among my favorite, but I'd be lying if I said I didn't also enjoy a run-of-the-mill AR-15 as well. But for shooters who either don't want an AR-15 or simply want a reliable rifle that uses the commonly available STANAG magazine, the market is larger than most think. You just have to know where to look.