The M14 may not have been the most remarkable of service rifles, but it undeniably generated a cult following. In fact, there is enough of a following for the old battle rifle that it remains in production to this day. Most notably among these manufacturers is Springfield Armory, which makes the SOCOM 16 CQB.
M14 Heritage
Springfield produces several models of M14 derivative rifles, some aimed at the classic appearance of their predecessor (like many iterations of the M1A), and others that reflect the aesthetics of a modernized weapon (such as the SOCOM 16). As of this writing, the SOCOM 16 CQB is probably the best example of a modernized M14or M1A rifle.
The SOCOM 16 takes the classic M1A and trims the barrel, gets rid of the wooden stock, and tosses the gun in a modern polymer chassis system. It also works in a .135 inch ghost ring rear sight for quicker target acquisition. The exact model in this review is the Archangel CQB stock.
You'll be able to tell many differences. The classic M14/M1A is almost ten inches longer than the SOCOM 16. But when you lay a classic M1A next to a modern SOCOM 16 CQB they look like entirely different weapons.
Archangel Stock
The Archangel chassis is a big leap forward for the SOCOM 16. This chassis gives you a modern pistol grip, an adjustable/collapsible M4 style stock, and a small section of M-LOK slots for attaching rails and accessories. The stock comes with removable rails at the 3, 6, and 9 o'clock positions. Forward of the rails is a QD slot for attaching sling mounts. The SOCOM 16 also sports a forward section of Picatinny rail designed for red dot, or long eye relief optic.
In front of the rear sight is a stripper clip guide that also doubles as a mount for miniature red dots. Springfield even sells a model that comes with a Vortex Venom mounted.
Behind the sights and in front of the stack is an ambidextrous QD mount for slings, and another is on the stock itself, so you have options for setting things up the way you want.
The SOCOM 16 CQB's barrel has been trimmed from 22 inches to 16.25 inches and fitted with a muzzle brake. The sights are more open, and the front sight, in particular, is superior: it's an XS front sight with tritium vial for low light shooting.
The SOCOM 16 feels and handles like a much more modern rifle than its word-stocked predecessor in many ways. It's still a heavy bastard, at 9 pounds and some change, but how light could a 308 battle rifle from the 1950s be?
It's much easier to handle, however, and while heavy, the weapon is well balanced and comfortable to shoulder.
SOCOM 16 Ergonomics
While the shorter barrel, revitalized sights, and the modern stock do give the weapon more modern handling, the core ergonomics are still very much an M1A. This is a bit of a step backward in weapon ergonomics.
The right side charging handle is awkward and requires some reaching around to manipulate, or you'll have to remove your hand from the firing grip. The safety is ambidextrous and placed into the trigger guard. It's easy enough to push forward and place the weapon to fire, but a little harder to put back on safe without changing your grip or stance.
Swapping magazines is not entirely intuitive, either. The magazine release is an AK style paddle that is ambidextrous. The main issue comes from reloading quickly, and secondarily with retention. Overall it's somewhat complicated and much slower to reload than an AK or AR 15 style weapon.
I still have trouble rocking the magazine in place smoothly. The super small notch on M14 magazines makes it a real pain to line up just right when it comes to speedy reloads.
Other than that, the weapon is comfortable and easy to manipulate. The shorter barrel makes it much easier to use inside a house should you want to go very heavy for home defense.
SOCOM 16 (Close Quarters type) on the Range
The muzzle brake does a fantastic job. Let's go ahead and get that out of the way. It's an efficient design that lends itself well to controlling the weapon when firing rapidly. Muzzle rise is surprisingly minimal, and it makes a very controllable weapon.
As a result, drilling out rapid-fire double taps and running failure to stop drills can be done quickly and efficiently.
The sights are also handy for this. While red dots are faster than irons for CQB, these are (for iron sights) top-notch. The wide peep sight and high visibility front sight make proper sight alignment and finding the front sight intuitive and straightforward.
Perfect for speed and accurate follow up shots.
The recoil is surprisingly mild. I actually expected a bit more from a 308 because of my days behind a 308 bolt gun. However, the semi-auto action and 9-pound weight do an excellent job of making the weapon comfortable to fire.
Controllable muzzle rise and comfortable recoil are necessities for a weapon designed for CQB. With CQB in the name, it should be expected. The SOCOM 16 is most certainly an effective weapon, but it's also a fun weapon.
Once you grown used to 5.56 caliber rifles, you forget how much fun a full-powered rifle with a battle rifle or larger caliber can be. That little extra recoil, noise, and muzzle rise the SOCOM 16 offers make it damn enjoyable to shoot.
Battle Rifle dialed in
Accuracy wise the weapon surprised me. I'd heard lots of rumors of the inaccurate M14, but the SOCOM 16 and I produced consistent groups of about 1.5 MOA. That's with iron sights, cheap ammo, and a hasty prone position.
The large sights will obscure your target a bit when shooting for groups, and the wider rear sight will affect some precision. However, 1.5 MOA is accurate enough for me.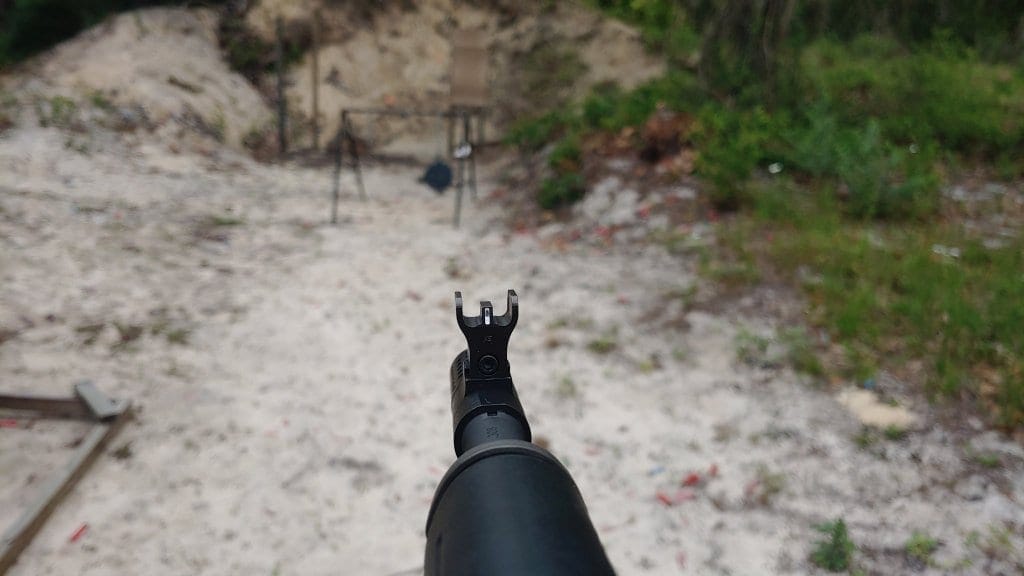 I had zero issues with reliability while behind this gun. I did shoot only brass ammo, and most of my shooting was 147-grain FMJs. It also reliably digested heavier ammo, however, as well as ballistic tip rounds and soft point ammo.
The Socom 16 is a workhorse.
It's a Lotta Gun
I had more fun than I thought I would with the SOCOM 16. It's been some time since I utilized a full-powered rifle outside of the AR realm, so it was a nice change.
Let me know what you guys think about the M1A, the M14, and the SOCOM 16 CQB – and watch for our discussion of this and other rifles on GunMag TV.