I've had my Springfield Hellcat in hand for 8 days now, and 650 rounds, plus some assorted +P rounds. It's been a fun week with tons of range time, and the Hellcat proved to be an impressive little weapon. These Croatian made firearms are Springfield's striker-fired, polymer-frame pistol series. They come in most calibers, a variety of configurations, and numerous sizes. The Hellcat is Springfield Armory's entry into the new Micro Compact genre of firearm.
Micro Compact seems to be the agreed-upon term for these guns, which are an extension of the XD series. Those guns are known for being very small, and very thin with the capacity of a double-stack handgun. These guns are typically the size of single stack nine but hold ten or more rounds. The P365 was the first entry and now Springfield has the second.
Springfield Hellcat 9mm: Features and Specs
SIG gave us ten rounds in a flush-fitting magazine, but Hellcat dialed it up to 11 and gave us one more round. Additionally, SIG has 12 round magazines available for the P365, and the Hellcat has 13 rounders.
Better yet, Springfield even includes the 13 round magazine, as well as a pinky extension for the flush-fitting magazine. When I first shot the gun, I did so with the flush-fitting magazine but quickly decided the pinky extension was a must-have.
The Hellcat also comes in both an optic's ready model and a standard model. The gun has a standard Picatinny rail, a reversible magazine catch, and night sights.
Specs-wise the gun is small and light. It weighs a little over 18 ounces and is 6 inches long overall. The barrel is 3 inches long, and the gun has a 4-inch height with the flush-fit magazine. The grip width is 1 inch.
Springfield Hellcat Ergonomics
The Springfield Hellcat is a simple gun. The rear grip safety is gone, which I'm happy for. The grip lacks any Grip Zone, though, so I hope you can figure out where to hold it. The grip does have something Springfield calls Adaptive Grip Texture. It doesn't feel super rough or sticky until you get a good grip on it. It does stick very well to the hand when you are throwing lead downrange. The texture also extends up the grip. The texture is soft against the skin when being carried concealed and doesn't cause irritation.
Without the pinky extension, you will have a hanging pinky, so be aware of that — the grip angle in 1911ish and plenty comfortable. The hidden and subtle finger bump isn't noticeable. You can get a very high grip on the gun due to Hellcat's beavertail and trigger guard undercut.
There is no manual safety, just internal safeties, and the trigger safety blade. The gun comes in both optics ready and standard models, and I have the standard. I like the slide serrations and find them perfectly deep and easy to grip. The rear serrations go over the top of the slide, and there over the top design is nice. I never would've thought it would make a difference. The gun is small, and the slide is short, so I often go over the top to reload, and the serrations are an excellent touch.
The Springfield Hellcat micro-compact is, despite its size, ultimately a comfortable gun that's accommodating to the hands.
Springfield Hellcat: Range Time
Let's knock a few things out, the standard, somewhat boring, parts of any gun review. First, the recoil is very mild and controllable, even with 124-grain +P rounds the gun is easy to control. Muzzle rise is a little more than the P365. Accuracy wise the weapon is also very accurate. I placed ten out ten rounds into a headshot target at 25 yards, sure I pierced his ear once, but I hit him. The flat-faced trigger is also nickel boron on the inside, and it's very smooth. It's short, crisp, and sweet.
Reliability wise I've used the cheapest, most junk grade ammo I could, and that's Winchester Forged Steel cased ammo. It's dirty, dry, and is far from great. It ate an entire 500 round case of it without a problem. I followed that up with 150 rounds of Remington UMC brass-cased goodness.
I've been experimenting with how to review guns and make them more interesting. I've since begun using different drills into my testing to get a more performance-based review for guns designed for a specific role. As a concealed carry gun, I focused on speed, accuracy, and ease of repeated shots.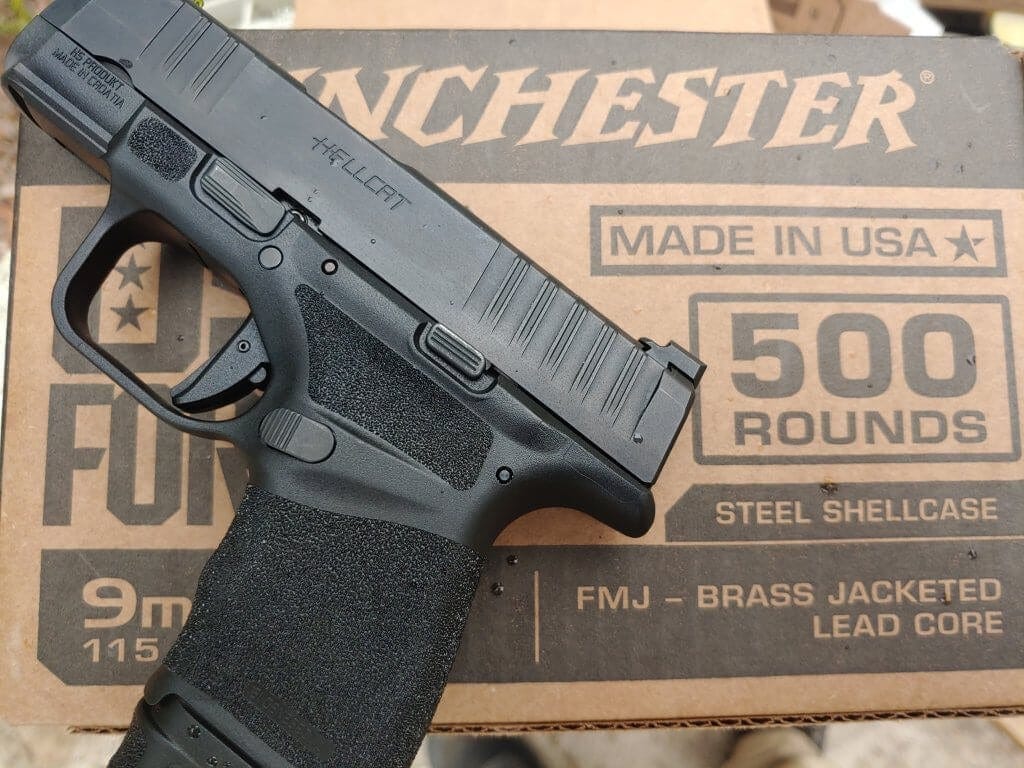 Dot Torture
The first drill I did was Dot Torture at 5 yards, and at first, I didn't do great. I was hitting low and left, the sure sign of a flinch. In frustration, I turned to my P365 and found this low and left issue gone. I restarted DOT torture after some dry fire, and I slowed down. With a hard focus on proper sight alignment and trigger pull. I did much better. Not my best work, but I dropped one shot… The rest technically broke the line so…
Dot Torture is great to diagnose weak points on your skillset and is challenging. The target needs fifty rounds, and you practice everything from simple slow fire to drawing and firing, to reloads, and one-handed manipulations. The gun's controllability surprised me, especially when it came to one-handed shooting.
I was pleasantly surprised at how easy it was to shoot the gun one-handed with a decent degree of accuracy. In general, the weapon was easy to handle. Reload wise, a problem I have with all these guns became evident. First, my big hands pin the magazine inside the well, so I have to make sure I move my hand enough to let the mag free. Second, my thumb pins down the slide lock rendering it ineffective most of the time.
The magazine release is placed perfectly and doesn't require much movement for me to reach it, and I appreciate that.
The iHack
The next drill was iHack. A variant of the Hackathorn headshot standards that uses small 2-inch dots. It's fired at 5 yards and ou fire it in three strings. Each string requires three shots on three targets in under three seconds. You fire one shot into each dot going from left to right, then from right to left, and then start in the center and shoot the other dots as you see fit. A passing score is 7 out of 9.
It's a fun drill for sure, but also valuable when it comes to practicing proper sight picture while transitioning. It forces you to learn to track your sights and shoot quickly. I fired the drill a total of three times and passed each time. Admittedly the first time I scored 7 out of 9, so I barely passed. The second was on the line for eight out of 9, and the third was 9 out of 9.
The awesome Trijicon U Dot Sights are an absolute blessing. I want these on all of my guns. The front sight is brightly colored with a tritium vial in the center. The rear is U shaped notch, of course, and around the center is a bright white half-circle. This combination of sights makes for an outstanding set of sights. They allow for quick and easy engagement of targets and make it easy to transition between targets.
Changing Gears
Changing Gears is a drill that requires a 3×5 card and an inch plate. You can run it two ways, slow to fast and fast to slow. I ran it slow to fast. Which requires two shots into the 3×5 card and then as many shots as possible in the 8-inch plate in a specific timeframe. Par time was 4 seconds and loaded up six rounds.
I started holstered but not concealed. I was able to shoot all six rounds at 7 yards in 3.87 seconds. This was my first run, and the gun proved to be easy to draw, easy to get on target and accurate. It shows how easy the gun is to control and how quickly it can switch from precise shots to controllable speed. The Hellcat was up to the challenge and performed admirably.
El Presidente Drill
Who doesn't love the El Presidente drill? Popularized by Jeff Cooper and Gunsite, the El Presidente requires three targets at 10 yards placed a yard apart. The Shooter starts with his back to the targets in the surrender position.
The Shooter turns, draws and fires two rounds into each target, then reloads and fires two more in each target. You have to hit the A Zone of an IPSC target technically, but you can modify it as you wish. You got 10 seconds to make it so. I ran it four times on day one and four times the next day. Failure only occurred once when I was a quarter-second too slow.
I fired the drill from the concealed position with a cover garment. The sights get the credit for me landing every shot. They are amazingly adept at getting on target. The gun is also easy to draw and easy to reload. It made shooting the drill smooth and fun.
Concealed Carry Worthy?
I've never fired an XD before the Hellcat, and I was impressed. The gun was reliable, accurate, very easy to shoot, and the sights are fantastic. Recoil is comfortable, and so is firing the weapon. The Hellcat is an excellent little gun. I'm happy to see more micro compacts hit the market, and I can't wait to see what's next. The weapon is available for preorder at a few different websites and appears to be selling for right about 470ish on preorders.
You can see the specs and additional imagery on the Springfield Armory website; get your mags from our Springfield Armory Magazine lineup