In AR-15 the A stands for Accessories!
If you are reading this I probably don't have to explain to you that the AR15 is an excellent gun. One of the more attractive aspects of the AR platform is the ability to customize and accessorize the gun. The customization and accessorization of the AR-15 allows the user to tailor the gun to their specific needs. It also allows us to take the AR-15 from formidable to quite possibly the ultimate defensive firearm.
At the same time, for duty and defensive use, the AR-15 is a formidable tool—right out of the box. Add a reliable magazine (MAGPUL and Lancer are my favorites) and 28 rounds of a good soft point defensive round and you are good to go for a wide variety of circumstances.
Let's face it though, adding some accessories to your M-4 can make a huge difference when it comes to efficiency.
To that end, I have compiled a list of what I think are the seven most important AR-15 accessories. I have tried to compile a list in order from most important to least important. Yup, we could argue about the order all day long. Some folks might find very good reasons related to their context to tweak or completely rearrange the order of importance. They aren't wrong, and neither are you. You do you.
I think this list and its order applies to most people most of the time. Use it as a starting point as you decide what the most important accessories are for your defensive or duty AR-15.
1. An M-LOK Handguard
When I compiled this list of AR-15 accessories, I did it with defensive and duty use in mind. To me, that means reliability above all else. Your gun needs to run and all the accessories need to be in place and ready to go.
When I build out an AR-15 for serious use, it gets an M-LOK handguard. This is what the majority of accessories are going to attach to. Your sling, weapon-mounted light, and your laser (if you have one) will all mount to your handguard. They need a solid home, and M-LOK has become the standard.
If you already have an AR15 with an M-LOK handguard, move on to number two unless you want to build your ego and feel good about the choices you've made.
What do I look for In a handguard?
When I select an M-LOK handguard I seriously lean toward a free float, aluminum handguard with a solid attachment to the upper receiver.
Can polymer get you by? Probably, but the advantages of a free-floated aluminum handguard are too many to ignore.
The security of your expensive gear is important. You need everything to be right where it is supposed to be when your safety depends on it. A free float aluminum handguard is also going to increase your accuracy by allowing your barrel to point regardless of the pressure on the handguard and making sure any additional kit is pointed where you originally pointed it.
I've never been disappointed with the offerings from BCM or Midwest Industries when it comes to M-LOK free float handguards. You won't regret the upgrade.
2. A Quality Two-Point Sling
I recently sat in a deer stand with Joe Weyer, the man behind Alliance Police Training Facility, and among other things we were back and forth about what the most important AR-15 accessories are. It was a lively discussion. We didn't shoot any deer that day…
Joe contends that a rifle just isn't a rifle unless it has a functional sling. So far Joe and I are in lockstep.
A good sling serves many purposes. It can provide a way to carry your AR-15 with no hands either in front of you or behind. It helps to maintain control of the gun if you end up in a physical struggle over the weapon. A sling provides additional stability for shooting and allows you to easily take your support hand off the gun to do work. The list of how a sling can help you do work is long.
A rifle isn't a rifle without a sling.
In Joe's opinion, a sling is so integral in the use of the rifle that it is actually a part of the rifle and so there is no need to mention it as an accessory. He has a point here. You notice that I haven't included a bolt as an accessory. An AR-15 just isn't a rifle without a bolt… or a sling.
On the other hand, I'm guessing there are folks here that may have not even considered that a sling (and knowing how to use it) is so dang important. This is why I think it should be on the list.
If you are in that group, get yourself a sling.
My favorite, by far, is the Rifle Sling from Defense Mechanisms secured to that handy handguard and the buttstock, the sling is adjustable, versatile, stow-able and, functional.
3. A Weapon-Mounted Light
If you can't see it, you can't shoot it. I mean this not only from a practical point of view but also from a moral and ethical standpoint. You need a weapon-mounted light so that you can identify your threat. A quality light not only allows you to identify that threat and ensure that they are a foe, but it also allows you to visually interrogate that threat. Seeing details in the dark is important and a good light allows you to do that at a distance.
In addition to helping you see, a quality light helps to make sure your threat can't see. Denying your adversary visual information deprives them of what they need to make good decisions. This gives you an edge.
I keep talking about quality lights. I'm talking about a light that is reliable, easy to activate (and deactivate,) and bright like the sun.
Weapon-Mounted Light Specifications
On a rifle, I am looking for 1500 lumens or better and I want to see the Candella near or above 50,000. On short guns that are set up slick, my favorite light is the Cloud Defensive OWL due to its simplicity. If I have a lot of other accessories on the front end I prefer the Cloud Defensive REIN to provide more mounting options and outstanding cable routing. Either of these lights is a powerful tool that will serve you well.
4. Red Dot Optic
Optics on rifles have been the standard for years now and for good reason. Optics help you get hits faster. When it comes to optical solutions, unless there is a reason to be magnified, I default to a simple 1 power dot.
A red dot sight simplifies aiming your AR-15. When you look through the reticle of your optic your aiming point is superimposed on your threat. Both the threat and the dot appear to be on the same plane so there is no need to shift your focus back to your sights. Instead, holdover as needed and press the trigger.
I've been a fan of Trijicon's optics for a long time and love my Trijicon MRO's and MRO HD's. I'm also starting to like Holosun's optics and have enjoyed using my Holosun HS503CU Red Dot Sight.
5. Replacement Grip
There isn't anything that's "wrong" with the A2 grip that comes on most AR-15s. I mean as long as you enjoy that twinge in your wrist from it being bent at a weird angle when using your AR-15 with a modern shooting stance.
Personally, I don't like the way the A2 grip forces me to hold my AR. So I upgrade my grip to something with a more verticle orientation. I really like the Magpul K2 grip, or you could go with something like Xtech's Adjustable AR-15 Grip. This cool grip allows you to set the angle to what works best for you and your application.
5. Laser
If I was writing this article 12 months ago, it would have been "Six Must-Haves AR-15 Accessories".
A year can teach you a lot and in 2020 I spent a lot of time training and practicing at night. When I say a lot of time, I would say that I spent close to 400 hours with my rifle in the dark in class. My time after sunset reinforced to me how important my weapon-mounted light was. No surprise there.
What forced me to reconsider my thoughts about my rifle set up was how useful I found a laser.
I currently run a Steiner DBAL-A3 mounted on my Springfield Victor SBR. The visible and IR DBAL is overkill unless you also run night vision.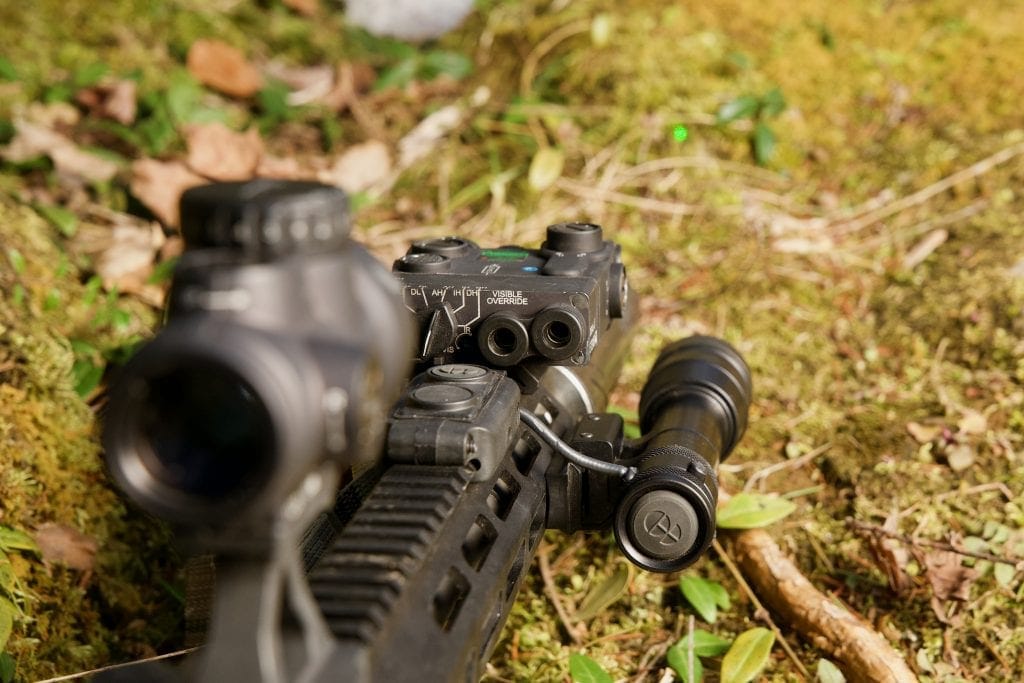 You might not need infrared…
What everyone can get some use out of is a visible laser. A visible laser on a rifle is extremely useful as an aiming device. With a vis laser, you know where your rounds are going to hit even if the optic isn't in your line of sight. Accurate hits from retention at 100 yards are no problem with a vis laser. Locking your gun in place with your body, (like lying on top of the gun), makes longer hits relatively easy as well.
Or looking out one port while shooting out of another? Yup, vis lasers make it possible, maybe even easy.
A laser can also be a great communication tool. When used properly a laser can be a great signaling device when you are trying to link up with others and a fantastic tool to communicate force to those that don't need to be shot. Yet.
You can learn a lot about mounting a laser on your M-4 from this article.
Lasers don't have to be four-figure monsters like the DBAL or the MAWL. You might start out with something like this Streamlight Protac HLX Rifle Light Laser Combo for less than 2 bills. If you decide you like the laser life you can always upgrade!
7. A Suppressor
I resisted suppressors for a long time. The paperwork seemed like a pain, the stamp seemed expensive. I get it. Now that I shoot my AR-15 suppressed, I won't go back. It is much more pleasant for me as a shooter, and for those around me as well.
There is no doubt that a can takes your favorite AR to 11. Wait, I think I have that backward.
Final Thoughts
For many years, the AR-15 did good work without any of the fancy upgrades. If all you can afford is a rifle (with a sling of course,) some mags, and ammo, you are not out of the game. Train and practice. When you need to, you will be set.
If you have the money and the time, adding must-have AR-15 accessories makes sense. Just remember, adding a bunch of gear doesn't mean you don't have to train and practice. In fact, every piece of kit you add is likely to increase your need to train and practice. All the Gucci AR-15 accessories in the world won't make up for a lack of skill.