When it comes to the AR platform, the market is flooded with aftermarket iron sights. I've tried several flip-up iron sights and fixed sights, but none of them ever really seemed to hold up to the rigor of repeated tactical drills and rough handling. The sights always seemed to break or require frequent adjustments to reestablish zero. Shoot, even the traditional A2 sights are unwieldy and leave some to be desired. I'd all but given up until I started reading up on the Scalarworks PEAK/01 Fixed Sights. Que the fanfare.
They look great, feel great, and are a joy to use in the field. I'll admit, they're relatively expensive, coming in at $129 apiece. But from my experience, they're worth every penny. It begs the question, though: are they the right iron sight system for everyone? Maybe. Probably. Let's take a look.
World's Finest. And They Mean It.
Founded in 2014, Scalarworks claims that their PEAK/01 fixed sight system is the "world's finest." And they mean it.
The PEAK/01 sights offer the same renowned reliability of traditional AR-15 fixed iron sights with a few modern features, refined styling, and state-of-the-art engineering that make these sights the crème de la crème of aftermarket sight systems. At least in my opinion. Designed in collaboration with Larry Vickers, the sights exude quality at every angle, even before you pull them out of the package. They arrive wrapped in a vacuum-sealed plastic wrap, tucked inside an elegant, hard-sided box with a magnetic lid. Even the included Scalarworks-branded Torx bit is neatly packaged in a corrosion-proof bag. The sights feel good in the hand; smooth and durable.
Crafted of 7075-T6 billet aluminum, these suckers are light as a feather. For real. I've set up my 16" rifle with the front and rear PEAK/01 sights, and I barely notice a difference in weight, and that's due to the fact that together, these sights weigh less than five ounces. In case I haven't made my point clear, that's lighter than any other set of iron sights currently on the market.
The rear sight features two user-selectable CNC-machined apertures: One for long-range, and one for shorter-range. A side-mounted adjustment wheel offers quick windage adjustments.
The front sight also features a tool-free adjustment wheel and boasts a non-rotating MIL-STD sight post, calibrated to the correct width for an optimal 15" sight radius, practically eliminating highlight bias for improved clarity, reduced eye fatigue, and intuitive target acquisition in the field with most AR rifles.
Scalarworks Streamlined Profile
Designed to adhere to the lines of AR-15 upper receivers, the PEAK/01 fixed sights blended in nicely with my rifle with smooth edges. No snag hazards or hangover points. Everything looked as if it were integral to the flat top rail. Think about it, smooth lines equate to snag-free performance and safe and efficient handling. That's a hard find, even with some of the better-known sight systems out there, including the Magpul MBUS sights.
Once installed using the included hardware and Scalarworks-branded Torx bit, the sights looked more like a premium factory option than an aftermarket sight set. The rear sight is rounded to adhere to the rear of your receiver, and features a one-way install design with an open front, allowing you to simply slide the sight forward onto the flat-top rail. The front sight installs the same way with a rear-mounted one-way opening. Not only does the design make for easy installation, but it also maximizes stability when tightened down, eliminating the risk of crooked installation or bent bolts.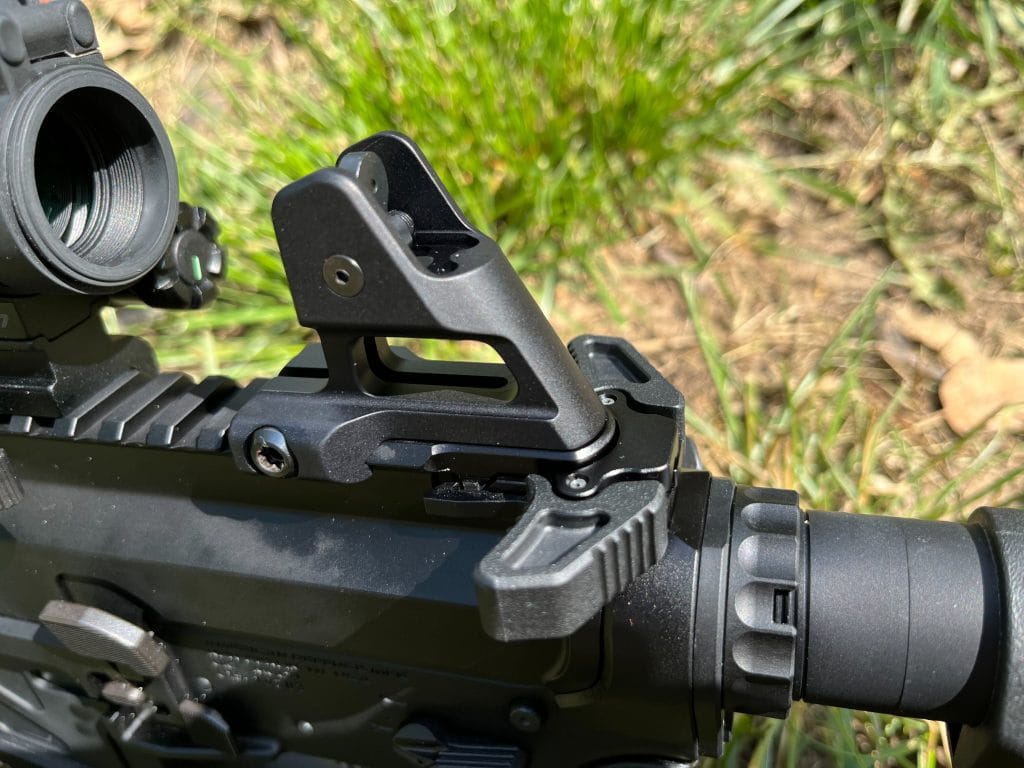 Zeroing and Field Testing
The PEAK/01 fixed sight system is designed to allow for tool-free adjustments — even the front sight post, which traditionally requires shooters to use an A2 sight tool. This means no more pesky A2 sight tools, screwdrivers, bits, or coins to keep up with. Instead, with a simple turn of the elevation and windage adjustment wheels, I was able to effectively zero the sights with precise adjustments in a matter of seconds. And better yet, they held true with no deviation under rapid fire. I'm not sure I could say the same for any of the other systems I've tried.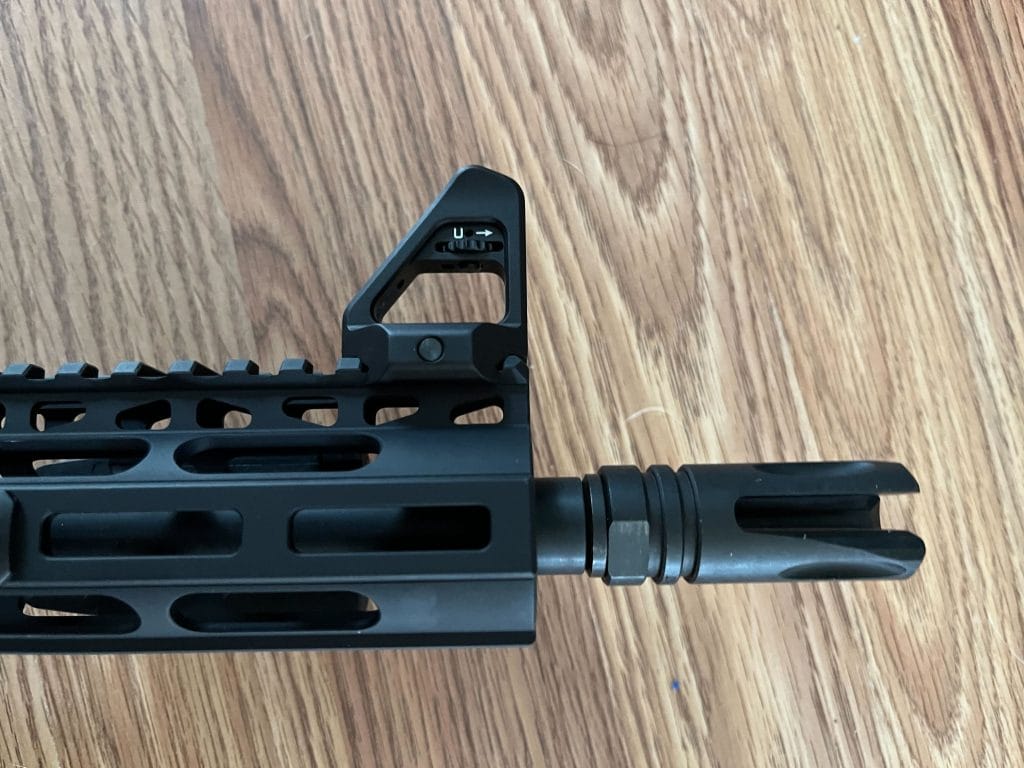 Because this is my SHTF rifle, I wanted to run the sights with an optic and by themselves as a standalone sighting system. In both scenarios, the sights were easy to pick up and I was ringing steel at 25, 50, 75, and 100 yards with ease, but I preferred using them to co-witness with a red dot sight as it was more forgiving and a bit easier to acquire my target. My shots were faster, more consistent, and more accurate than when using them as a standalone system.
When used by themselves, they were still a blast to use, but it did take a little more work to find my target and punch holes in the paper than with a red dot sight. But what that really tells me is that I just need to train more with irons. And I plan to, now that I have something a bit more reliable than previously-used systems.
After more than 500 rounds down range, the PEAK/01 sights held zero and were still safely locked in place. That's a big win for me, as other systems I've used in the past required re-tightening of the mount screws or minor adjustments to the aperture or front sight post. The PEAK/01 sights required neither of those. I imagine I'll run some drop tests in the future, but for now, I'm happy with the results.
Final Thoughts
The Scalarworks PEAK/01 aren't cheap, but they're incredibly sturdy and reliable, delivering incredible clarity at darn near any range. In my honest opinion, they're probably the best iron sights out there. At the very least, they're the best irons I've ever used in my 15+ years of firearms experience. And while they're ridiculously lightweight, Scalarworks definitely didn't skimp out on quality. They hold zero exceptionally well, they're easy to install, and if that weren't enough, they look fantastic! Never have I seen such fine craftsmanship in an aftermarket sight system, and if you're in the market for American-made irons, I think you'll agree.
Vickers himself even said, "I'm now running Scalarworks iron sights and Aimpoint Micro mounts on my BCM carbine in all of my training classes. Scalarworks Leap Mounts and Peak Sights are the current state of the art." If they're good enough to meet the standards of Mr. Vickers, they're good enough for me!