The best place to find a Para Black Ops these days is on the interwebs. Or maybe in a pawn shop or at a gun show. The company bit the dust, corporate buyout style, during the Obama administration. They were part of the SNAFU that was Remington—at least for a minute. Regardless, it sucks. Para made some nice production 1911s. I've had this one for five years or so—it is my fallback when my supply of 9mm runs low, and since I'm penning this review in the waning days of 2020, I'm almost out of 9mm.
I've got .45 ACP, though, so I'm still shooting. And the Para is no slouch. This gun is built to shoot. I shoot it well. I've even got my 13-year-old working on his handgun skills with this one now, and he's holding his own with the Para.
So what is the Para Black Ops?
This is a Para USA Black Ops in .45 ACP. Para made some double stack versions, but this is a single stack. It comes with two 8-round magazines, or it did when it was new.
MSRP: $1257.00 (way back when you could buy one new)
.45 ACP
5" Ramped Barrel
Trijicon® Tritium Night Sights
Stainless Steel Frame & Slide
EGW HD Extractor
Integral Accessory Rail
Beaver Tail Grip & Ambidextrous Thumb Safety
Skeletonized Match Grade Trigger
IonBond PVD Finish
VZ Operator Machined G10 Grips
Two 8-Round Standard Magazines
There are a couple of things about the Black Ops that I really like. The frame and slide are stainless. The fit is tight. The VZ grips have serious teeth which makes the gun easy to control. The front strap is smooth, but the back strap has aggressive checkering.
On top of the slide, there's a thin flattened line. It connects the Trijicon sights. The PVD finish on the stainless is somewhere between blue and black, with a hint of grey.
Problems for Para
As I mentioned before, Para USA was bought by the late Remington conglomerate. Before becoming Para USA, Para was Para Ordnance—a Canadian gun company. Regardless of the chain of ownership, buyouts often mean production issues.
I've had some work done on this gun. I picked it up for a review more than five years ago. This was during the time that Remington was cannibalizing Para for its own 1911 pistol development, and some parts of this gun were dubious, at best. The trigger needed some work. That's a bit of an understatement. The first time I pulled the trigger, it went back—but didn't come forward. My gunsmith worked on it, and now it's flawless.
While he was working on it, he snapped the ambidextrous safety. It snapped when he engaged it. The safety that came on the gun was injection-molded steel. Like I said—dubious. I replaced it with a milled Nighthawk safety. After a bit more work, it works as it should.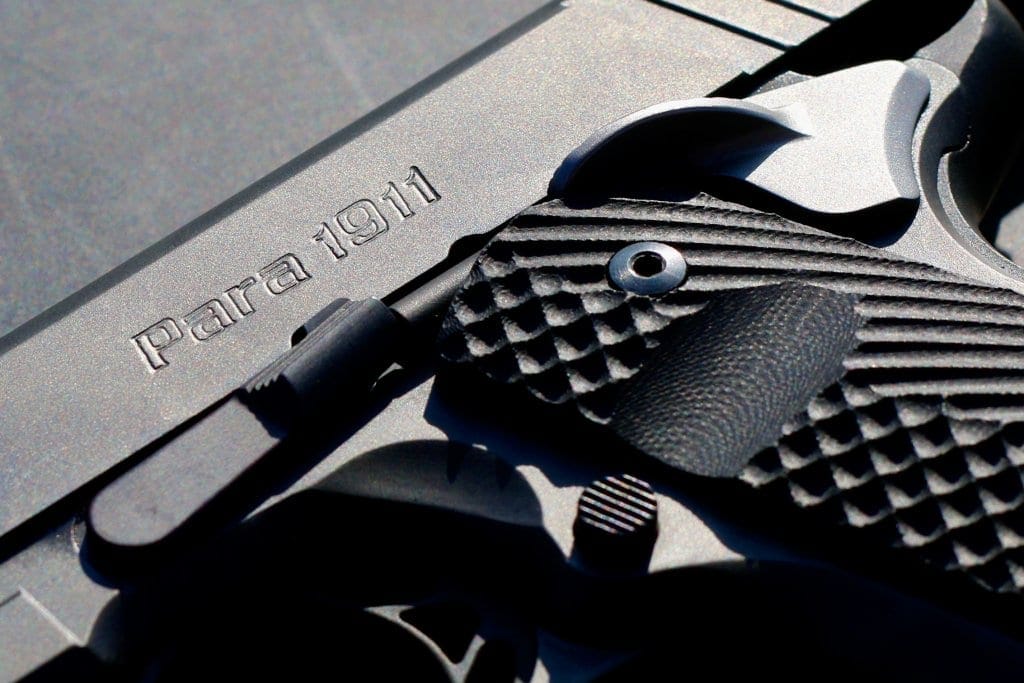 After its repairs, though, I'd put this up against any production 1911. I've carried some really nice 1911s—Dan Wessons, a Springfield Armory TRP, even a Christensen. Some of those guns—maybe all of them—looked better than the Black Ops. I'm not a huge fan of the winged skull logo, for example. The engraving is chintzy and the aesthetic seems like it is trying too hard. But the damn thing shoots straight.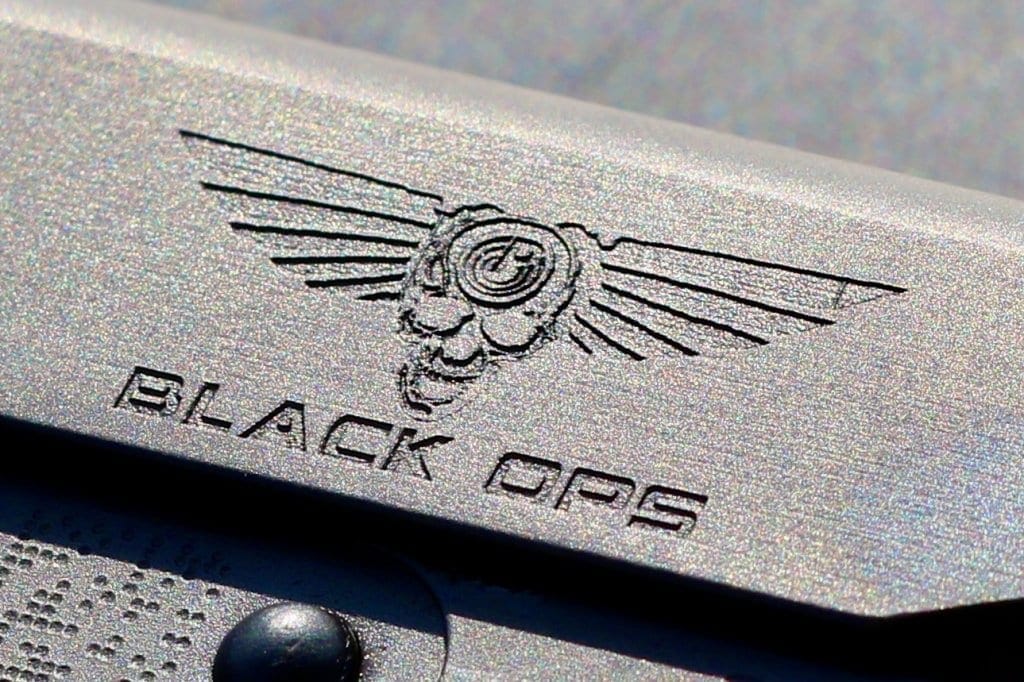 Para Black Ops—Performance
Accuracy with the Black Ops is predictably reliable. The trigger breaks clean, right at four pounds. The reset, as it is on good 1911s, is easy to feel. The weight is an asset for control.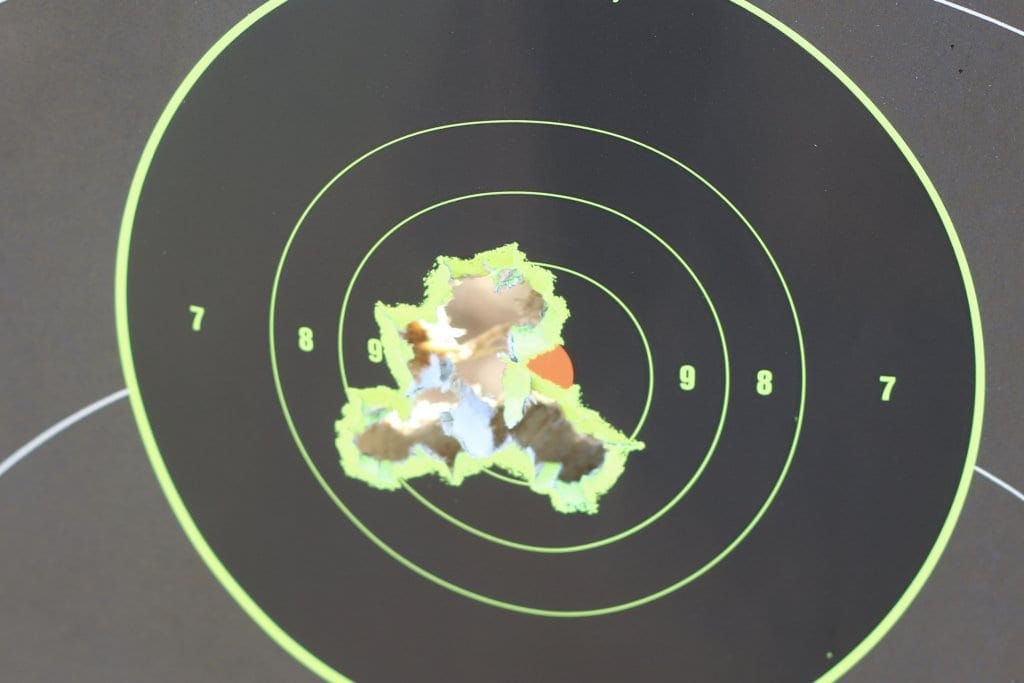 Shooting slowly, I can run one-hole groups from 25 feet. For years, I've carried a variety of sub-compact and compact 9mms. While they are easy to carry, easy to shoot, and provide reasonable accuracy, they don't leave me feeling cocky like the Para does.
From 25 yards, my groups spread a bit, but they're still respectable. My defensive times seem faster, but it is because I carry this strong-side OWB and I'm just faster from that style of carry. But the Para is easy for me to hold down, and that allows for a rapid engagement of multiple targets. You may miss it in the image below, but there's that shell is still on its way up.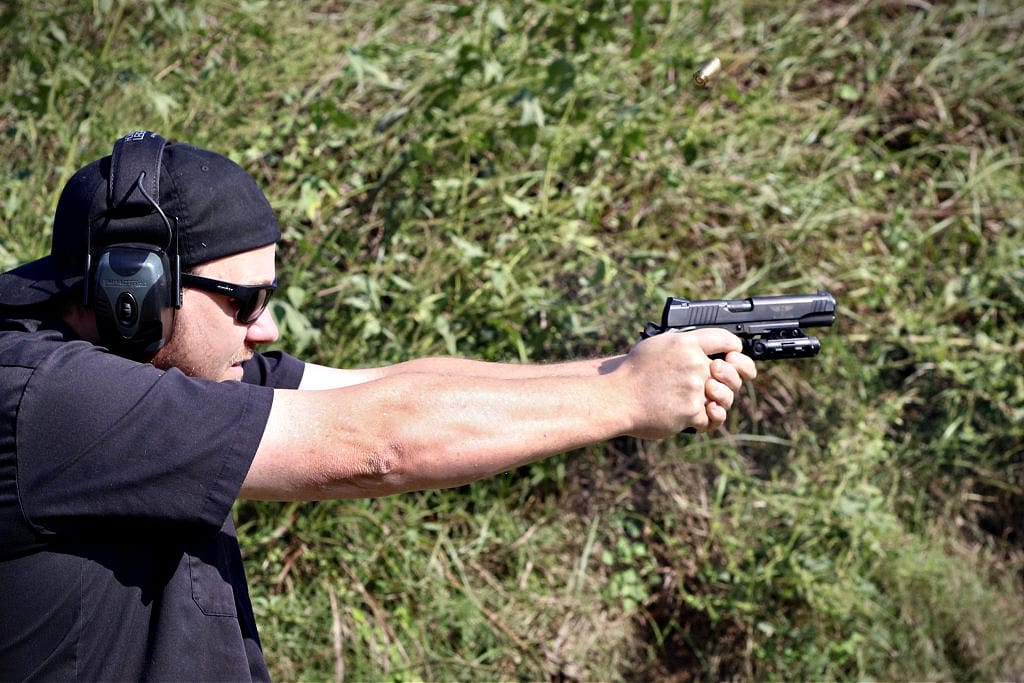 Para Mags
And on that note, the mags, which are marked as Para, hold 8 rounds. They have a slight protrusion–a small bumper. I'd definitely recommend 8-round mags for a gun like this, even if it does add a smidge to the overall length. The standard 7-round 1911 mags will work in the Black Ops, too. And if you want even more capacity, there are some other options listed, too.
There was a double-stack version of this gun made, and GMW has some of those Para mags listed–but not in stock. The double stack 1911 is an interesting concept, but I can't get a comfortable grip on one.
Sights
The sights are solid, too. The night sights glow nicely. Trijicon sights provide a reference point at night, but I have never liked the idea of relying on them, alone. I'd rather have a light or light/laser combo like this one. This is a Viridian X5L. The Gen 3 X5L is rechargeable and comes in a variety of configurations: light only, light/laser, and even light and camera.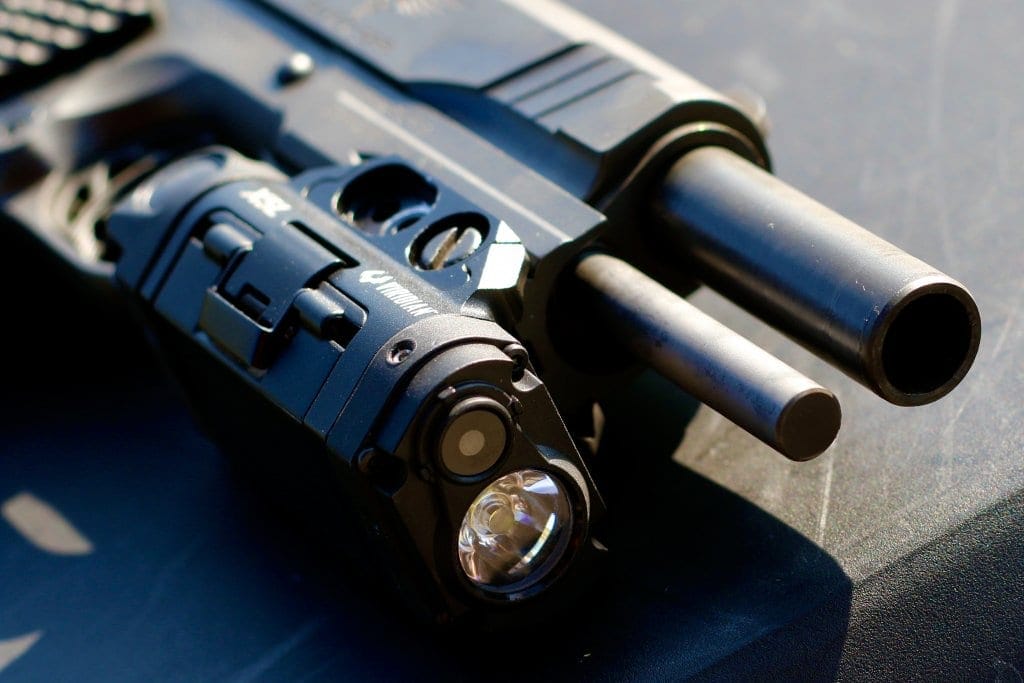 In the end, I'll offer this advice. If you come across one and you're in the market for a 1911, pick up a Para. The brand isn't fashionable enough to command premiums, but is solid enough to deserve respect.
And if you're running low on ammo, look to the oddball calibers. Fans of the .45 ACP are rolling their eyes at my insinuation that .45 ACP is an oddball, and I get it. But if you're like me, most of your guns are in the same calibers. Here in Arkansas, where I live, 9x19mm was the first caliber to vanish from the shelves. After a couple of months of begging, trading, cutting deals, and donating plasma, I questioned my motives. .38 and .45 ACP were still available.