The MP 12 bullpup shotgun is a 12 gauge pump-action designed, S&W says, for home protection. Released just this morning, the M&P 12 is not the first Smith & Wesson shotgun, but it is the first in many years. It is also their first bullpup design ever, though some might argue that it's their first bullpup since the UTAS UTS-15.
Those people aren't writing this though, so it is the first S&W bullpup. If anyone wants to argue about it they can go write their own article.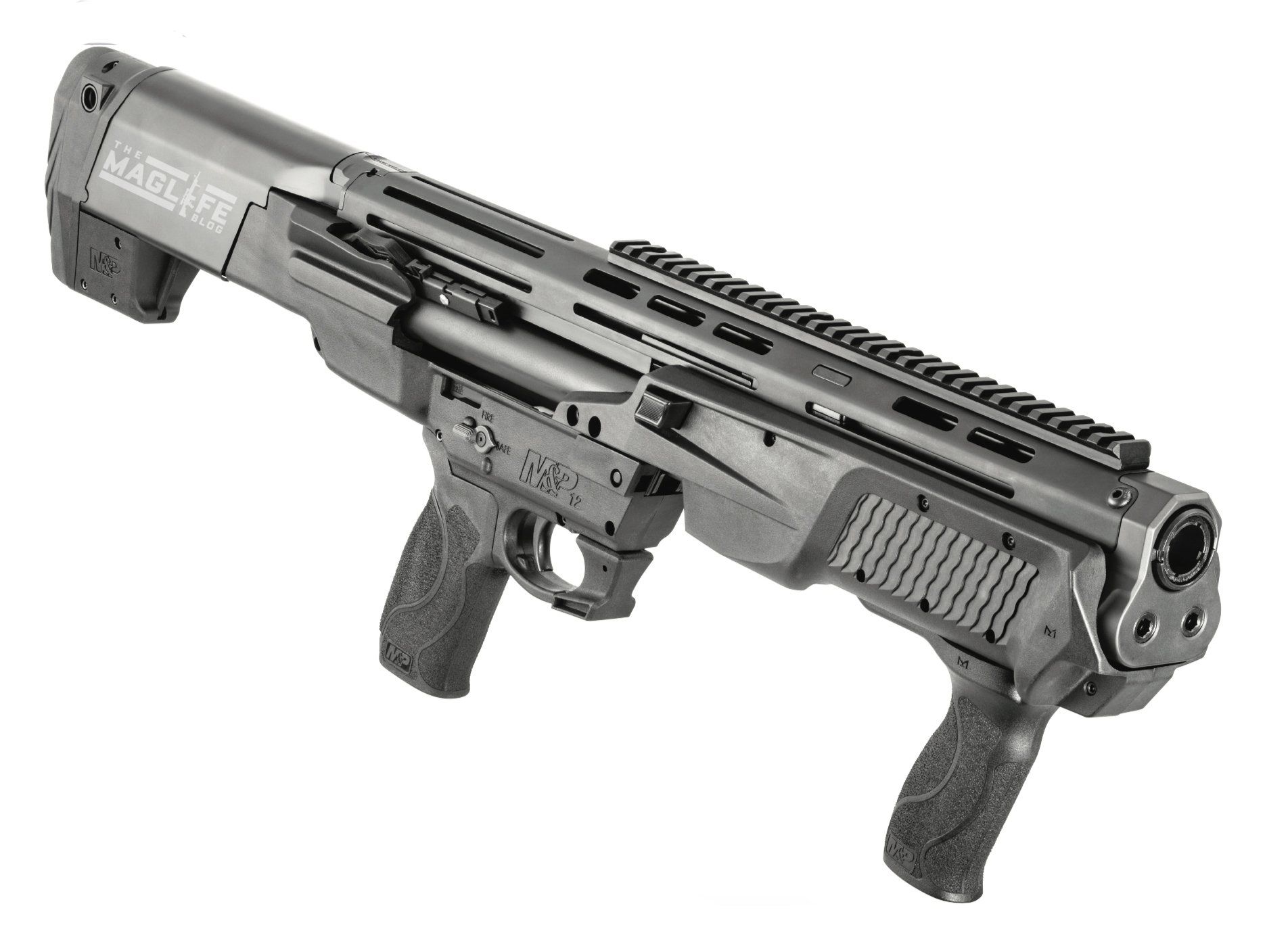 Like its handgun and rifle predecessors, the M&P in M&P 12 stands for "Military & Police".
The M&P12 is a 12-gauge pump-action with a 3 in. chamber and two independent magazines. Total magazine capacity is 12 x 3-in. shells (six/6 per tube) or 14 x 2 3/4 in. (seven/7 per tube), and there is a push-button magazine selector to switch between the two.
A reciprocating cover with a release button provides the mechanism for clearing damaged shells, and an assist button on each of the magazine tubes is provided to assist in loading and unloading.
At its release, S&W VP of Marketing Kyle Tengwall said,+
"Smith & Wesson has a long, storied history of making handguns for self-defense, yet no conversation around personal protection can be complete without mentioning the 12 gauge shotgun. With the introduction of the new M&P12, Smith & Wesson is able to offer our consumers a personal protection product in a variety of categories: pistol, revolver, rifle, and shotgun.
Today, we're excited to unveil the M&P12 – a new category introduction for Smith & Wesson, and a firearm that's purpose-built for protection and a blast to shoot at the range."
M&P 12 Shotgun In Action
My friend Jeremy Stafford of Guns & Ammo posted some imagery of it this morning once the embargo was lifted.
Stafford says, "The Smith & Wesson M&P 12 has been released. Despite the wailing and gnashing of teeth by the collective tactical 'grams, they'll sell a metric ass-ton of these. It's better built than the KSG, it runs like a champ, and carries 15 rounds of 2 3/4 inch shells on it. if you dabble in min-shells, it will hold 20 rounds. AR-style controls, a pretty good six-pound trigger, an overall weight of 8.3 pounds, a 29-inch barrel, and an overall length of 28 inches. Look for an upcoming review in Guns & Ammo."
He didn't write it as well as I did because Jeremy and punctuation aren't friends, but he doesn't have to. He has that square jaw and roguish charm (and an editor) to get him by. Anyway, unlike me, Jeremy was able to take the M&P 12 out to the range. Probably that square jaw and roguish charm got him the hookup, I wouldn't know, but I take him at his word when it comes to guns and you should too.
Someone else who was able to go hands-on with it was TFB's James Reeves. He did a great video episode about it if you're interested in watching it go loud. I didn't get a peek behind the scenes like he did, so I can't show you.
That's probably because I don't have a tactical Barry White voice like he does. Not that I'm jealous or bitter or anything.
Though there does seem to be a pattern forming here.
M&P 12 Bullpup Shotgun Features
• Reciprocating cover with release button for clearing damaged shells.
• Assist buttons on each magazine tube to make loading/unloading easier.
• Push-button magazine tube selector.
• Ammo adaptability.
• Two independent magazine tubes.
• Tactile loaded chamber indicator.
• M&P grip with four interchangeable palmswell grip inserts.
• Ambidextrous safety selector.
• Picatinny-style rail on top for sights/optics.
• M-LOK slots on barrel shroud.
• 15-inch cable lock.
• Foam-lined, hard, carry case.
• Choke tube wrench.
• Modified and cylinder choke tubes included (Rem Choke compatible threads).
• Ambidextrous QD push button base on the buttstock.
Smith & Wesson MP12 Bullpup Shotgun Specs
Model: M&P12 Bullpup Shotgun
Caliber: 12 Gauge
Action: 3 ̋ Chamber 
Pump Action
Capacity: 6 Rounds 3 ̋ Shells Per Tube or 
7 Rounds 2-3/4 ̋ Shells Per Tube
Barrel Length: 19.0 ̋ (48.3 cm)
Barrel Internals: Smooth Bore, Threaded for Choke Tubes
Stock:
 Synthetic Fixed Stock
Grip: M&P with Four Interchangeable Palmswell Grip Inserts
Length of Pull: 14.5 ̋ (36.8 cm)
Width:
 3.7 ̋ (9.4 cm)
Overall Height: 8.7 ̋ (22.1 cm)
Overall Length: 27.8 ̋ (70.6 cm)
Weight: 8.3 lbs. (3,764.9 g)
Barrel Material: 4140 Chrome-Moly Vanadium Steel
Barrel Finish: 
 Black Oxide
Receiver Material: Steel
Receiver Finish: Matte Black
Previous Smith & Wesson Shotgun Models
Some previous S&W "scattergats" include:
· The AS Assault Shotgun, a magazine-fed select-fire shotgun reminiscent of the M16
· The S&W Model 1000 semi-auto, manufactured in Japan by Howa Machinery and available in both 12- and 20-gauge. This one dates back to the 70s and 80s; don't conflate it with the S&W 100 Series, those came out about a decade and a half ago (q.v.).
· The Model 3000 manual action (i.e. pump) shotgun. Likened to an "improved Remington 870", it was also made by Howa, also in 12- and 20-gauge configurations.
· The S&W Elite Series, a break-open sporting shotgun design manufactured in Turkey.
· The SW Model 916, a rebranded shotgun design originally produced by the Noble shotgun factory as the Noble Model 66. The Model 916 was available in a couple of different versions, including tactical and takedown, but unfortunately like the Model 66 before it consistently suffered reliability issues. In fact, the 916 was later voted one of the worst modern shotguns of all time, though S&W evened the scales back out with the Model 3000 (a design that itself spurred an improvement on the 870 by Remington).
James Reeves Overview, TFBTV
More MP12 Gun Porn