This past weekend I helped to orchestrate an epic shootfest for a buddy's bachelor party and it provided a great example of why you should mark your magazines. More about that in a bit.
I hope Dave's marriage is way more fun than we had at the range, but I gotta say, that is gonna be a challenge. The day was glorious and contained everything from real training to fun with guns, .22lr to .50BMG, single shot to full auto, and paper targets to time on the Roger's range.
All of that fun meant lots of magazines! In my case, marked magazines. I like my gear. I invest a lot in my gear. Even though I enjoy allowing other shooters to use my gear, I actually want that gear back! I bet you feel the same way.
That means that like me, you might want to consider taking the time to mark your magazines.
Mark Your Magazines: Why you should mark your mags.
Tuesday morning rolled around. That meant it was time for me to reorganize after a three day weekend of firearms instruction. When it comes to teaching guns, it seems there is at least as much work that takes place off of the range.
As I started to work through the boxes of gear, I came across lots of mags. With the exception of two of those mags, they were all mine.
I knew that the mags were mine because they were marked with my name, my company name and a number. You see, after years on the range, one thing I know is that a GLOCK mag looks like a GLOCK mag and with the amount I invest in magazines, it makes sense to make certain that I get my gear back.
If you are reading blog posts here at GunMag Warehouse, you know how important mags are to your shooting and you know that they are a significant investment. You want your mags back after a weekend of shooting and that is why you should mark your mags.
If it gets mixed in with someonelse's gear or gets misplaced or left behind a marked mag is much more likely to be returned.
How to Mark Magazines.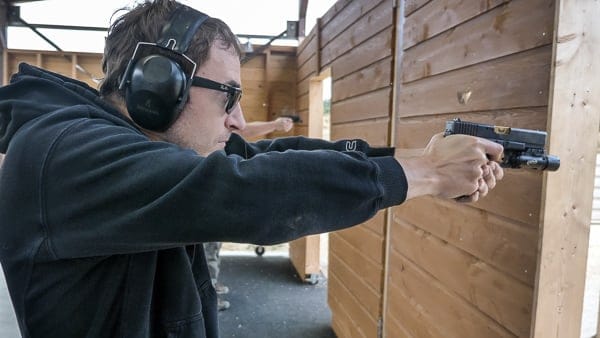 Over the years I have found that the best way to mark magazines is with a simple paint marker. I make sure that the marker is a contrasting color to the magazine, white works well in most cases, but if you like some other color go for it as long as it will allow you and others to see who the mag belongs to.
When it comes to the actual marking, make sure to follow the directions that come with your paint marker. Since guns and oil often go together, pay particular attention to the cleaning instructions.
It makes sense to test out your paint marker on something that isn't valuable before you start marking. Making sure to have the right amount of paint in the tip can help to ensure your mags look neat and more importantly that your markings are legible.
When I mark my mags I like to mark them in multiple places so that if one marking wears away, another may still be visible. I also like to be able to see the mag I.D. from multiple angles. I ALWAYS mark the body of the mag as that is likely to be the most easily seen, and I often mark the baseplate as well. This helps me keep parts together in the same unit and prevents someone from simply replacing a baseplate and making the rest of my mag "theirs."
Finally, make sure your mags have some drying time before they get used.
What markings do you need?
Lots of folks have some kind of a unique mark they like to put on their gear to I.D. it. I've seen officers use badge numbers or people using a neat display of initials or a personal mark. All those ideas are groovy, but they may only have meaning to the individual or a small group. When you are at a training course of a dozen or more people or you leave your gear at a public range, those unique marks may not be enough. While unique is cool, it may not help your mags to get back to you.
I recommend making sure to mark your mags with your last name. If you have a last name that is common, consider first initial and last name at a minimum. Last name helps an instructor or range worker be able to cross reference paperwork and your mag and facilitates them getting your gear back to you.
While you are at it, make sure to add a unique number to each mag so you can track its performance over time. When you experience a malfunction knowing what mag was being used can help you to track down the source of the malf. After all magazine reliability is important!
I typically use a 2 digit number identifier such as "01" or "18". I can't think of a single firearm I own that has less than 10 mags to go with it and I like that consistency of seeing 2 digits. Yeah I guess I am a bit "type A" about some things.
Final Thoughts
Shooters need mags. Lots of mags and that necessitates an investment. Taking the simple step of marking your magazines is an excellent way to protect your investment and keep your gear for years to come.
Marking your mags helps you to identify the magazines that belong to you. It helps others return your gear to you when they scoop it up by accident or when you leave it behind. Marking your mags with a unique number can also help you keep your gear functioning at its best. These reasons really make the idea of marking your mags a no-brainer.
Now, I need to track down the owners of a well used HK VP9 magazine and a brand new FDE Hexmag, both unmarked!
How do you mark your mags?