The first article I ever wrote for the Mag Life was a review of my CZ Scorpion S1 Carbine. The S1 Carbine is a full-length rifle with a 16-inch barrel. It's a little silly outside of USPSA competitions in a world where braced pistols are now the norm. Now that I own the mini Scorpion, I was ignoring my full-sized rifle, so what is a man to do? Well, hell, why don't I just bullpup the damn thing? CZ USA and Manticore Arms teamed up to produce a conversion kit that would take a CZ Scorpion S1 Carbine and shrink it down to 26.25 inches. The Bullpup Scorpion kit will work with other pistol variants, but you'll need the M-LOK handguard and a Form 1 completed.
Why A Bullpup?
A Bullpup is the best way to make a full-length carbine more compact. This kit shrinks the carbine model of the Scorpion to the size of the Evo S1 Pistol with an SB Tactical folding brace extended. To be fair, while bullpups are kind of fun they're rare and in many cases expensive. This is doubly so for bullpup PCCs. Happily, the Bullpup Scorpion kit gives you a bullpup PCC with common, reliable, and affordable magazines in a proven platform.
Installing the Bullpup Scorpion Kit
CZ sent me the kit, and I went about installing it on my rifle right away. The build process is involved, and this is not a simple drop-in kit. You will be taking your Scorpion apart quite significantly to get the kit to function. No permanent modifications are made, but it's a process. There are a few videos online you'll want to follow, specifically the video done by the NRAPubs Youtube channel (see below). It took me about an hour with a few punches, a mallet, and patience.
How's the Bullpup Scorpion Handle?
In short, pretty damn well. It's honestly better than you would ever think a bullpup conversion could work. In the past, we've had the Muzzelite kits, those nutty SKS kits, and more. In my experience, such kits have never been very good at converting these weapons when you factor in the changing of controls.
Manticore did an amazing job of converting the CZ Scorpion to a bullpup platform. This includes changing the controls when necessary but keeping them the same when possible. A big change is converting the safety from a switch to a push-button design. The button is placed perfectly for easy engagement and is very easy to reach.
The magazine placement is obviously much different than the standard model, as is the magazine release. It's an ambidextrous tab that's quite large and easy to reach. Overall the ergonomics are not compromised during the conversion.
Putting the weight and pivot point to the rear makes the weapon much easier to maneuver with. Snapping from the low ready onto the target is done in a flash, and transitioning from target to target is much quicker and more intuitive. I feel like ultimately, I have more control over the weapon.
Of course, since it's nearly cut the weapon's length in half, it's also more maneuverable inside a home or moving in and out of vehicles.
Range Time with the Bullpup Scorpion
As I mentioned, running drills with the gun was surprisingly fast from the very beginning, and I was meeting or beating set part times without a warm-up. One big difference was the muzzle rise — with the change of weight and pivot point, there is effectively none. The grip is super close to the end of the barrel, allowing complete control over the gun. The recoil didn't change, but muzzle rise sure did.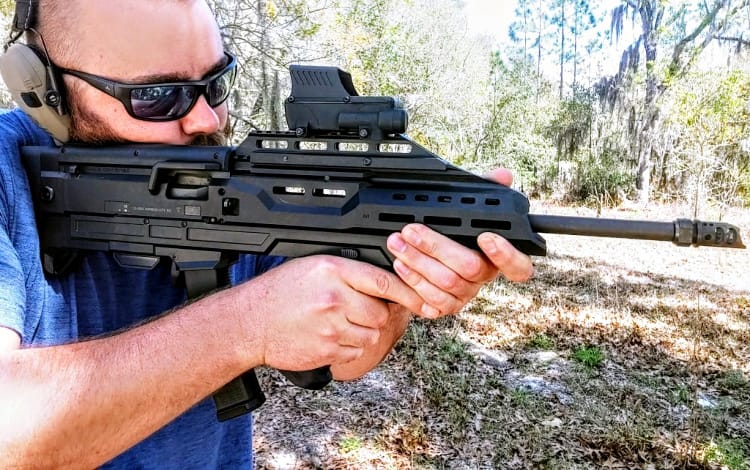 The Bullpup Kit didn't affect the function or reliability of the weapon and the gun ate and ate without issue. This was an initial fear I had, and its a fear I'd have with any major change to a firearm.
Accuracy was unchanged at ranges from 15 to 100 yards. Inside of 15 yards, we ran into height-over-bore issues. You need to compensate quite a bit to be precise inside those ranges. If you don't compensate, that headshot might be a chest shot. If you go with a 1X prism or any optic with a reticle with built-in holdovers, you might solve the problem a little easier.
Speaking of optics, the kit comes with a short scope rail, so you'll either have to ditch the iron sights or deal with an ultra-short sight radius and a very low cheek weld. It's a better idea to just toss on an optic and deal with the lack of irons. I'm using the very-cool and high-tech Meprolight Foresight.
The Bullpup Scorpion performed with grace on the range. It was a lot of fun to run through a variety of drills and see how handy and fast a bullpup can be. I'm guessing this is what the big appeal to these platforms is.
The Trigger Though
The Scorpion's trigger isn't exactly a god trigger. It's serviceable, but not great. The bullpup Scorpion kit doesn't make it much worse. It's longer, a little spongier, but not far from a stock Scorpion trigger. Bullpup triggers are tough, but the good news is that the limited range with 9mm rounds isn't going to be affected much by a bad trigger.
What About Reloading?
Reloading is also a little less intuitive with a bullpup when compared to a standard configuration rifle. I couldn't get nearly as fast with the bullpup compared to my standard Scorpions. The good news is the Bullpup Scorpion kit is smart enough to use a big honkin' magazine release. It's placed easily enough to allow you to grab the magazine and activate the release.
The Bullpup Benefits
The Bullpup CZ Scorpion kit is an excellent upgrade to your CZ Carbine. CZ and Manticore arms came together to produce a very well-made, and high-quality piece of kit. It's most certainly not for everyone, but I've found a lot of joy in it and how it makes my big, goofy, PCC a little handier. Visit CZ America to check out the Bullpup Scorpion Kit.