Is there anyone reading this who wouldn't want to shoot a full auto .50 caliber? If so, why are you here? For the rest of us, check out the guys from Demolition Ranch rock 'n roll with a full auto 50 Beowulf AR (thanks in no small part to Apache Rifle Works).
How did they do it? Well, remember Frankenstein and how he was kinda all pieced together in a laboratory? It's sorta like that.
Demolition Ranch + Apache Rifle Works
Big bore Beowulf blaster
They started with a .50 Beowulf upper, 16-inch .50 barrel with gigantic muzzle brake, and a free-float handguard. Then they swapped out the semi-auto lower for a full auto version from Apache Rifle Works, blended into a single cohesive unit, and voila!
A 50 Beowulf AR that'll just. keep. runnin'.
So what ammo did they choose? They started out shooting standard .50 caliber Beowulf to get the party rockin' and blow away some bright yellow bowling pins because, well, they were just sitting so innocently on the ground and needed to be shot. So Demolition Ranch contributing guest The Reaper (a.k.a., Nick Irving) tried his hand at the rapid-fire leviathan.
His thoughts?
"It's stomping, bro!"
Once the pins had been auto-bowled, it was time to change ammo to a frangible round – mostly because all the targets were 15 yards or closer and the dudes all wanted to live to tell the story.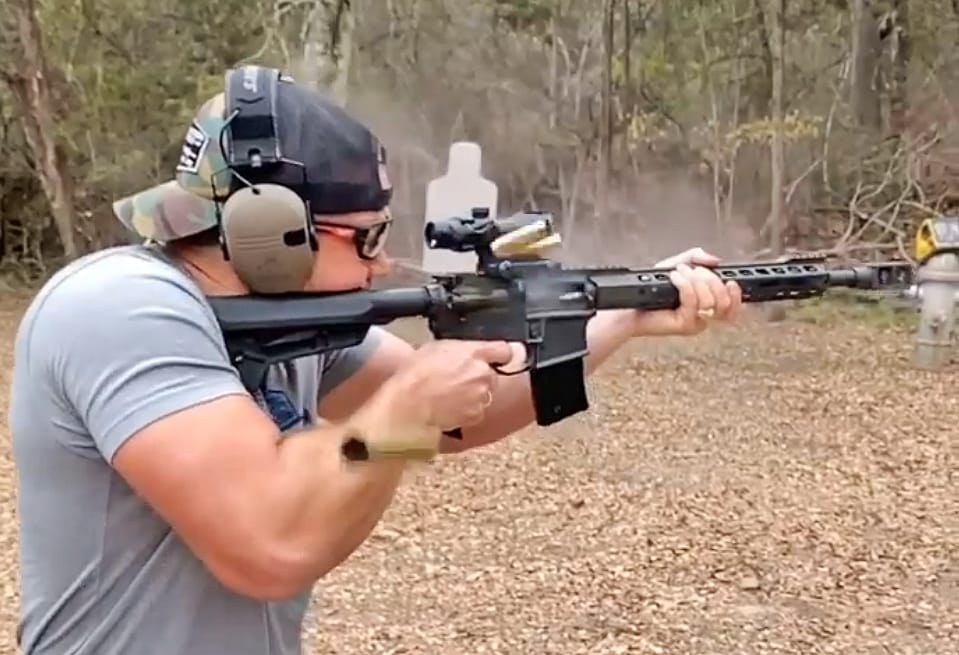 An assortment of target clusters followed, including shaving cream cans, paint cans (which made a horrible mess and accidentally repainted a steel target in the process), watermelons with paint cans wedged between, full Big Red and 2-liter soda jugs, and…a toilet. Yes, a full-on porcelain toilet, complete with seat and flush tank.
The most impressive part of shooting this beast – and the guys mentioned this in the video – is the lack of substantial kick on full auto. Naturally, the muzzle rose a little. You can't override Newtonian physics. But it wasn't much more than a standard 5.56 AR.
Hey, after you've had fun with the video, check out our selection of M4 mags and accessories for your AR — or read more articles about AR builds!