The Springfield Armory SA-35's official description leads with the line, Don't call it a classic. Okay, that's fair — it's a new gun. But the design is damn sure classic, which at a minimum makes the SA-35 either an homage or a pastiche, or both.
However you define it, it's a call back to the Browning Hi-Power. The pistol entered Belgian service in the 30s as the P-35 and eventually served in numerous countries around the world.
"If ever a pistol could be called lasting, respected, and quietly elegant, then the Browning/Saive FN P-35 is certainly that pistol."
Jerry Paregian, Decoding the FÉG Hi-Power
SA says,
It's had many names in its century-old history and today, we reimagine this renowned design for modern use. Based on one of the most prolific and popular pistols in small arms history, the Springfield Armory SA-35 gives today's shooters a modern take on a revered design. Featuring subtle but significant upgrades to John Moses Browning's original P-35, the 9mm SA-35 captures the appeal of the "wood and steel" era of arms making while offering the upgraded enhancements of today's defensive pistols.
Made in the U.S.A., the SA-35 features rugged forged steel parts for strength and durability, improved ergonomics and enhanced controls, modern sights, improved feed ramp design, and an increased 15-round capacity. The factory-tuned trigger benefits greatly from the removal of the magazine disconnect found in the original P-35 design allowing for a smooth pull and crisp, clean break.
Call it a legend, call it an icon, but whatever you do, don't call it a classic.
(Emphasis added – that's great news.)
Okay, whatever. You say legend, he says classic, I say, Let me shoot this thing, cuz I do love me some Browning Hi-Power.
Now, because The Mag Life is the official online publication of GunMag Warehouse (oooh, we fancy), I should point this out:

Springfield Armory SA-35 Specs
| | |
| --- | --- |
| Chambering | 9mm |
| Barrel | 4.7″ cold hammer-forged |
| Weight | 31.5 oz |
| Overall Length | 7.8″ |
| Sights | White dot front, serrated Tactical Rack rear |
| Grips | Checkered walnut |
| Action | Single-action |
| Finish | Blued carbon steel |
| Capacity | 15+1, one magazine included |
| MSRP | $699 |
[ngg src="galleries" ids="3″ display="basic_imagebrowser"]
Browning Hi-Power P-35
Praise and Problems
The P-35/Hi-Power, sometimes referred to as the "Belgian Browning, was John Browning's last design. It was also, Col. Jeff Cooper opines, "…in the mechanical sense, his best."
"The action is similar in general concept to his famous 1911, but amazingly simplified. Field stripping is so easy that it can be completed, blindfolded, in five seconds, and the link-pin, too often lost in the 1911, has been eliminated. In addition to its streamlined simplicity, the P-35 features something that, while obviously desirable, is found in no other current handgun. This is the Mauser-type, double-
column magazine. By this means the P-35 holds 14 rounds when fully loaded—13 in the magazine and one in the chamber. This is a spectacular advantage in a combat situation and I find it hard to understand why it is not used on every self-loader in production today."
Col. Jeff Cooper, Fighting Handguns
That Damn Disconnect
"[The Browning Hi-Power] has what is known as a 'magazine disconnector' which prevents firing the round in the chamber when the magazine is withdrawn. This makes the pistol safer in the hands of a novice, but it eliminates one of the strong points of the auto pistol—the ability to hold a man covered while you reload. Here again, a little custom work and you can fix this. Browning, incidentally, had seen the drawbacks of a grip safety when he designed this piece, and did not include it."
Jeff Cooper, Fighting Handguns
That Hi-Power Grip
"John Browning died in 1926, while at the FN plant in Belgium where he had designed quite a number of his masterpieces. At the time of his death, he was working on a pistol at the request of the French military which wanted a high-capacity pistol with as few moving parts as possible. In about 1928, FN designer and engineer Dieudonne Saive took up Browning's project and brought it to fruition. The result was a sturdy pistol, originally chambered for the 9mm (9x19mm) cartridge.
It had no grip safety (something foisted upon Browning by the US Army), no barrel bushing, a magazine disconnect (another bad idea insisted upon by the military), and held 13 rounds in the magazine. By accident, or by design, it has a very comfortable grip contour that no other hi-cap pistol has ever been able to match."
Jim Wilson
"Another strong point of the Belgian Browning, as it is sometimes known, is a fine, comfortable grip, which fits my hand, for one, better than any other 'stock' pistol grip. The top of the left-hand stock-piece forms a little shoulder which serves as a natural thumb-rest, and its curved rear strap seems to support the hand in just the right places."
Jeff Cooper, Fighting Handguns
Other Browning Hi-Power~alikes
Radom P-35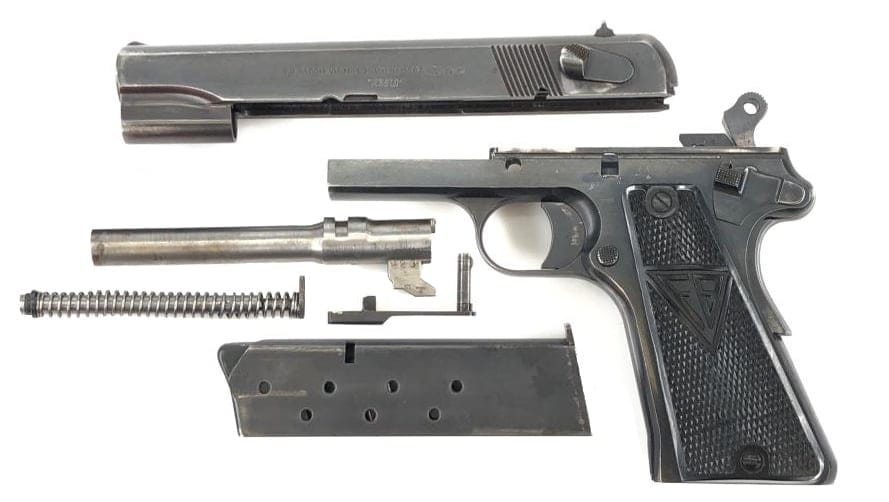 Hi-Power FAQ
Can you still buy a Browning Hi-Power?
Hell yes, you can still buy a Browning Hi-Power. The BHP was manufactured for more than 80 years, but FN ended its production run in 2018 (the FN manufactory in Liege where it was built was actually torn down in 2015). Many Hi-Powers of varying design, finish, modification, brand (i.e. Radom, FEG, John Inglis & Co., et al) exist on the market and modern versions of the weapon are becoming increasingly available. The Springfield Armory SA-35 is one such; the Girsan MC9 is another.
If you do opt for one of the original breeds, follow RECOIL Editor-in-Chief Iain Harrison's advice about it:
For decades, the Hi-Power was the 9mm handgun. John Moses Browning's last design has more than proven itself on battlefields the world over (the example here served as sidearm in the Israeli Defense Force) and although it's been eclipsed by more modern designs it's still a very competent weapon. With aftermarket magazines, it offers a 15+1 capacity, single-action trigger, and decent sights. Many shooters used to the feel of modern, top-heavy pistols marvel at the pointability and balance of the old warhorse, and once experienced, it's tough to go back.
When searching for an example for use as a carry gun, look for a Mark III if possible — compared to older models, the ambidextrous safety and larger sights are a real benefit. Although many models and variants were offered throughout its long production lifespan, some of which commanded premium prices, it's still possible to pick up an ugly version for not a whole lot of coin — the one you see here retailed for $360 with one mag. Beauty is only skin deep, and once you get past the parkerized frame and epoxy-coated slide, the internals proved to be pristine with hardly any evidence of being shot.
The Hi-Power has been thoroughly debugged since its introduction in 1935, and its weaknesses are well known. If you have large hands, then it might not be the ideal pistol for your needs due to hammer bite; the backstrap lacks much in the way of a beavertail, allowing the web between thumb and forefinger to be pinched by the hammer if you have meaty paws. On the other hand, if you have small ones, you'll love the Hi-Power. It's best to handle a Hi-Power first before slapping down the plastic to see if this is going to be a problem for you. The trigger pull can be heavy and gritty, but can also be quickly and easily improved by simply removing the magazine safety — 15 minutes and a small punch is all it takes. Although the gun will digest a steady diet of normal-pressure 9mm Luger, +P loadings should be avoided as this will batter the slide's locking lugs.
How does a Browning Hi-Power Work?
The typical Hi-Power is a semi-automatic, recoil-operated, single-action 9mm handgun. This means that the chamber and magazine loaded, the safety lever in the fire (i.e. off-safe) position, and the hammer cocked, the pistol will fire a single cartridge with each successive pull of the trigger until the magazine and chamber are empty. Because of the disconnect, most Hi-Power-type weapons (unless modified) will not fire if the magazine well is empty. Double-action Hi-Power autoloaders were manufactured, but not in any great numbers. The same holds true for models chambered in cartridges other than the 9 x 19mm.
How a Hi-Power Works: Cycling and Slow-Motion
How a Hi-Power Works: Disassembly
When was the Hi-Power Invented?
John Moses Browning developed the Hi-Power (BHP) in the 1920s but the autoloader did not see mass production or service until it was adopted by the Belgian military in 1935.
"Although Browning is today best known for the Colt 1911A1 handgun and the M2 'Ma Deuce' heavy machine gun, his final pistol design was decades ahead of the competition. The Browning Hi-Power handgun was designed by Browning in the late 1920s in response to a competition for the new French Army pistol, which was dubbed the Grande Puissance ('high power') 35. Browning was commissioned by Belgian arms manufacturer Fabrique Nationale d'Armes de Guerre—FN for short—to design a new pistol. That pistol would later be known as the Hi-Power (HP) or GP35 for short." Kyle Mizokami, The National Interest