Motorcycle Concealed Carry: Going Heeled on Two Wheels
Motorcycle concealed carry — it's more difficult to ride while armed than to drive while armed. That's true whether we're talking about a two-wheeled ride than a four-legged one, though in fairness those are relatively simple compared to a unicycle. As with any form or mechanism for concealed carry, choices of equipment and garb, and their ramifications, will be dependent upon the weapon, the environment, even the kind of motorcycle. Here are some thoughts from an experienced "motor jock" for you to consider. Your mileage may vary. Editor
Motorcycle Concealed Carry
CCW Motorcycle Options and Open Carry Considerations
Guns, fast cars, big trucks, and motorcycles always seem to go together. When carrying a weapon every day, most use their own personal setup. But when using a motorcycle the EDC can change, especially since there are different types of 2 wheel transportation.
This article will deal only with handguns. So let's see what types are available and what may work best for you. If you're interested in some long(er) gun options, let us know in the comments and we'll discuss. If you're looking for specific equipment options be sure to let us know that as well.
Motorcycle Holster Issues
OWB Holster, Open Carry or CCW
As a former Motor Officer, I have openly carried in an OWB holster (Outside the Waistband) both concealed (off duty) and openly (on duty) for over five years daily. This method of carrying a weapon is comfortable and provides easy access to your weapon. For the responsible, armed citizen, however, it can cause issues.
1. Depending on the state or municipality you are in, it may be considered illegal to carry in this way. A concealed carry permit might be needed if you don't live in a "Constitutional Carry" state, and in many places, open carry is against state and/or local ordinances.
2. If you don't wear a cover garment or dedicated concealment garment like a vest, jacket, etc. this may well cause someone to call the police on you. Some people think of bikers, especially people on cruisers, as outlaws. Seeing a biker on a Harley with a weapon fully display, or even revealed momentarily by movement or wind, may cause members of the general public to think of you as a member of an Outlaw Motorcycle Club (also referred to as an OMG, Outlaw Motorcycle Gang, or "1%er").
3. Your weapon will become filthy. Very filthy. The elements take their toll on an exposed weapon. Road grime, sweat, and rain are just a few of the things that can get on and into your weapon. Of particular concern are exposed hammer guns. Without a proper cover, they become vulnerable to debris fouling between the hammer and firing pin.
4. Potential retention problems. If you go down on your gun side and don't have a heavy leather holster, be prepared for some serious road rash or possible weapon loss.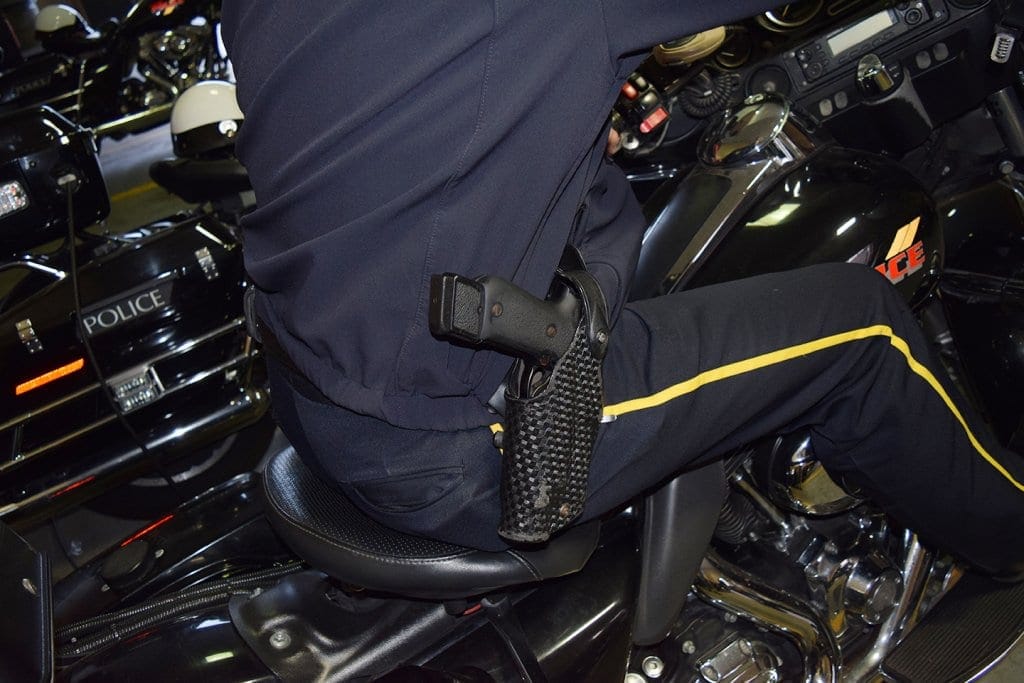 Motorcycle Gun Holster
Appendix Carry and Inside the Waistband
AIWB (Appendix Inside the Waist Band) and IWB (Inside the Waistband) holsters have become a preferred carry method of many everyday people. Appendix Carry can be very comfortable on a motorcycle where you sit in a more upright posture. An IWB carried weapon will typically need to be covered. IWB holsters and AIWB holsters are generally covered by a shirt, but be aware that the shirt can and probably will shift or lift, exposing the weapon both to view and the elements. A jacket should provide enough weight to conceal the weapon, but as with any cover garment or piece of equipment, you'll want to test that.
The type of motorcycle will determine whether you want to appendix carry. A cruiser-type motorcycle should provide a comfortable platform for carrying appendix, but a sportbike that requires you to lay over the tank it will likely make such an option unrealistic (and uncomfortable). When it comes to offroad bikes…well, you don't have to be a rocket surgeon to know that jumping dirt hills and negotiating rough terrain while wearing an appendix rig probably wouldn't be too much fun.
Shoulder Holster
The shoulder holster or shoulder rig is certainly an option for your motorcycle pistol holster, but only with careful consideration. At my department (and many others), helicopter pilots and the occasional investigator wear shoulder holsters, but I personally haven't come across a motorcycle rider wearing one yet. I used one in the Marine Corps once upon a time, and I know they can be easy to wear and (properly rigged) provide good retention, but any shoulder holster, worn for whatever reason, has some very specific drawbacks that counterbalance those advantages.
I personally don't have a use for one, but you may. Riders of just about any kind of motorcycle can easily use this type of holster, but the drawbacks of movement and exposure to the motoring public remain.
Concealed Carry Motorcycle Vest
Garment Carry
The concealed carry motorcycle jacket method can be used by most. Carrying a weapon in an intentionally designed concealed carry motorcycle vest, with a durable built-in holster, you can conquer several concerns at once: concealment, weapon retention, weapon care, and comfort.
Chest Holster
Riding a dirt bike with a chest is a very comfortable and effective setup. I've also seen some nice chest rig bags that carried a weapon and spare mags, light, etc. Rigs like this are available from Black Point Tactical, Hill People Gear, Gunfighters Inc., and no doubt many others. Many of these are low profile, lightweight rigs that can be worn both over a light jacket or under it for concealment. Either way, they seem to be great pieces of gear for the armed rider. Interestingly, such holsters are used by a few folks who spend a lot of time on horseback in the Patagonia Mountains – San Rafael Valley – Huachuca Mountains area.
Off Body Carry
Motorcycle rifle scabbard, saddlebag, and bike pannier
It does look and sound cool to do the Terminator thing with a shotgun openly strapped to your bike. But is that realistic? No. And any off-body carry is less secure than having holstered on your person. However, carrying your weapon in a hard case or sturdy bag attached to your motorcycle can take the weight off and allow you to be a little more carefree in your riding.
You can stuff all kinds of gear in your bags, not just your gun(s), but transporting like this has several obvious disadvantages to offset the convenience (particularly on the long trips that require more gear).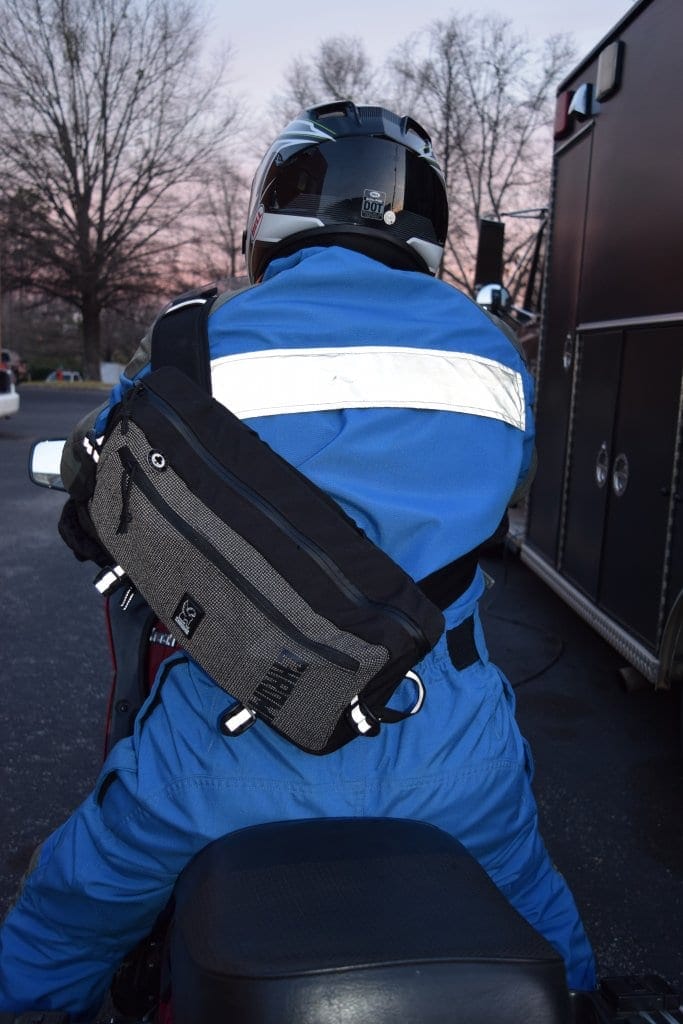 If you don't have a dedicated carry setup for your weapon within your bag or hard case, you're inviting trouble.  Believe me when I say, "contents may shift in flight."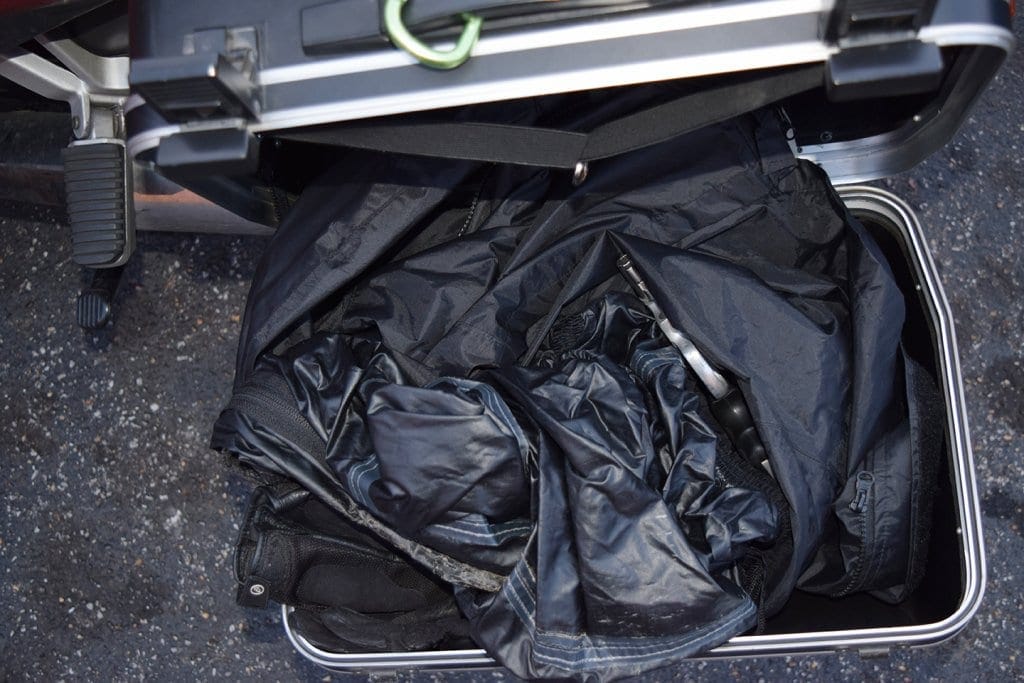 Your unholstered weapon might have been laying on the top of your saddlebag when you started your trip, but by the end, it may well have worked it's way out. And there's nothing like trying to dig it back out and hoping you don't hit the trigger. Remember also if it is left unsecured on top of the stowed gear, and you go down or even hit a hard bump, there's a chance the weapon will be ejected.
The other downside is that you can dismount and forget your weapon is in the bag. The weapon could be stolen, which presents its own problems, or may find that you suddenly need it and don't have it.
Concealed Carry on a Motorcycle: Final Thoughts
Whatever way you choose to carry, be sure to think about what method best serves your needs. Length of trip, type of motorcycle, local laws, training, risk of damage to the weapon, access to the weapon, and comfort should all play a part in the decision-making process.
Be safe, plan ahead, and keep the rubber side down.
CBW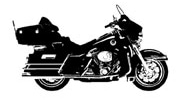 Bob White is what many LEOs call a motor officer or "scooter jock". He is a two-decade law enforcement veteran and was a Marine before that. "Cholla Bob" has served in numerous billets, including patrol of course, but also counter-narcotics, the gang unit, and of course the traffic unit. He was a firearms instructor in the Marine Corps and remains one now with his agency. Bob runs Havoc Shooting Solutions (@havocshootingsolutions), training LEOs and responsible armed citizens across the south (and not just the ones on two wheels).