Yes, ammo is still in short supply, but still, we thought you'd want to know about this new Winchester ammo. It's available in pistol, rifle, and shotshell loads, and when you purchase it, you help support Folds of Honor scholarships for students who have either lost a parent or have a parent who became disabled in the line of service.
Here is the story behind Folds of Honor, in their own words:
It began with Lieutenant Colonel Dan Rooney's flight home from his second tour of duty in Iraq. An F-16 fighter pilot in the Oklahoma Air National Guard, he became painfully aware of the realities families face when a loved one in uniform is fallen or disabled.
As his flight landed, the pilot announced they carried the remains of Corporal Brock Bucklin on board. Lt. Colonel Rooney watched as Corporal Bucklin's twin brother walked somberly alongside the flag-covered casket to meet his family on the tarmac. Among them was the deceased Corporal's young son, Jacob.
Since that night, Lt Col Rooney has committed his life – through the Folds of Honor – to provide scholarships to spouses and children of America's fallen and disabled service members. Jacob Bucklin became the first Folds of Honor scholarship recipient in 2007.
Now, that's something you can feel good about!
Three new Winchester ammo loads available:
Rifle — 5.56mm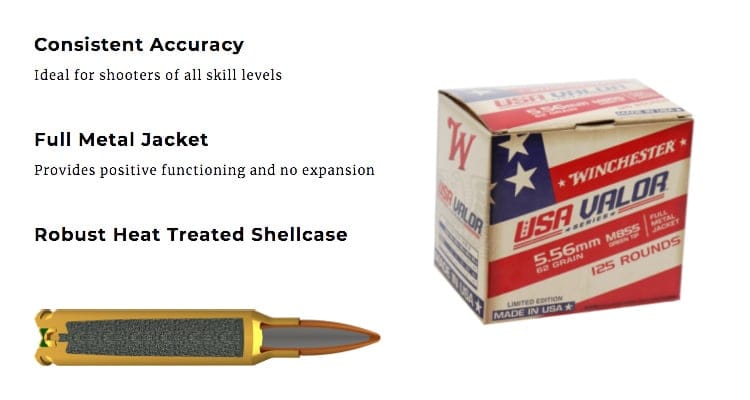 Pistol — 9mm
Shotshell —12-gauge
As Winchester describes it:
Winchester celebrates its commitment to American freedom with the USA VALOR ammunition series. This limited-edition collection of military-inspired ammunition is now available in 9mm, 5.56mm, and 12-gauge buckshot.
Every purchase of Winchester USA VALOR ammunition helps support Folds of Honor, a U.S. veteran's cause dedicated to honoring the sacrifice of America's heroes while giving hope to the bearers of their legacy in the form of educational scholarships.
"Winchester continues to demonstrate its commitment to the U.S. military and veterans across the country with the launch of the USA VALOR limited-edition ammunition," said Matt Campbell, vice president of sales and marketing. "As the largest small-caliber ammunition enterprise in the world and provider to the U.S. military, we are proud to be aligned with Folds of Honor and its mission."
From World War I through modern-day deployments, Winchester remains steadfast in its support of U.S. Warfighters. In addition to supplying the U.S. Warfighter with the ammunition they depend on, Winchester also generously supports military and veteran causes as a way to thank those who serve and to honor the memory of the fallen.
"We are so grateful for the patriots at Winchester and for the company's generous support," said Lt. Col. Dan Rooney, founder and CEO of Folds of Honor. "Winchester recognizes and addresses the needs of the military families we serve. These students deserve our help, and we're thankful for Winchester's commitment."
You can learn more about this new Winchester ammo on the Winchester website. To find out where you can find some locally, just click on the red "Where to Buy" button up at the top right of the page. All you have to do is type in your zip code, and the website will show you a map of the most local dealers that should have it available.
We have ammo at GunMag, too!
Be sure to go check out all the ammunition we have available at the Warehouse. We're doing everything we can to keep ammo in supply, and we are adding new loads to our inventory, regularly.