If you're into guns at all, you likely know that Wilson Combat is a name to be reckoned with. Bill Wilson, the owner, doesn't play around when it comes to building quality firearms. Well, the Honest Outlaw, who I just learned is actually named Chris, had one of the four new SFX9 models on the range and gives us his first impressions in the video linked below.
The SFX9 is available with a five, four, and three and a quarter-inch barrel, and the latter comes with a 10-round magazine. Additionally, the "X" type model has a full-size grip and a 15-round capacity. Chris has the four-inch version so that's what we'll focus on going forward.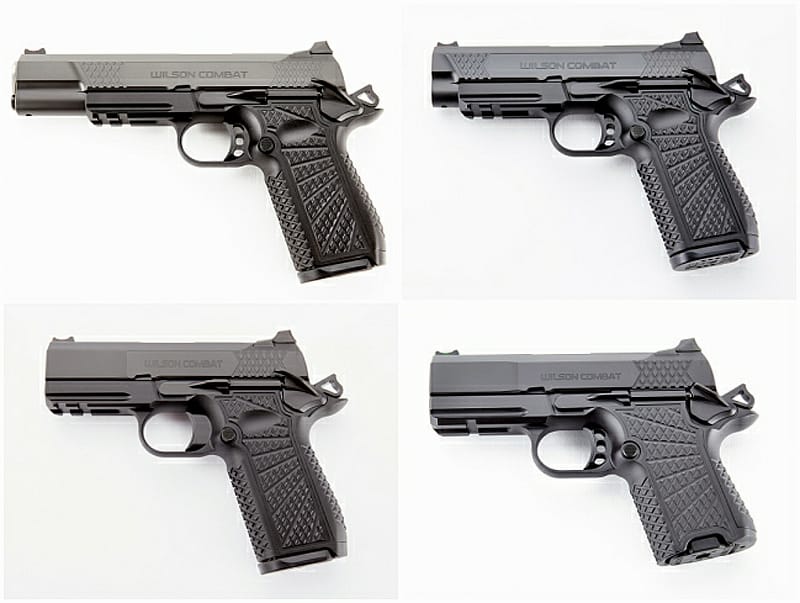 Wilson Combat SFX9 Specifications
The SFX9 is similar to the Wilson Combat EDC9, which I saw confirmed by Bill Wilson in another place, but with a solid frame, unlike other Wilson Combat 2011-style guns. Chris goes into the specs so let's list those from the Wilson Combat website:
Caliber: 9mm
Capacity: 15+1
Barrel Length: 4 inches
Overall Length: 7.4 inches
Sight Radius: 5.6 inches
Height: 5.25 inches
Width: 1.4 inches
Weight Empty: 29.3 ounces
Weight Loaded: 36 ounces
Accuracy Guarantee:1.5-inch group at 25 yards
These are the standard specs. Wilson Combat offers other options that you can view on their website, including your choice of frame colors and trigger shoes.
More Features and Initial Impressions
The weight of the gun jumps out immediately. Twenty-nine ounces for a metal-framed gun is pretty light. It isn't steel, but high-grade aluminum. The grips feature the Wilson Combat X-Tac pattern, and the grip modules are replaceable. The gun has a low-profile mag release that Chris didn't like at first, but once he started handling the pistol, he found it "really usable."
The SFX9 features the company's "Bullet Proof" safety and slide stop. Chris says that Wilson Combat safeties are some of the best on the market. The gun comes with a skeletonized combat hammer. The slide has front and rear cocking serrations and the gun has a fluted barrel. "Looks [effing] awesome," Chris says.
The optic mount is cut deep into the slide so the optic co-witnesses with the sights. The sights themselves consist of a red fiber optic front and a blacked-out rear notch. One thing Chris doesn't like is the red front sight combined with a red dot optic that has a small window, like the RMR. He says it's confusing to see two red dots through the same window. He thinks the sight setup is just about perfect for no optic, but if he keeps the SFX9, he will probably black out the front sight too.
Of his initial impressions, Chris says that "I noticed already, just the quality of the gun. This is immediately so smooth out of the box. The slide is so easy to cycle, the safety is so impeccable, like all of the controls are super slicked up." The trigger is a crisp 3.5 pounds that worked very well in dry fire.
Sounds Great but How Does It Shoot?
Now, if you've ever watched the Honest Outlaw channel, you know that Chris is a really good shot. I mean, I despair of ever approaching his proficiency with a handgun. With the SFX9, the dude was consistently ringing steel at 50, 75, 100, and 130 yards. In the cold and wind. I should also note that the SFX9 held a nice group at 10 yards, though Chris thought the zero on his optic was off just a bit.
As noted in the specs, Wilson Combat has an accuracy guarantee, shooting from a bench rest. It looks like the SFX9 is meeting that standard. Chris held a 6-inch group, standing, at 50 yards. The gun is as accurate as he is. And before you start wondering about his ammo choice, all 100 rounds were remanufactured 147-grain ammo. No soft shooting match grade stuff in this test.
Chris loved the accuracy provided by the Wilson Combat workmanship and hand fitting, even with cheap ammo. He had zero malfunctions in those first 100 rounds. "First impressions of this gun," he says, "are extremely positive and I'm happy that they are." After all, the SFX9's base price is $2895. And that's inexpensive for a Wilson Combat gun.
Real World Accuracy and Reliability
Chris likes Wilson Combat, as opposed to some other high-end guns, because Bill Wilson understands that guns have to function in less-than-ideal conditions. He doesn't make "bullseye guns." Wilson Combat guns just work. The tolerances are tight enough to provide outstanding accuracy but not so tight that they have reliability problems. They can shoot cheap or remanufactured ammo right along with high-dollar match stuff. Wilson knows that you might use his guns competitively or even to save your life.
Chris comes back to accuracy, saying, "this gun is extremely accurate. One of the most accurate guns I've ever shot, especially for a four-inch. A notch above, in my opinion, some of the other manufacturers in its class. Premium price, but premium performance."
Chris says he thinks the SFX9 is "not a first gun." It's more like a gun that an experienced shooter buys in order to have extreme satisfaction in a carry gun or to show off. Kind of like what Enzo Ferrari once said, he makes cars for young men that only old men can afford. That's how I see Wilson Combat guns. As Chris says, the SFX9 is "Very accurate, very reliable, very fast, but very expensive."
Chris is planning a 1000-round test over the next few months, so we'll keep checking back to see how the SFX9 holds up. Do you think a Wilson Combat, or another high-end gun, is worth the price? Hit us up in the comments and tell us why or why not. Happy shooting y'all.