A lot of gun companies are considered "greats" for one reason or another. A gun company could produce a single gun that put them on this list, or an entire group of guns that made their fame. But what if you don't have time to research every gun you look at? It can be hard to weed out the winners from the, well, not-so-winners.
Believe it or not, some big-name gun companies still produce some firearms that are less than reliable. Part of this is because of the desire of some companies to compete in every area of the gun market. They try to produce a high-end gun to compete in quality, marksmanship, and durability. But a lot of people out there don't want to pay $1K for a handgun, especially when there are a ton of reliable, budget-friendly guns on the market.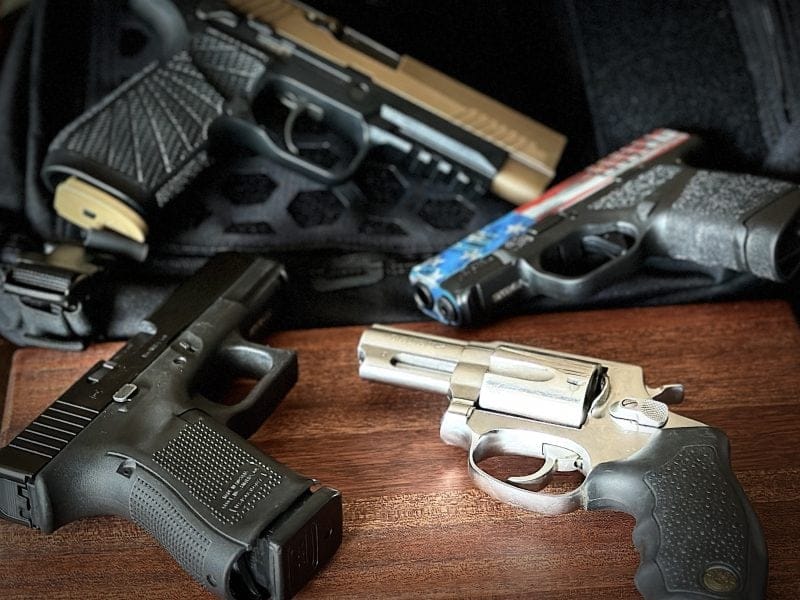 Even the brands that traditionally sell for more money want in on this market, so they produce a lower-end gun to compete for that piece of the pie. So, are there any gun companies that are safe to buy from without researching each model? The short answer is yes, but that list is not very long.
Even larger gun companies that make some of the all-time greats have produced guns I advise people to stay away from. This is based on my personal experience with guns, but here is a list of companies that consistently produce good quality work.
Glock
When it comes to consistency in quality, Glock may well be the king of the hill. I will say that Glock does not make as many types of firearms as other companies. Most of their products look like the same gun in different sizes and calibers. This may not win them the creativity award, but they have earned a reputation for quality.
In all my years of firearms training and law enforcement work, I have rarely seen a Glock fail. When it has, it's always been something caused by the shooter, or from a lack of care from the owner. They will just about run forever, but even a Glock needs cleaning every now and then. Glock makes a wide range of calibers and sizes, giving the consumer a lot to choose from. If you like the looks of a Glock, you can pick from .380 to 10mm.
Glock entered the gun world in the 1980s as an alternative for the Austrian Military. Ironically, Glock was not a popular gun at first because it was made from "plastic" and people associated that with a cheap gun. It was not until the gun outperformed almost all other guns on the market that it really started grabbing attention.
Once they hit the US, Glock has remained one of the top-selling handguns on the planet. Glock magazines are even worth mentioning separately because of their reliability and universal acceptance. So if you want a quality gun that will always perform, any Glock handgun will do the trick.
Walther
The PPK is probably the most famous handgun Walther has produced. Much of this is because of Hollywood and the portrayal of the German gun in the hands of 007 (James Bond). But Walther has a reputation for quality and durability. They do not have as many options as other companies when it comes to caliber and the size of the frame.
Like Glock, most of their guns have the same unique look to them. They have a larger, square trigger guard, a distinctive curve to the grip, etc. Carl Walther, the founder, probably didn't know how far his gun company would go. From rifles to handguns, to manual calculators, and back to handguns, they produce some of the greats. The P38 and PPK have remained popular among collectors.
The P99, Walther's first polymer gun, was a huge success, and their most recent line of PDP handguns are among my favorites. In recent years, Walther has started making more options available with each model. Their PDP series is available in compact or full-sized frames with different lengths of slides.
One of my favorite combos is the compact frame with a 5" slide and barrel. Most of the newer models have optic plates on them and their block-style sights are great for beginners and experienced shooters. When it comes to the design, people tend to love them or hate them. But I have found their quality to be exceptional.
IWI (Israel Weapons Industries)
Based in the center of Israel, IWI is a name that carries respect among many gun enthusiasts. Mostly a manufacturer of military weapons, specifically rifles and machine guns, IWI makes some great handguns too. Some of the famous guns that put Israel on the map include the Uzi machine gun and the massive .50 Desert Eagle.
While the Desert Eagle is now manufactured in the US, it will always remain a legendary gun of Israel. Every weapon designed by IWI meets the Israel Defense Force's testing standards. In fact, IWI and IDF have a joint research team that develops their weapons together. Their most popular lines of handguns are the Jericho and Masada pistols.
They recently introduced the Masada S (slim) which is a compact 9mm version of the full-size Masada. IWI has limited options when it comes to handguns, but what they do offer is a battle-quality handgun that you can rely on. One of the only downsides to IWI handguns is the limited holsters and other accessories on the market.
CZ-USA
CZ has been around for a long time, and they're best known for the Scorpion Sub-machinegun and the CZ-75 pistol. There are only a handful of pistols that make it into the all-time greats list and the CZ-75 is one of them. Now organized under the name "Colt CZ Group SE" the Czech Republic holding company owns CZ-USA and Colt firearms companies.
While the company produces a line of competition handguns that sell for a shiny gold nugget, they also moved into the affordable market with their CZ P-10, which sells for less than $400. Regardless of price, however, you can pick up any CZ handgun and know you have a reliable, quality gun.
Springfield Armory
This is a relatively new gun company using an old US armory name. Opening in 1974, Spring Armory (SA) started out by giving us some classic firearms — the 1911 pistol, M1 Garand rifle, and they recently even brought back the browning P-35 with their SA-35 model.
Since their doors opened, SA has been slow to produce new models, but they work hard to make sure the ones they do produce are quality guns. From 1911s to their famous XD and Hellcat line of pistols, you can pick up just about any Springfield Armory handgun and know you are buying a quality gun that will give you thousands of trouble-free rounds down range. They don't have much to choose from in the low-budget range, but they are still one of the few companies that you don't need to worry about when selecting a gun.
Take the Guess Work Out of Buying
I know I left out some of the greats, and even my favorite gun companies like Sig Sauer, Smith & Wesson, Ruger, and others. Those gun companies make some of the best guns on the planet, but they also produce or have produced handguns that I prefer to stay away from. Ruger has had issues in the past and is making some great guns now with their line of Max pistols. But you also need to know which one of their guns is good and which ones may be best to avoid.
If you want to do some research, there are countless quality guns to choose from. But if you simply want to know what companies produce quality guns without needing to know which ones to avoid, these are some great companies that all-around make good handguns. It doesn't mean they are the only ones making great guns, but this list will provide an easy, short list of great options for a new gun owner to search for.