Weapon mounted lights have negated the problem of holding a flashlight and gun separately. To put it simply, they have completely changed the game in small-arm tactics. The old lights used to feel like a metal pipe with a light on the end of it, so it's good that lights have come a long way in the past few years. With so many flashlights available now, it can be overwhelming trying to figure out what light to purchase. Even so, having too many options is better than what we had back in the day.
Thinking about adding a flashlight to your rifle, PCC, or handgun? If so, what's the best one out there? Here are the basic considerations.
Weapon Mounted Lights — The Basics
When you start looking at lights, you will find them rated by their max/min lumens (brightness) and battery life. The brand will also dictate the price you pay. Some are re-chargeable, some take batteries, and some use a combination of battery and solar power. Some are designed specifically for handguns, some for rifles, and there are some that work for both. Most lights today will come ready to mount on a Picatinny rail, but some will be designed for other types of mounting systems. This is something you want to check before making a purchase. The amount you pay for a light will vary greatly and the high-end lights can get pricey.
You also want to consider the brand when you purchase a light. There are some very inexpensive lights out there, but they can be … cheap. Having a light fail on you is just about as bad as having the gun fail on you. Some of the most popular lights on the market known for their quality and compatibility include:
Streamlight
Surefire
Olight
Crimson Trace
Inforce
What are your needs for a light?
A weapon mounted light is a great addition to your firearm. You never know when you will need a light so, in my opinion, you can't go wrong with adding one. But a low-quality, unreliable light is just added weight to your gun that will prove to be useless when you need it the most. One of the first choices to make is the battery type, as in re-chargeable or non-rechargeable. Some may not care, but there are some advantages and disadvantages for each type.
Battery Operated Lights
Battery operated lights (non-rechargeable) are simple. No cords, and no need for power outlets or the hours it takes to charge them. You can keep extra batteries on you and change them out any time you need to. In the law enforcement world, we change out batteries on a regular basis to make sure they are ready to go at the last minute. If you need a light that can be used for extremely long periods of time, the ability to swap out a battery can be a good advantage. The downside is you have to buy batteries.
Rechargeable Lights
Rechargeable lights are great because you can keep them charged and ready to go. When you use it, you get to plug it in instead of buying batteries.
One thing to consider with rechargeable lights, however, is the size and run time of the battery. A smaller light (like one you mount on a handgun) will not have a large battery and will need to be charged more often. If the light is going to be mounted to a gun that will stay in a vehicle, you may want to go with a battery type that can be swapped out instead. Some may not want to mess with plugging a light in and waiting for it to charge regularly. On larger lights, the battery can have a much longer run-time which reduces the danger of a power failure during an emergency.
Multi-Fuel Lights
Multi-Fuel lights are also becoming more common and give you the best of both worlds. These lights, like the Streamlight ProTac HL-X come with a rechargeable battery but can also work on two CR123A batteries. When using a multi-fuel light, I keep the battery charged in the light and extra non-rechargeable batteries in the grip of the gun in case I need to swap them out at the last minute.
What size of light do you need?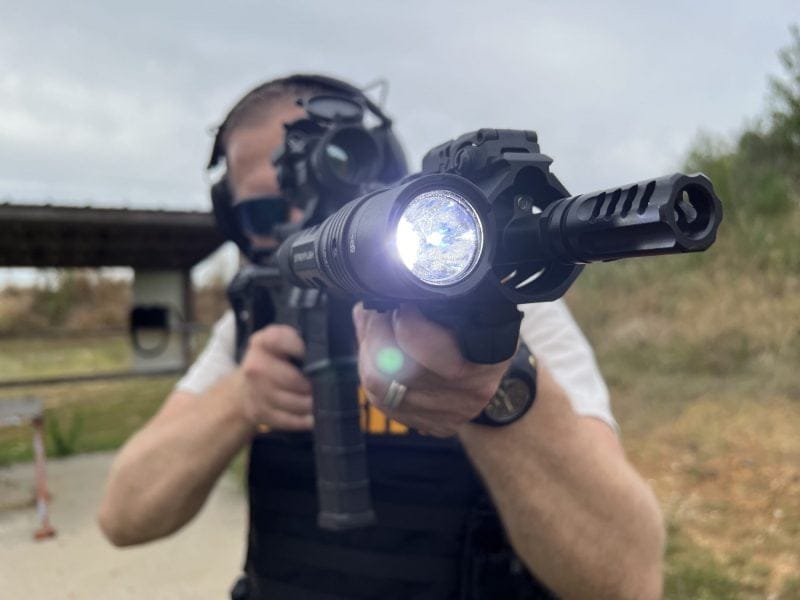 The size of the light will more than likely dictate how big of a battery it can hold and may allow for higher lumens. For handguns, I tend to go with mid-size lights like the Streamlight TLR series. They hold two batteries and can last for a long time. While they are not overly bulky, there are more compact lights out there, but you will lose run-time with smaller lights.
You also want to consider holster compatibilities when selecting a light for handguns. Searching for the type of holster you plan to use with your handgun before purchasing a light is a good idea. With some of the less common lights out there, you may have trouble finding a holster that will work with it.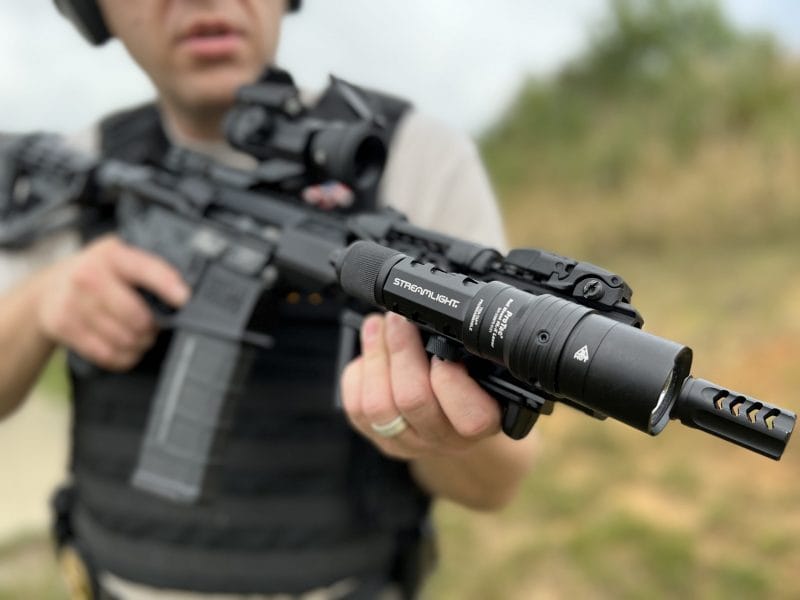 For rifles, you can use a larger light, but keep in mind that weight and size will increase the bulkiness of the rifle. The ProTac is a larger light, but it works great on shorter rifles because the weight is not so far out on the gun.
If you are just using one for self defense in your home and want the option of moving it to other firearms, a light that is small enough to function on a handgun can also double on a rifle platform. This option is good for those not wanting to spend money on multiple lights.
Summary
To sum it up, you want to select a good quality light and decide if you want to keep it charged or just replace batteries. Determine if you plan to use one light for multiple guns or add one to a specific gun. Once you have made these decisions you can select your weapon mounted lights based on their holster compatibility, brightness, and price.