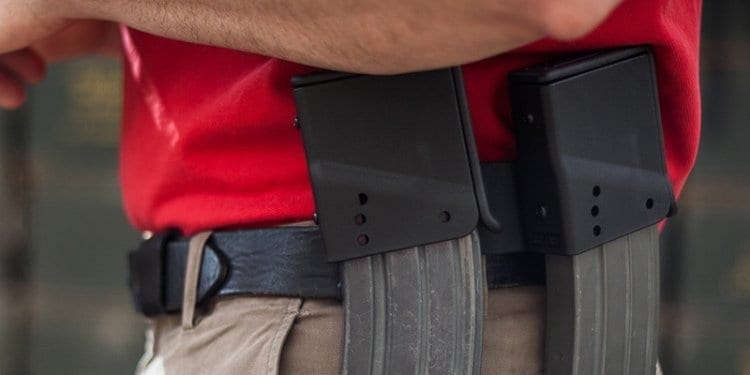 The Warfytr Down Draw Rifle Mag Carrier is an AR 15 mag pouch turned on its head, sort of. Their Mag Carrier is designed to be worn on a belt and the magazine is inserted upwards into the Mag Carrier. The magazine is suspended compared to a traditional mag pouch where the magazine is held upside down mainly due to gravity so it does not fall out of a traditional mag pouch. The problem with a traditional mag pouch is simply that the magazine is upside down. When you retreive it to reload, you have to re-orient the magazine 180 degrees to insert it into the gun. Now you could carry your mags upright in your mag pouch to skip the step of rotating the magazine 180 degrees but then another problem arises. How do you grasp the magazine? If the top is exposed there is not much to grab onto and you will have to readjust your grip when it comes time to inserting the magazing into the magwell of your AR.
So why does having a magazine upside down in a Warfytr Down Draw Mag Carrier make a big deal? Pure speed. Their Mag Carrier design allows for expedient removal. You can twist the mag and pull down but it is simply faster to just sweep your hand back and rock the magazine out of the Mag Carrier.
The Mag Carrier is 100% ambidextrous. The left and right sides are mirrored so you can remove the hardware and place it on the other side if you need to.
The Mag Carriers come with Warfytr's Cinch Hooks. They are a self adjusting belt clip that also works with Molle loops. They can accomodate up to a 2″ belt.
These Mag Carriers are unfortunately magazine specific. They make two versions, a GI magazine version and a Magpul PMAG version. The difference in Mag Carrier is due to its locking design. In the photo below, I have circled the areas that the Mag Carrier locks onto the magazine. For the GI mag, it locks onto the indentation near the front of the mag. For the PMAG, the Mag Carrier locks onto the protrusions. There are other polymer AR15 magazines with similar protrusions so those mags will work in the PMAG Carrier.
The locking mechanism of the Mag Carrier allows it to hold up to 30 lbs without the magazine dropping out.
For more information, go to Warfytr.com.