The Walther PPK, indeed the entire Walther PP series of pistols, is iconic. Manufactured in a number of calibers, including .22 LR, .25 ACP, .32 ACP, and .380 ACP, the Polizei Pistole Kriminal is a smaller version of the Walther PP Polizeipistole.
The Mag Life has published a number of articles about the Walther PPK, PPK/S, and others. Scroll down to find a list of those articles with links and excerpts.
Resurrecting a Walther PPK/S
At that point, I committed the cardinal sin. I decided to (with a distinct lack of gunsmith knowledge) to "polish the feed ramp" on my own. I could veer off into a related article on how to completely destroy a pistol at this point, but we'll save that for another day.

Let's just agree to say that "nothing improved."
James Bond Gun
There is one aspect of the .22LR PPK/S that beats the .380ACP version. Suppressors.

Since the barrel is recessed, it is very difficult to suppress a real Walther PPK/S. It's difficult to change out with a threaded one. The movies, which are not concerned with functionality, did it by cheating. But with a .22LR PPK, you can have your cake and eat it too.
Read more about the James Bond Gun.
Best .380 on a budget: Walther PPK
If you are looking for a heavy .380, one that is actually easy to shoot, check out the PPK/S. The extended grips make it easy to hold. The weight, on the other hand, will be noticeable after a long day of concealed carry.
Read more about budget-minded .380s.
Walther Manurhin .32 PP
Here's the short skinny. World War two happened and ended and the Allies won. The Walther factory that made these pistols was located in Zella-Mehlis, which was occupied by the Soviet Union for a time after World War II. Oh, and the Allies also prohibited the manufacture of weapons in Germany for a time. In 1952, Walther licensed the PP, PPK, and PPK/S designs to French firm Manurhin. The full name is Manufacture de Machines du Haut-Rhin, but we won't quiz you on that. However, if you pick apart the letters in the full name, you'll quickly spot the derivation of "Manurhin."

Anyway, with Walther equipment and know-how, the French company made pistols from 1952 until about 1986. Even some newer pistols in that date range marked with German slides were made in France.
Read more about the "French Walther".
Walther PPK 380
If you take the time, go slow, and work the trigger just right you can create some impressive groups. Speaking of the trigger it's an odd one. The double-action is heavy and rough, but short. It takes a decisive pull in the double-action mode. Supposedly the DA trigger breaks at 17 pounds and I have no doubts its every ounce of 17 pounds.

The single-action is much smoother and lighter but has a good dose of overtravel to it. It also sports a very light reset. You can hardly feel it, and you certainly can't hear it.
Read more: Walther PPK/S – one mighty .380.
Walther PPK for Concealed Carry
I look at the PPK the way I do my late father's 1931 Ford Model A. As a wanna-be guitar player, I look at the PPK the way I do my Telecaster. Sure there are more modern designs, but all three of these things make me feel warm inside.

The 1911 and the PPK are an interesting pairing. The 1911's evolution is storied, and anything but subtle. I know many who still stand by their single actions. The PPK (or the PPK/S) is a bit different. Changes continue to be made, but they're much less evident to most of us.
Read more about the new Walther PPK: would you carry a 90-year-old-pistol?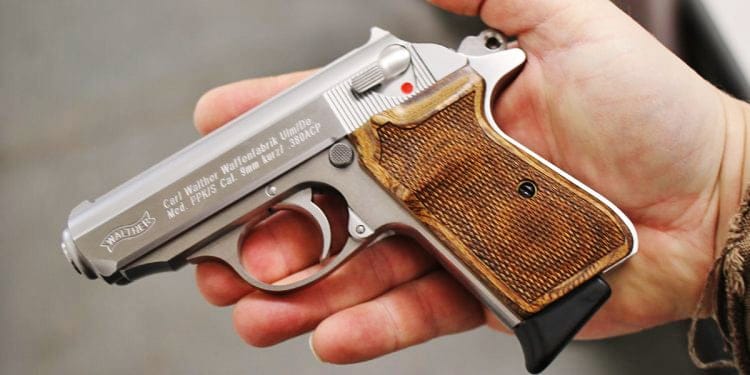 Walther PPK – made in the USA
The Walther PPK is a confounding pistol. The full-sized Police Pistol (PP) is hard to find these days, outside of an auction house. Here in the states, the PPK is still rare. The PPK/S, though, is very familiar and about to get a lot better.
Read more about the new Walther PPK.