Recently, I had the pleasure of reviewing a set of binoculars from Vortex Optics. I'll admit that I'm slightly prejudiced, in that I'm no stranger to Vortex Optics and their products and I'm a fan. Because of that, I had high hopes for the performance that these optics would offer. Follow along and let's see if I was disappointed or pleased with their performance.
Uses For Binoculars
It's hard to pin down all the uses that binoculars are good for. Outside of the tactical world, many folks like them for sporting events, bird watching, and checking out celestial bodies. They can also be used for spotting hits at the shooting range.
During the time that I was a sniper, a good set of binoculars was an essential piece of gear. As snipers, we'd often check out a position (also called a 'hide') before we moved into it. Once we gained our hide, we would engage in two varieties of searches: a Primary Search and a Detailed Search.
The Primary Search was to search for threats or target indicators nearby our position, and then farther away. It was conducted somewhat quickly to make certain there were no immediate threats nearby so we could be assured of security.
The Detailed Search, as you may have guessed, was conducted more slowly. Our job was to pick out tiny details that might indicate targets or threats. We would also note the ranges to various objects in the event a target presented itself; we'd already know the approximate range.
During a detailed search, we'd be looking for the most minute signs of targets — anything that did not belong. During training, they'd hide small items that we'd have to find. Little items like a shell casing or shotgun shell, a hat, a shoe…anything that did not belong in the area, we had to locate it and name it. Items that indicate targets were picked out and noted. Naturally, we'd also be looking for any hostile actors who might pose a threat or be potential targets.
Rifle scopes have a more narrow field of view than binoculars. With their wider field of view, binoculars are a better observation device for an area. Whereas a rifle scope might see a window or two in a building, binoculars might be able to see the entire side of a building. For observing a target area, the binos are great.
When hunting, we shouldn't be scanning everywhere with a rifle scope because we could inadvertently point the rifle at another person. Using binoculars eliminates that possibility. So they're also a safety device.
Are the Vortex Diamondback binoculars any good?
I must say, I was taken aback by their clarity and magnification. I'd been using these Diamondback binoculars outside the house, checking things out across the farm fields and even looking at the neighboring town. Making out details of nearby farms and the university in our neighboring town was made very easy.
Almost instantly, I was endeared with these optics because of the clarity and ease of use.
Over a recent weekend, my wife and I decided to visit one of the wildlife preserves not far from us, called Hawk Mountain. As the name suggests, it's a popular place in Eastern PA for bird watching. Hawks, Bald Eagles, Kestrels, and other birds are commonly seen there. It's located on a mountain top and the views from certain points are breathtaking.
I figured that such an outing would be the perfect opportunity to wring out these optics in the field, so we took them along. We both ended up using the Vortex binoculars because the other binoculars I'd brought along from a different maker were sadly lacking in performance. The Vortex Diamondback unit was so much better that I didn't even bother with the inferior unit.
Specifications
The Vortex Diamondback HD binoculars are ten-power with an objective lens diameter of 28mm. Their linear field of view at 1,000 yards is 273 feet. There is 16mm of eye relief for the ocular lenses (which are the lenses closest to our eyes).
Height is 4.6 inches and width is 4.5 inches. The weight of the Diamondback is 13.3 ounces.
The interpupillary distance is adjustable from 55 to 72mm. That's the range that the lenses can be adjusted horizontally to accommodate the user's eyes.
The close focus range is six feet (the range at which the lenses can be adjusted at their closest).
There is one central focus knob. The binoculars are covered in an armored, rubber finish that gives users a positive purchase that's non-slip. It also protects the binoculars against damaged in the even that they are dropped.
Features and Usability
The objective lens of binoculars (and rifle scopes, spotting scopes, etc.) is the large opening at the front of the optic. In general, the larger the objective lens, the more light it allows to come in, which helps us to see better during low light conditions.
Some optics have objective lenses as large as 50mm, and a few are even larger. That's great for light transmission. With a smaller objective of just 28mm, you might think that these binoculars don't transmit a lot of light. I'd have thought that too. Happily, I can report that they are bright and transmit light very well. Lenses these days are so much better than they used to be years ago. Coatings and such really do help, and these lenses are multi-coated.
As mentioned, the binoculars weigh 13.3 ounces, which made them very convenient and easy to carry. They're lightweight and the strap that attaches to the binoculars' carry case is very comfortable. In fact, my wife remarked about how comfortable and convenient it made them to carry, and I had to agree.
There are a few other features that really set these optics apart. One is the central focus wheel. To adjust the focus, just turn the adjustment wheel that's located in the top center of the unit. It's easy to adjust but stays in place when you want it to.
The objective lenses come with lens covers (rubber type) that flip down when the binoculars are in use. They're easily flipped up when you want to protect the lenses. The fact that they're attached means they won't get lost, which I like a lot.
As well, the ocular lenses in the rear also have covers, though these are a removable, one-piece unit. It's also rubber and fits well. Both ocular lenses have eyepieces that can be rotated and they extend, which allows the eyes a little stand-off distance, which helps.
Another critical perspective that some people might not think about is those who wear eyeglasses (I do). As such, I can sometimes remove my eyeglasses and use binoculars with my naked eyes, which is often easier than keeping my glasses on. With some binoculars, I need to keep my glasses on to use them due to the lens adjustments. With my glasses on, I can't get as wide a field of view because my eyes are farther away due to the glasses.
The Diamondbacks allow me to either wear my glasses or use them without, which I really appreciate a lot. It greatly enhances my ability to use these binoculars.
What else comes with the binoculars?
Aside from the binoculars, there are other items in the box as well. The aforementioned carrying case, which is very comfortable, is included. It makes carrying the binos in the field convenient and protects them in the even they are dropped. A strap for the case is included, and the padding is a great touch. Additionally, a carry strap is also included that attaches directly to the binoculars. The front lens covers I spoke of earlier are also attached. A lens cloth for cleaning those lenses also is along for the ride.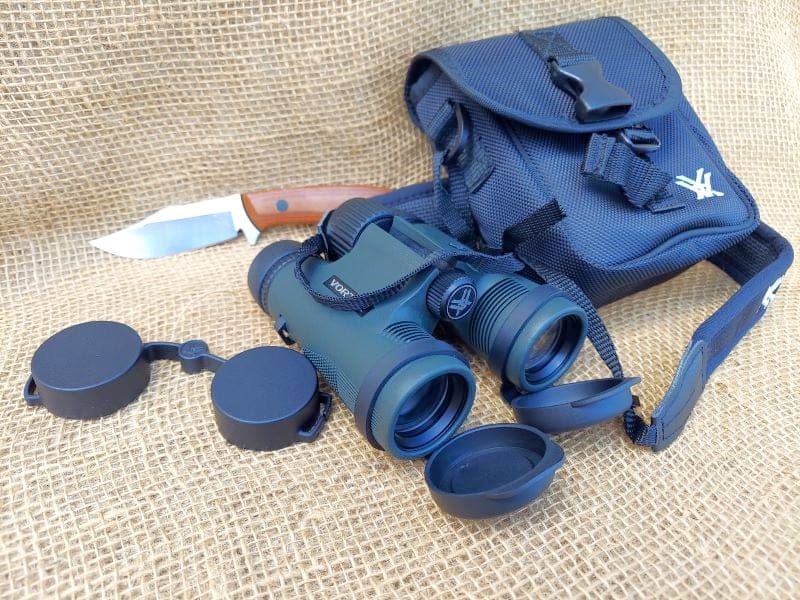 Vortex
For a number of years now, Vortex has been making high-quality optics of all varieties. There are rifle scopes, binoculars, red dot scopes, spotting scopes, laser rangefinders, monoculars, tripods, apparel, and all sorts of items.
Thus far, all the optics that I've reviewed from Vortex have been of high quality and performed well.
One of their biggest virtues, in my opinion, is their warranty. If a Vortex product breaks, they will replace it. Period. No questions asked. I had one of their rifle scopes that developed an issue with the elevation adjustment. I contacted them and they sent a new one to me with instructions for me to place the old scope in the box and return it to them. The postage was pre-paid. I was taken aback at how simple it was, and how quickly and cheerfully they responded. And the fact that they trusted me to return their scope was the cherry on top of the sundae!
These days, there aren't many companies that exhibit this level of customer service. In fact, this very rare level of customer service is nearly unheard of anymore. So when I'm treated like that by a company, it makes me pay attention and I tend to give my loyalty to them.
This company has its act together and knows that treating customers well will garner loyalty. The fact that their products perform well and are durable also helps a lot.
Overall
I'll sum up the overall quality like this: my wife, who is very critical when she evaluates any gear, gave these Vortex Diamondback binoculars two thumbs up! That's a very rare occurrence! I'll echo her enthusiasm because I love them too. We used them a lot on our outing, aside from me using them a good bit before that.
They gather light well in dim conditions and have a very clear view. They're comfortable to carry on hikes, and very lightweight. I can use them with or without my eyeglasses. The easy adjustments also make them a pleasure to use. That they come with lens caps right from the factory is a nice touch.
Overall, we could not find one thing that we didn't like about the Vortex Diamondback HD 10×28 binoculars. At the time of writing, they list for $159.99 from GunMag Warehouse. That's a real bargain for the quality you're getting.