Though Arnold Schwarzenegger and Sylvester Stallone arguably remain the biggest action stars of all time, Tom Cruise has proven to be quite the Hollywood icon as well. Thomas Cruise Mapother IV, as he is officially known, has become one of the world's highest-paid actors while his films have grossed more than $4 billion at the North American box office.
Now 59-years-old, Cruise actually broke out with the leading role in the 1983 "teen sex comedy" Risky Business, and later showed his ability to do drama in such films as The Color of Money (1986) and Rain Man (1988), but it was Top Gun in 1986 that proved that he could be an action star. He has since gone on to star in the Mission Impossible film series, and despite being just 5'7″ he starred twice as Jack Reacher, including in the 2012 film and its 2016 sequel.
Cruise Control
As with most Hollywood A-listers, Tom Cruise has had a few "misfires" over the years—and we're best not to think about Knight and Day (2010) or The Mummy (2017), but he's back in top form in Top Gun: Maverick, which opened over the Memorial Day weekend and has already grossed more than $300 million worldwide, making it the seventh highest-grossing film of the year to date.
Cruise could be seen in the cockpit and at the controls of the Boeing F/A-18/F, a two-seater multirole twin-engine fighter that is capable of flying at Mach 1.6. It is also the U.S. Navy's aircraft that replaced the F-14 Tomcat that was featured in the original Top Gun.
Though he has now starred twice as U.S. Naval Aviator Pete "Maverick" Mitchell, he never was actually seen with any small arms in either film. Yet, in over his 40-plus-year-long career, he's shown he's ready for some serious "gunplay."
The Young Gun
Cruise had an uncredited cameo in the 1988 western film Young Guns, but it was actually seven years earlier in his first major supporting role that the young actor had his "baptism of fire" on the big screen when he starred as Cadet Capt. David Shawn in Taps.
 The 1981 drama, which focused on a class of young cadets who took after their military academy after it was threatened with closure, was hardly an action film yet it was a sign of things to come for the young actor. Starring alongside Timothy Hutton and Sean Penn as a truly over-the-top—even sociopathic—cadet he is the only character to actually fire a weapon with hostile intent.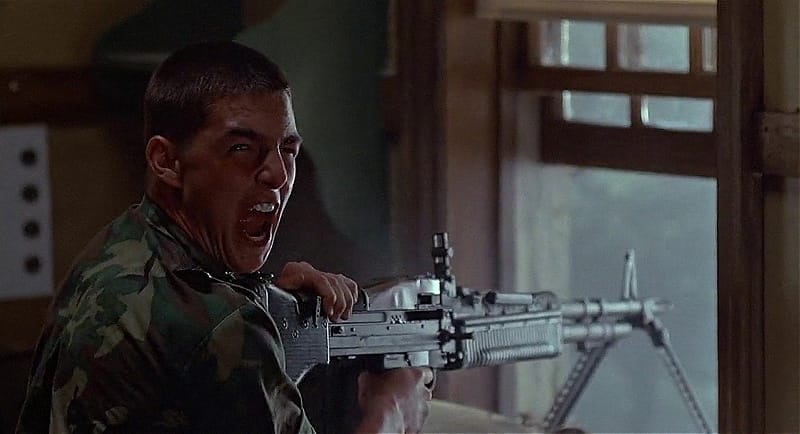 Cruise could be fittingly seen with a number of weapons including an M16 rifle, an M1911A1 pistol (actually a Spanish Star Model B), and an M60 machine gun. It is doubtful that even in the early 1980s that any military school for teenagers would be equipped with such weapons, yet Cruise looked confident and comfortable handling the various small arms.
Throughout the 1980s, Cruise's career went in another direction and it wasn't actually until 1989; in his Golden-Globe-winning performance as Ron Kovic in Born on the Fourth of July that the actor was next seen in a starring role with any firearms. As a United States Marine, Cruise's character was fittingly armed with the M14 rifle, yet it still wasn't actually what could be called an action film.
That would finally come in the 1990s.
Mission Impossible Franchise
As Impossible Mission Force (IMF) Agent Ethan Hunt, Cruise proved he could do the "impossible," even if the film franchise is far more action-packed than the TV series on which it is based. The long-standing rumor is that Cruise had wanted to play British secret agent James Bond, but since that was unlikely to happen he was sought out to star in the film Mission Impossible.
Fans of the original series—not to mention most of the original TV cast—didn't care for the more action-packed tone of the first film, or the fact that Jim Phelps was revealed to be a traitor. Yet, the series scored with audiences and has spawned six sequels, while two more are scheduled for release in 2023 and 2024 respectively.
Cruise was a natural with the firearms he's handled in the franchise.
The Beretta Cougar had been Hunt's first gun of choice, but the agent later opted for the Beretta 92FS Brigadier and Compact models. As IMF agent Hunt, Cruise has also carried such handguns as the Glock 17, Desert Eagle, and Sig Sauer P226.
Historic Firearms
Whereas the aforementioned Schwarzenegger and Stallone have largely stuck to modern action films—Conan excluded in the former's case—Cruise has dabbled with some period films. He appeared in an uncredited cameo as a "Cowboy" in Young Guns armed with a Colt Single Action Army revolver. He had been visiting the set, and as he had never been in a western, asked if could have a role as an unnamed character in one of the film's shootouts.
Cruise later could later be seen with a Snider-Enfield Rifle in the 1992 film Far and Away, and with a Smith & Wesson Schofield in The Last Samurai—before "going native" and donning samurai armor and learning to master a sword of course!
And whilst Cruise may not have gotten to play 007, he did carry a Walther PPK as Col. Claus von Stauffenberg in 2008 Valkyrie about the plot by some German officers to assassinate Adolf Hitler.
The Sci-Fi Guy
Beginning with 2001's Vanilla Sky, Cruise has also dabbled in a number of science fiction films. This includes 2002's Minority Report, which was adapted from a Philip K. Dick short story, where, as a law enforcement officer in charge of the "Precrime" unit he carries the futuristic-looking Beretta 9000S—a compact semi-automatic pistol that has the distinction of being the first polymer-framed handgun produced by the Italian gun maker. Cruise was even the first actor to carry the weapon in a film.
Yet, in his next science fiction outing, Cruise was a bit more "down-to-earth" carrying a Charter Arms Off Duty revolver in 2005's War of the Worlds.
In Oblivion (2012), as a warden on Earth charged with protecting the planet's resources, he could be seen armed with a heavily-modified Bushmaster ACR that is fitted with a futuristic shell. In Edge of Tomorrow, he played an inexperienced military officer who relives the same day over and over, slowly gaining the skills and experience to defeat an invading force—and is armed with an FN SCAR-H, a Benelli Supernova shotgun, and a modified M1911A1.
Cruising—Other Standout Guns
Among some of the more notable firearms that Cruise has wielded on the big screen include a Ruger Mk II pistol with an AAC Phoenix integrated suppressor in Collateral, a fitting choice for a professional hit man; and the then newly released Sig Sauer P250 handguns in the 2010 action-comedy Knight and Day.
Finally, while Cruise was arguably miscast as Jack Reacher, the two films allowed Cruise to carry such notable firearms as a Springfield M1A, the semi-automatic only version of the military's M14—a Sig P556 SWAT; and a BCM CQB-11 KMR-A10.  Those are truly some of the top guns used by Tom Cruise to date—and it is doubtful he'll be hanging up the holster anytime soon.