Oh, the bullpup…. This little guy is the size of an AR SBR with the barrel length of an actual carbine. The configuration is odd. The name is nonsensical. And they're the choice of most Die Hard villains. Still, bullpups are used by numerous militaries around the world and are often fan favorites in the United States. We also have the famed tradition of taking standard rifles and turning them into bullpups with conversion kits (ruger 10/22 bullpup anyone?), so we'll include a few of those here. It was too tough to narrow it down to a top 5, so enjoy my personal take on choices for best bullpup rifle.
Note: this article is from 2019; we're republishing to find out what you want us to cover (in the bullpup realm) going forward.
Tavor X95
People waited a long time for the Tavor X95 to hit the US Market. The original Israeli Tavor rifle was a big hit here as a modern bullpup platform that was widely available and not too expensive. Best of all is that is uses AR magazines. The X95 is the closest we can get to the actual Israeli service rifle and there is a distinct level of cool to that. The X95 suffered some accuracy issues early on, but it seems those have been ironed out these days. The X95 is also modular and can be rechambered with kits to make it a 300 Blackout or 9mm rifle.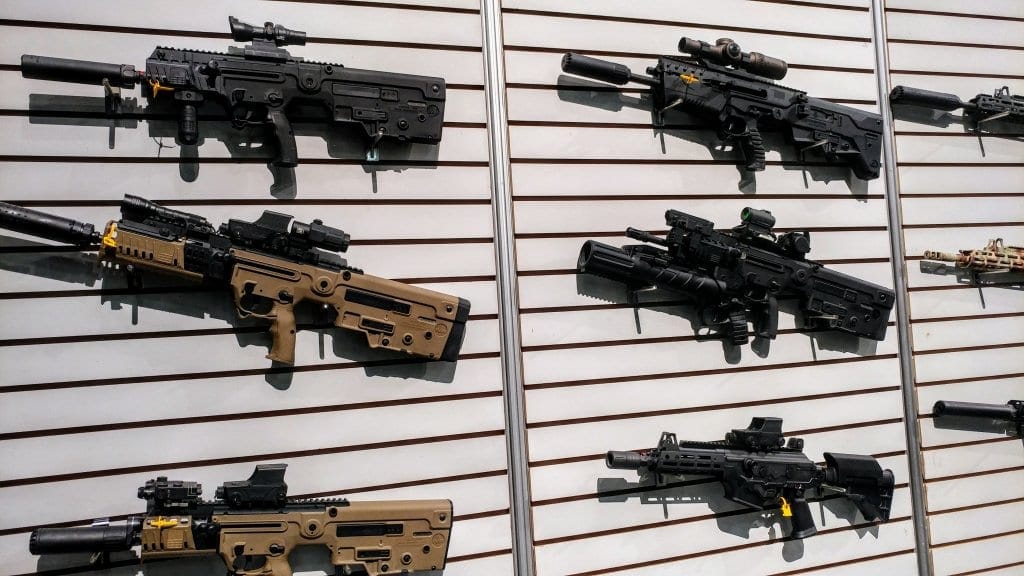 The Kel-Tec RBD – An American Option
Kel-Tec is a brand that has had major hits and serious misses throughout their lifespan. The RBD seemed to be an unquestioned hit. The rifle is one of the most affordable bullpups on the market and utilizes the common .223 Rmeington/5.56 round and feeds from standard AR magazines. The design is one of the few truly ambi bullpups. The controls are ambidextrous sure, but the brass is actually ejected downward and not into a lefty's face. The RBD is an all American bullpup with a unique design and great price tag.
Ruger 10/22 Bullpup Conversion Kit
There are a ton of Ruger 10/22 conversion kits on the market, but my pick is the High Tower Armory kit. It makes your 10/22 look like a PS90 and is one of the higher quality kits. Best of all the HTA kit is available and priced affordably enough.
Other kits from certain manufacturers left people on waiting lists for years, so I won't suggest those. The HTA kit does leave an exposed muzzle, but it can be covered with a faux suppressor. The kit comes in a wide variety of colors and shaves off 10 inches from your Ruger 10/22.
Barrett 95
Go big or go home right? The Barrett 95 is certainly a means to going big. The Barrett 95 is a 50 BMG rifle system that is a short 45 inches. Short for a 50 cal anyway. The Barrett 95 is a bolt action bullpup that rocks a 29-inch fluted barrel. It short for what it is and as a Barrett its well made, easy to use, and honestly the recoil isn't so bad.
If you want to hit something really far away really hard the Barrett 95 is the way to do it. Best of all, while it's massive, its a lot easier to store in your gun safe.
This is the most fun you can have with your pants on.
Steyr AUG
The Steyr AUG wasn't the first bullpup rifle but it might as well have been. The AUG is the most recognizable bullpup in the world and has been made famous for its numerous appearances in movies and media as a futuristic rifle. The Steyr AUG and its derivatives have numerous militaries and even the American Department of Homeland Security. Those derivatives and configurations include models that take AR magazines, Steyr magazines, and even 9mm Luger models. The rifle is quite modular and that has helped its excellent staying power.
Manticore Arm CZ Conversion
Top 6? An odd number, but it exists for a reason. I prefer Top 5 lists but couldn't leave this one out. I also couldn't make it a top 5 for a gun that's neither a gun or for sale just yet. However, I'm writing the article and on a power trip. So here.
You guys have to know I'm a Scorpion fan. I reviewed it as my first article at the Mag Life and included it on my top PCCs list for a reason. The Manticore Arms CZ Conversion is a joint project between CZ USA and Manticore arms to produce a lightweight and high-quality bullpup conversion of the Scorpion. This kit is made to work with both SBR variants and the full-size rifle models. It uses mostly standard CZ parts, like the OEM pistol grip, magazines, etc. The bullpup chassis uses only 8 unique parts and the design blends in seamlessly.
The Bullpup Industry
Bullpups are excellent weapons that do combine full length or carbine length barrels with the handling of an SBR. They aren't perfect, tend to have poor triggers, and are not always the friendliest guns for left-handers. However, they have made an amazing impact on the firearms industry.
This has been an example of just a few of the ones I like – what else should be in this list? What are your favorites? Any thoughts on a bullpup battle rifle?
Hit is in the comments so we can do an update.