A pistol caliber carbine can be the perfect budget rifle. When you chamber these guns in a common caliber and have them feed from a common magazine, the price of long-term ownership budgets out. What is the best budget carbine? What is the best 9mm carbine? Good questions. These PCCs would all make dependable and reliable home defense weapons, are perfect for plinking, and are a great option for training new shooters. Best of all? They are affordable.
You'll note this lineup dates back to 2019. So why are we running it? Well, 'cuz it's still relevant. And cuz we're about to do a 2020 version!
Hi Point Carbine
The Hi-Point Carbine is the ugly workhorse of the pistol caliber carbines. It's a simple gun available in a variety of calibers, including the newest 10mm model. The Hi-Point Carbine feeds from relatively low capacity magazines but in my experience, it always goes bang. It's also surprisingly accurate, even with its substandard trigger. This ugly little gun is popular enough that a good aftermarket exists for it and you can make it a lot less ugly with a new stock.
Kel-Tec SUB 2000
One of my personal favorites in the budget pistol caliber carbines is the Kel-Tec SUB 2K. Not only is the gun affordable, but it utilizes common pistol magazines which lowers the price even more. The SUB 2K also folds in half, making it easy to store and easy to transport. It's a blowback gun that's super lightweight and a lot of fun to shoot. The trigger does kind of suck, but the Gen 2 model is full of new and modern features that help it keep up to the newer, younger generation of guns. The Kel-Tec SUB 2K is an awesome gun and is quite unique in design. For some, this might be the best 9mm carbine (or .40 S&W) choice.
Ruger PC9
The Ruger PC9 is the newest of the pistol caliber carbines and premiered at SHOT Show 2018. Ruger essentially up-sized the Ruger 10/22 into a 9mm Luger carbine. Best of all, the gun comes with interchangeable mag wells that allow it to utilize both Ruger Security 9 magazines and Glock magazines. The future may bring even more magazine conversion kits. This rifle is also a takedown model that basically breaks in half for easier and more convenient concealment and storage. It comes suppressor-ready, has proven reliable, and the design makes it legal in most states so maybe this is the best 9mm carbine (or .40 S&W) choice.
Which One of These is the Best Budget Carbine for Bugout?
FYI, the Ruger PC9 and KelTec Sub 2K are specifically designed for survival, even if they aren't marketed as such. And despite their aesthetic differences, the two firearms share a tremendous amount of operational, and thematic design elements. Head over to Grant's article Ultimate Bugout Showdown: Ruger PC9 vs KelTeck Sub 2k for a full rundown of the similarities and differences between these two carbines.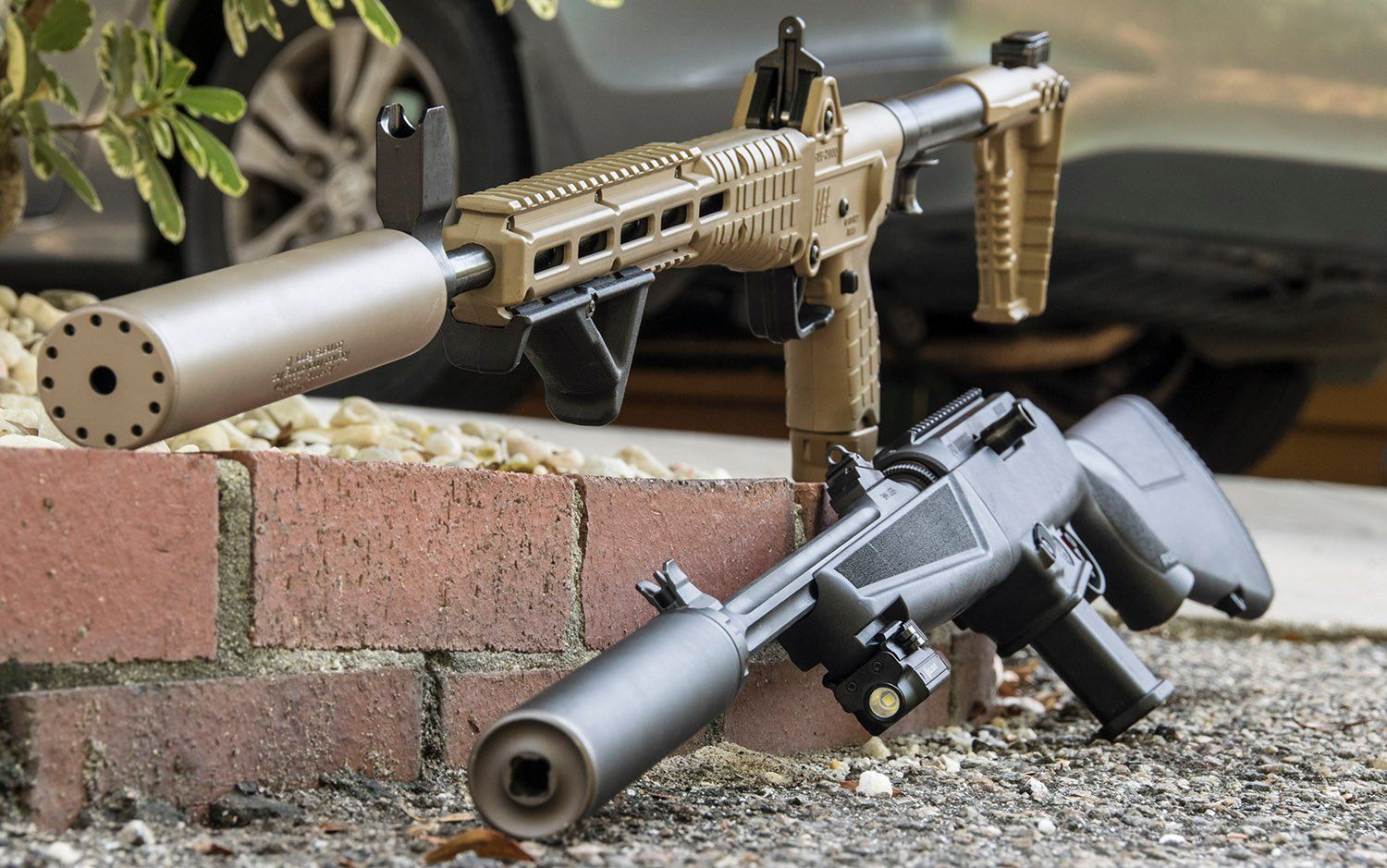 AR Pattern Anything
How can I choose just one AR-pattern when there are likely dozens of AR-pattern pistol caliber carbines? Is company A so much better than Company B that they deserve this top spot? Maybe, but with the different options and ability to build your own it gets hard to pick one. AR-pattern pistol caliber carbines feature all the same ergonomic controls of a AR 15 as well as the ability to use the massive AR aftermarket. You can even make one yourself with an unfinished lower and an 80 lower jig. The designs will commonly use Glock magazines, which makes them even more affordable. The second most popular uses the COLT SMG mags. These guns are blowback and perfect for new shooters or AR aficionados.
Scorpion Evo 3 S1
How dare I declare the Scorpion an affordable option? It's hardly the cheapest of the pistol caliber carbines. The Scorpion Evo S1 is a little pricier than the models above, but it is the cheapest of the guns actually used by military and police. The CZ Scorpion is a popular weapon with police forces and the Czech military in Europe. It's also easy to upgrade at an affordable rate and the magazines may be proprietary but they are super affordable and easy to find as well. It's not a traditional budget pistol caliber carbine, but it is the most affordable professional grade model on the market.
Budget Pistol Caliber Carbines
Living inside a budget is tough, especially when you have firearms as a hobby. Luckily, the gun industry finds ways to make it work. The five 5 guns above are certainly excellent examples of the industry working to provide budget carbines to the users who want them. Pistol caliber carbines are fantastic little guns and perfect for a wide variety of purposes. Best of all is the fact they are cheap to shoot, and often quite fun to do so. What's your reason for owning a PCC?