AK mags can be a crap shoot. Some work better than others, some only work in certain guns, and some guns only take certain mags. XTech Tactical is trying to fix that. Their rugged MAG47 Gen 2s are engineered for maximum compatibility and reliability. I've exclusively run five MAG47s in my AK for the last several months. Here's what I found. Full disclosure: the mags were provided to me by XTech for testing. That did not impact my findings.
My Saiga AK-103 conversion used to be picky about mags. That was intentional. Only Saiga mags would seat, meaning I was laying out big bucks just to properly equip myself. Well, I quickly tired of that. My gunsmith did a little work on the mag catch and it fixed the problem. The rifle now takes whatever I want to use, including those high-dollar Saiga mags.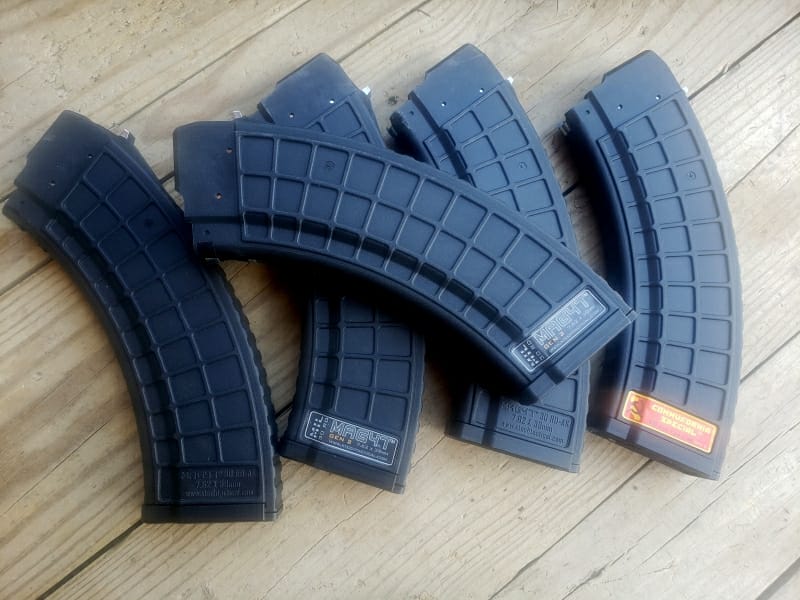 That doesn't mean all mags fit equally well. Some don't lock up tight and wobble noticeably. The gun still fires, it is an AK after all, but you can see the quality difference. The XTech MAG47 Gen 2s do not wobble. Ever. My first impressions were good. The mags felt solid when I pulled them from the package. They insert easily and consistently and lock up tight. They don't stick during mag changes.
XTech MAG47 Gen 2 Specifications
Before discussing the MAG47's performance, let's look at the specs from XTech Tactical's website:
Stainless steel reinforced feed lips and locking lugs
Super tough composite construction
Fits most AK47s
Spring anti-bind mechanism
Stainless steel spring
Quick release base plate for easy cleaning
30 round capacity
10 round mags available for those behind the Blue Curtain. More on that below.
Magazine Features
Steel Reinforced
I noticed the stainless-steel reinforcement right off the bat. The MAG47 Gen 2 features a one-piece steel insert spanning the entire top of the mag. The insert lines the feed lips and covers both locking lugs. The rear locking lug is solid steel already, so the insert provides two steel layers.
I learned long ago that steel-reinforced AK mags are the way to go. You WILL tear up the polymer feed lips when changing the mags. It's just an AK thing. Same with polymer locking lugs. The MAG47 Gen 2 has you covered. The polymer still gets dinged, but the steel reinforcement makes sure it keeps running.
Positive Grip
Waffle patterned AK mags are nothing new. The MAG47 Gen 2 mags have an aggressive waffle pattern to maximize your grip when changing mags in bad weather or if you're wearing gloves. The mags are also ribbed front and back for solid finger and thumb purchase.
I really like this feature. I ran the MAG47s in cold and warm weather, and wet and dry conditions. If I fumbled a mag change, it was on me, not the mag. My grip coming out of the mag pouch was always positive, so long as my technique was good.
Easy Maintenance
Some AK magazine baseplates are less than user-friendly. Not so the MAG47 Gen 2. Just push the button and the plate slides right off. Be careful that the stainless-steel spring doesn't fly across the room. I may or may not have done that. It slides back on just as easily.
I ran the mags with dirty ammo several times. By dirty ammo, I mean that I dumped the rounds into the dirt and covered them up before loading the mags. Then I sprinkled a little dirt onto the follower. The MAG47's design made it a breeze to clean when my testing was done. I purposely left them dirty through the whole test period.
MAG47 Gen 2 Performance
Each of my five MAG47 Gen 2 mags cycled several hundred rounds over the test period. I sometimes topped them up and shot at intermittent speeds. Sometimes I went full mag dump. Well, as full as a semiautomatic rifle can go, anyway. Other times I loaded them with one or two rounds for mag change drills or six for a 2-2-2 drill.
I'm pleased to report that all five magazines showed 100 percent reliability. Dirty ammo and all. There was not a single jam or failure to feed. All my tests used steel cased 122 grain 7.62×39 Wolf and Tula ammo. The mags accumulated some dirt in the bottom from the testing, but it didn't affect performance.
Each magazine still locked into my rifle just like it did from the package. The polymer around the feed lips is dinged up, but that's the nature of polymer AK mags. The steel on the front locking lugs shows some wear, but it's not a big deal. Again, that's what AK mags do.
I purposely let the mags hit the ground during changes. They bounced off concrete, dirt, gravel, and grass. Each has a few minor marks but nothing major. It certainly didn't impact their performance. The only ill effect from multiple mag changes is some wear on the polymer below the front locking lug where it pivots on the receiver coming out of the mag well. Again, that's what AK mags do.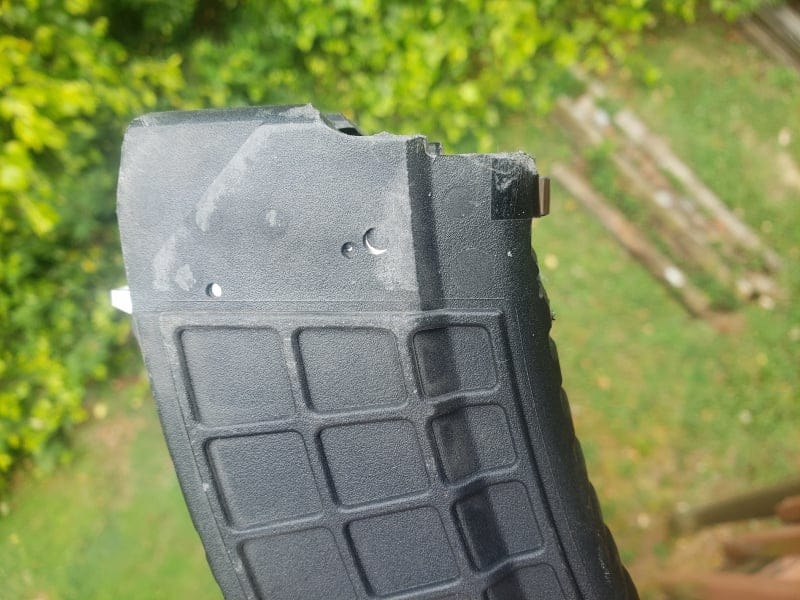 I didn't do crazy torture tests or anything. There are videos online of guys doing that stuff if you want to watch. They no doubt run over the mags with a car, drop them from helicopters, or shoot them with harpoon guns. I prefer sticking to whether they work as intended, with a little realistic adversity thrown in.
XTech MAG47 Gen 2 Variants
The standard MAG47 Gen 2 holds 30 rounds and does not have a last-round hold-open feature. Not really a big deal since the AK wasn't designed to hold open when it's empty. But XTech does offer a MAG47 Gen 2 with a follower that holds the bolt open when it runs dry.
Keep in mind that the bolt will slam home when the mag is ejected, so you'll still have to charge the rifle. But you'll also feel the bolt lock to the rear instead of pulling the trigger on an empty chamber. It will make you faster. I didn't test those mags, but I expect they work as advertised.
It amused me to find one 10-round MAG47 10/30 "Commufornia Special" in my batch of mags. I appreciate XTech's sense of humor there. It tested right along with the rest, and it performed flawlessly. Its dimensions are the same, but the base plate extends further into the mag, limiting the capacity to 10 rounds. The 10/30 Commufornia Special is available for purchase for you unfortunate souls behind enemy lines.
Final Verdict
Well, the article's title says it all. The XTech MAG47 Gen 2 is now my go-to AK mag. They're American made by people who apparently give a damn about their customers. The MAG47 Gen 2 is competitively priced with its peer competitors and offers equal or superior quality.
I took a mixed batch of mags out and shot a little after completing my tests. They all performed well, with no malfunctions. But the MAG47s just felt a little better. Nothing I can put my finger on, that's just how it was. They maybe feel more solid or robust. And they grip better thanks to the waffle and rib design. The easy maintenance makes the MAG47 Gen 2 a slam dunk.
I can unequivocally say they're my favorite among all the AK mags I've used. And I've used a bunch in the ten years I've owned my rifle. I love that American companies are producing quality AKs and AK accessories. Finally. XTech is clearly one of those companies. I foresee many MAG47s in my future. But I expect I'll only ever have the one Commufornia Special.