The Worst Shooting Tips you'll hear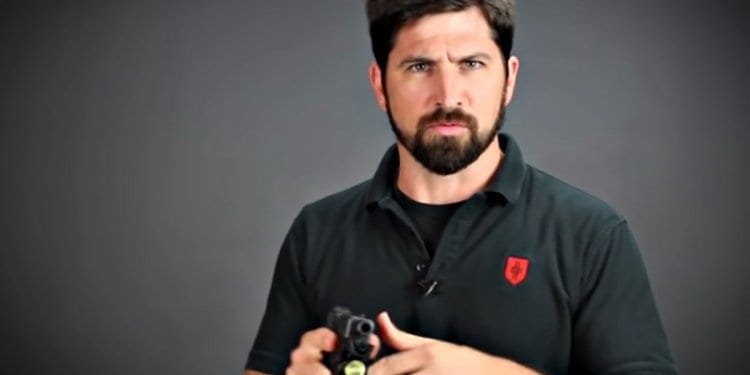 In any field of expertise, sometimes bad advice gets shared around and accepted and eventually takes root. The same is true in shooting instruction. Some common points of shooting instruction can actually be disadvantageous to shooters who rely on them. In the video below, John Lovell, founder of the Warrior Poet Society, exposes three of the worst shooting tips he's ever heard.
De-Bunking the Worst Shooting Tips
The Three Worst Shooting Tips – Why Are They Bad?
Aim UP and RIGHT
Most folks are right-handed shooters and a lot of things can cause shooting to go down and left, (no, it's not the gun), so they are advised to aim up and right to compensate. (The left-handed version of this is to shoot up and left.) The problem with this is that you're fudging your aim instead of honing your target-acquisition fundamentals. Don't do it.
Switch Hands When Shooting Cover-Left
Some instructors advise students to switch hands for two-handed shooting with cover-left. Lovell says there's never a time to do it. The idea behind this advice is that it's going to give you a little extra advantage on the left side, but it doesn't work. When you're trying to do a good job with the wrong hand – it's awkward and worthless.
Ignore the Sights
There is a legitimate principle behind this particular shooting tip. It's called point shooting, and it comes in to play in close-proximity violent situations. Statistically, 96% of all violent encounters happen within a 7-yard range; the majority of them at 3 yards or less. In those situations, you simply don't have time to align the sights. However, the way to become a good point shooter isn't by training to point-shoot. Nope.
The best way to become an effective point shooter is to train for sight alignment. A person who continuously trains to get good sight alignment also trains their body by establishing neurological pathways to instinctively get perfect alignment. So, out of the gate, shooters who train for sight alignment are already going to be good point shooters. Don't train for point shooting. Instead, work meticulously for hard front-sight focus, sight alignment, and a traditional sight picture.
GunMag TV
GunMag Warehouse has a badass YouTube channel. Take a minute and check it out.
Check out other shooting drills, tips and hints to promote accuracy, and techniques for shooting more accurately on GunMag TV. It's like the Hallmark Channel, but about guns and gun magazines (and it isn't painful to watch).
It probably wouldn't hurt you to follow Gunmag Warehouse on Instagram either. That's "@gunmagwarehouse".
Check back frequently to see more videos about shooting good guns even gooder (or for that matter shooting bad guns and even ramen noodle guns even gooder).
Watch This Video from Garand Thumb
Reminder from the beancounters: If you're looking to make a change (or upgrade) your firearm, we have several varieties of pistol sights available at GunMag Warehouse.
Stephanie Kimmell is the firstborn daughter of Missouri's Pecan King, worthy scion of a Vietnam veteran sailor turned mad engineer-orchardist-inventor-genius. With a BA in technical writing, she freelances as a writer and editor. A Zymurgist greatly interested in the decoction of fermented barley and hops, she is in many ways a modern amalgam of Esther Hobart Morris, Rebecca Boone, and Nellie Bly. She hunts, fishes, butchers, and cooks most anything. When not editing or writing, she makes soaps and salves, spins wool, and occasionally makes cheese from cows she milked herself. Kimmell is a driven epistemophilic who loves live music and all sorts of beer.