Why an AK gift guide? Well, it could be that someone in your life is dedicated to socialism's only good creation, the AK series of rifles, and you want to knock off their noski. That's great! AKs are good guns that deserve their reputation. But if you're not a gun nut or you don't worship at the Kalashnikov altar then you may be wondering what gift to get your favorite AK enthusiast. (We can assure you they don't need another Adidas tracksuit.) Here, we've put together a Kalashnigift lineup for that special AK lover in your life. Or you. We have AK 47 accessories, wood AK furniture, and even gold AK47s!
This Mag Life collaboration was begun by Travis Pike. Editor/contributor: David Reeder, Other contributors: Alexander Crown, and Stephanie Kimmell.
AK Gift Guide: a lineup of Kalashnigifts
Scroll on down, see what we have for y'all. Alternately, use one of these links to jump to the section you're most interested in.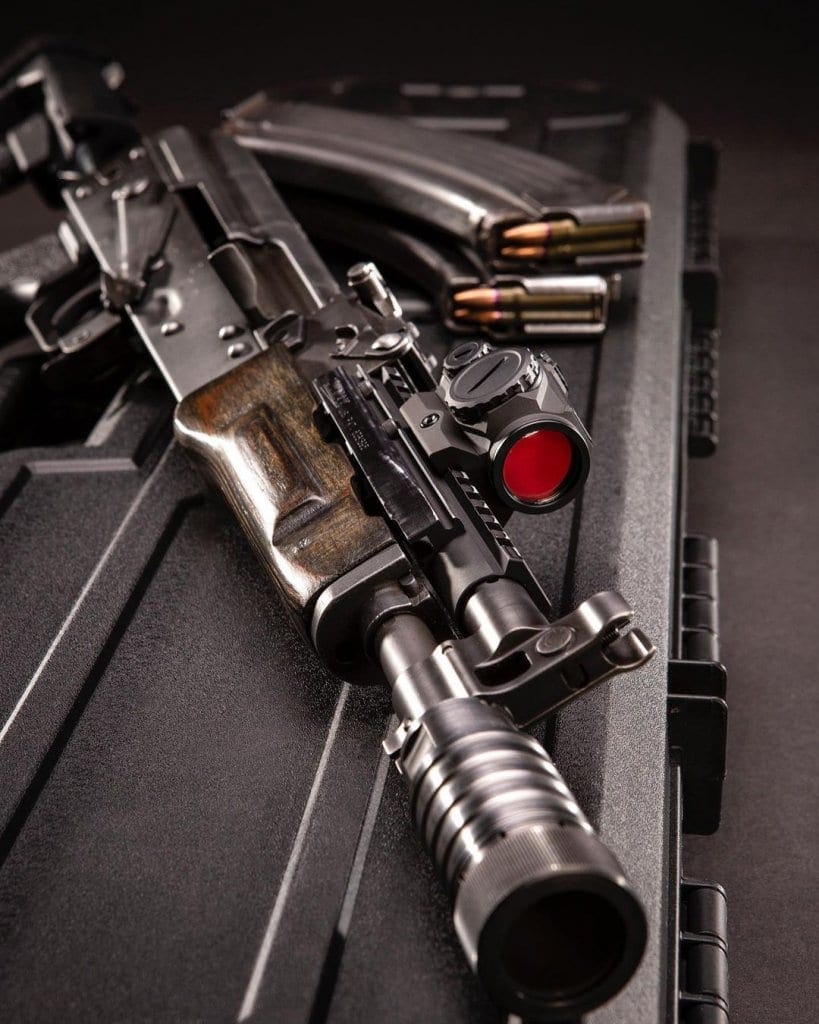 AK Furniture and Controls
Kalash Controls and Operation
Extended Charging Handle
AK47 controls are an acquired taste for most and require the same practice as anything else. Why not give yourself a leg up and install a Circle 10 AK Extended Charging Handle? These simple, 1018 Steel bolt-on pieces make the charging handle friendlier for gloved hands or anyone that wants a larger purchase while gassing up their blaster. The charging handle features full knurling for better grip and a simple set screw for installation onto most AK charging handles. Circle 10 also offers a modified version for the Zhukov Folding stocks you're about to see in a bit.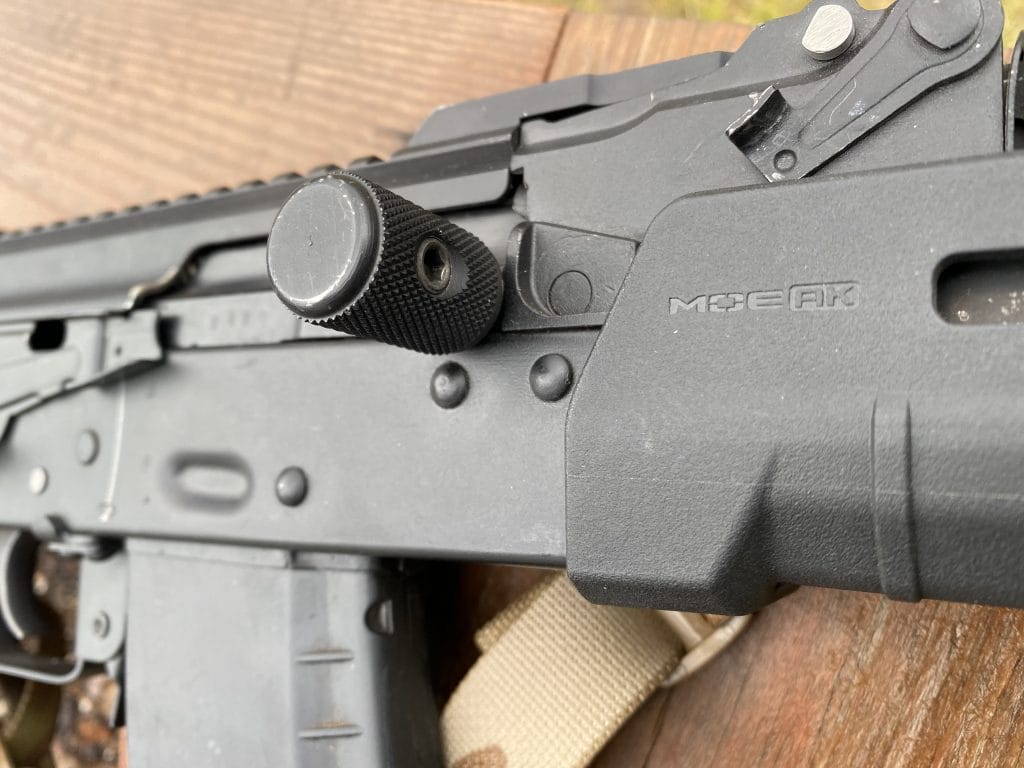 If you fear the steel version's 53 grams, rest easy. There is an aluminum one is available at a whopping 20 grams. A small weight gain for increased performance. Why, thank ya Circle 10!
Kalash Furniture
The AK is a pretty modular platform and there are lots of different options for furniture from standard wood to more modern and advanced Magpul goodies. The Zhukov stock, in particular, is one of Pike's favorites.
The Zhukov stock is a Magpul design and is likely named after Soviet War Hero Georgy Zhukov. This guy was the Soviet badass who was seen as a threat by Stalin. The man also got White Coke into Russia, and I mean white Coca-Cola, not the Miami Vice kind.
The Zhukov stock is a folding design that goes to the right so you can still fold the stock and mount optics on a side scope mount. It's unlike any other AK stock. Instead of being a wood paddle perfect for kayaking, or a thin metal folder perfect for offer zero cheek weld, it's a combination of the best of both worlds.
The Zhukov makes it possible to turn your AK super-compact while offering all the features of a modern stock. This includes an actual cheek rest for accurate shots, QD slots for a sling, and optional cheek riser support. The Zhukov stock even offers an adjustable length of pull with 5 different positions. The Zhukov stocks will lift AK47/74 models, and a special model is produced for those thicc Yugoslavian receivers.
AK Wood Furniture
Some Kalashnilovers prefer the Wood Look, and who can blame 'em?
Check out this stuff from KalashniKarver (@kalashnicarver).
KalashniCarver (Kalshnicarver.com) is headquartered in Missouri. This is a source for more than just wood AKM handguards and He makes custom hand-made Kalash furniture of all kinds, as well as stuff for AR and VZ58 platforms. He even has stuff for RPKs and Saiga Sporter rifles.
Need a triangle side folder stock all in wood? He's got you covered — and it latches to the side with a 5lb rare earth magnet. These ship with a stamped steel buttplate but he'll substitute with a 1/2 in. rubber buttpad if you'd prefer. He will even put a QD mount on it if you'd like.
Looking for some wood panels for your MLOK rails, or a foregrip that'll attach to 1913 Picatinny rails? He does that. You can have it in hickory, walnut, white oak, ash, maple, osage orange, or other types of wood.
Note that every order is unique and custom, so plan on a month to a month and a half to get your order. Pictures on the website are placeholders.
AK Triangle Folding Stock Pouch – in leather
AK 47 accessories like this have been available for triangle folding stocks in nylon for quite a while — Gene Higdon of Mean Gene Leather designed them at the behest of Jim Fuller back in the day. Now Gene is making triangle folding stock pouches in the skin of dead critters.
Use one of these to keep a multi-tool or your cleaning kit handy (not that you'll need it much), to have spare batteries for your weapon light on hand (unless you have a Holosun).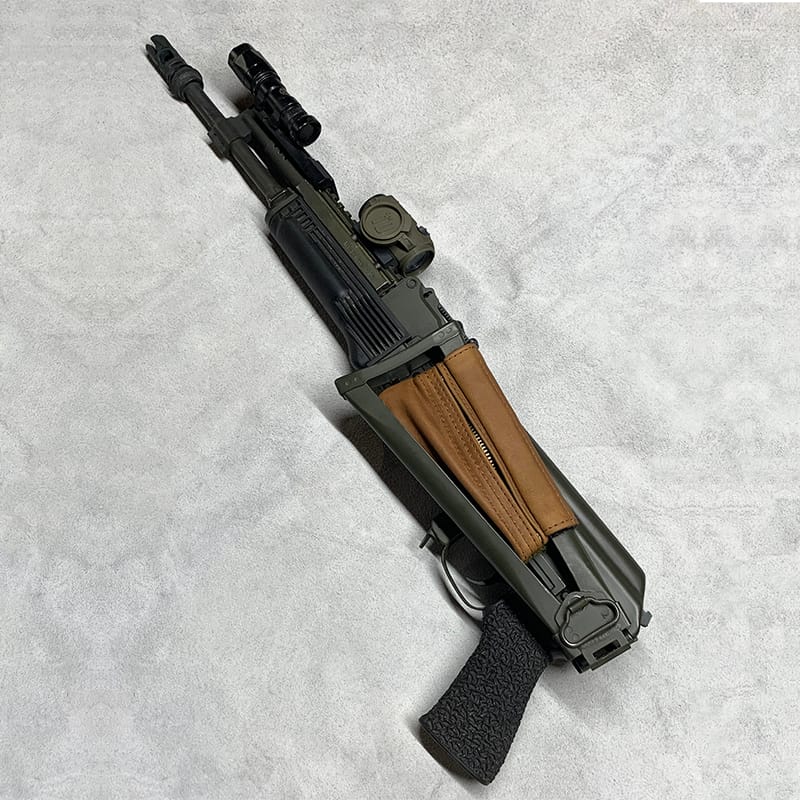 You can also just use it to stash your pogey bait.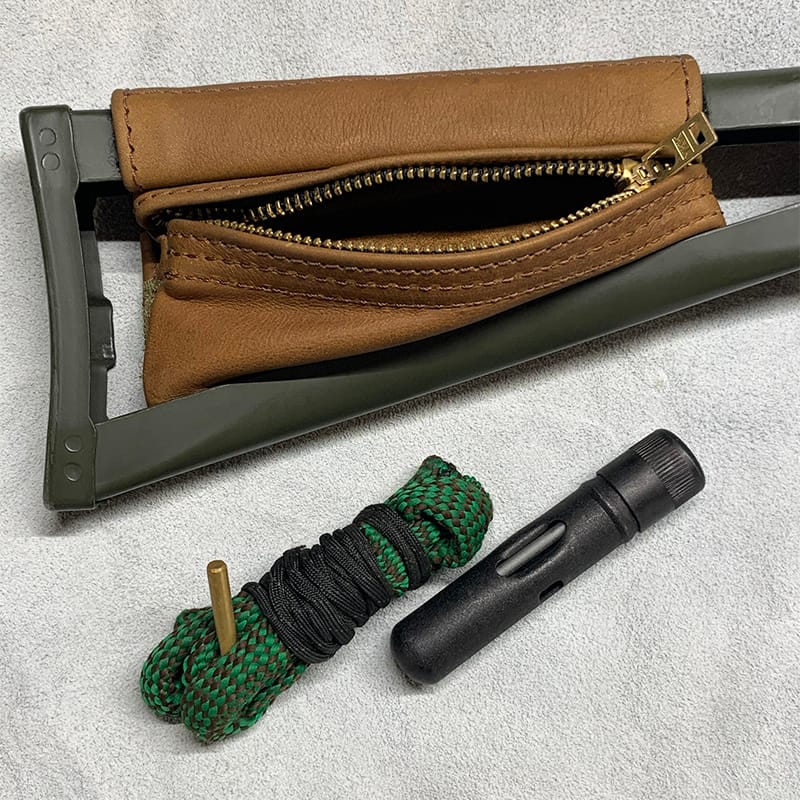 You can get 'em in black, chocolate, or "vintage cowboy" on the MGL website (MeanGeanLeather.com), but knowing Gene as we do there's every chance he'll periodically post something a little different on social media (follow @mean_gene_leather on Instagram). Those will be very limited in availability if they show up at all, so you'll want to be paying attention.
You might also check out his slings while you're there (we may add those to this lineup later). He makes several kinds, including QD. Slings and other pieces of MGL gear come in black, matte black, chocolate, distressed, rich brown, bomber brown, gray, crazy horse, antique brown, brown, and golden brown. Hell, there may be more options available by the time you read this. Contrast with white, sand, brown, steel gray, or black thread, in multiple stitch patterns.
Vodka Blaster Clipazines
We'll start with AK mags, 'cuz GunMag Warehouse, duh.
Magazine-wise we have you covered all day long. From the latest generation of Magpul AK Pmags with the steel-reinforced locking lugs to the classic Bulgarian stamped metal models., we have pretty much anything built for the AKM and its related platform.
For fun and because 'Murica, we have the KCI Freedom Dispensing 75-round drums, but the best deal might be these 30-round mags from KCI.
The above-listed magazines are great, but there are a few that stand out that I want to point out.
Bulgarian Steel Lined
Bulgarian steel lined polymer magazines were well ahead of their time. It took decades for Magpul to catch up with Bulgy magazines and their combination of polymer and metal. The benefits of polymer AK mags are numerous. First, they are lighter than steel magazines. Second, they bang around a lot less than standard metal mags. A couple of AK mags combined into a chest rig is a noisy mother.
The downsides to polymer magazines are the weak points around the locking lugs on the front and rear of the magazine as well as the feed lips. The AK magazine is a heavy-duty item and the AK beats the hell out of it. The Soviet Union didn't design the Kalashnikov to be a gentle beast, but a monstrous Orc of a gun that chews and chops at magazines.
As far as our AK gift guide goes the Bulgarian AK magazines offer the most bang for your buck. They are super affordable and designed to last. These magazines are more than a one-trick pony. They feed reliably, are lightweight, and fit near any in spec AK rifle. Bulgarians make one helluva goulash and one awesome AK magazine.
XTech Tactical MAG47
If price is no concern and you want the very best in AK magazines for your loved one then the XTech Tactical MAG47 is the way to go. This American made magazine combined the benefits of steel and polymer to create a rugged and lightweight option for whatever 7/62×39 AK you have. The benefits of a steel and polymer magazine are all present here.
We get an ultralightweight polymer design that is cut with a waffle-like texture to bot reduce weight and increase your ability to maintain a grip on the gun. The steel insert is what makes the XTech magazine different. Instead of separate pieces like the Bulgarian magazine, the steel portion is one solid piece of metal inserted into the polymer.
This cage-like device is a combination of from and rear locking lugs topped off with steel feed lips. The design makes the steel portions stronger and more resistant to wear. The XTech Tactical MAG47 AK magazines might be the best stocking stuffer on our AK gift guide.
AK Ammo
Самый славный калибр: Samyy slavnyy kalibr!
Mags aside, the most generic answer for a gift guide is ammo. There is a good reason for that.
Every gun owner always needs more ammo. Always. And since the AK is plenty popular, ammo is (typically) cheap and (except during pandemics and election season) readily available.
The most common AK variant is in 7.62×39, but 5.45×39 is also popular as well as variants in 223. Hell, there are even AKs with 300 Blackout barrels. So when ammo and magazine shopping it may be wise to wait and figure out exactly what variant your Kalashnilover has.
ComBloc Dancing Lessons
Dancing is a vastly underrated tactical skill: The "Blooming Death" (seen above) and "The Carlton" maneuvers are particularly dangerous.
"The Carlton" is arguably more suited to extreme CQB, though it was reportedly never used in Fallujadishu during house to house fighting there.
That said, it's the perfect move for when you find out the range of Kalashnigifts available over in The Warehouse!
Magazine and Ammo AK 47 Accessories
At GunMag Warehouse we sell magazines and magazine accessories. So if you want to find AK 47 accessories to give to your Kalashnilover, you're at the right place!
Magazines can be accessorized for better function and ease-of-use. With the right accessory, loading ammo into a magazine is easier, faster, and causes a lot less thumb pain. It would be a real shame to leave these AK 47 accessories out of our AK gift guide.
Magpul Base Plates
I made the change to AK PMAGs years ago and never looked back. They are lighter, cheaper, and made in America in case 922.R. is an issue. They can also be outfitted with Ranger Plates by Magpul. These base plates make it easy to draw your magazine from your mag pouch.
Magazine Couplers
Additionally, who doesn't want to couple their magazines? Duct tape is one way, but magazine couplers from ProMag and Magpul are another. The ProMag models come in variants for metal or polymer magazines. Magpul's are designed specifically for their Pmags. These connect two magazines together and make reloads fast and intuitive.
Magazine Loaders
No AK 47 accessories gift guide is complete without a mag loader. When it comes to loading magazines the Maglula loader is one of the best tools you can get. If your favorite AK47 enthusiast likes metal mags they will certainly appreciate saving his thumbs loading them. It'll also be faster and can be done while watching Red Dawn.
The best of the best is the MagPump loader, it will make your life so much easier.
What About an AK Pistol?
You can't toss a stock on an AK pistol, but that is where braces come in. In a day where the Draco rules we can't leave the idea of an AK pistol off our list. AK pistols are heavy, unwieldy, and the addition of a brace makes it much easier to wield and accurately shoot. There are a few options for the AK pistol.
The first is the straight-up SOB brace from SB Tactical designed for the AK series of pistols.
This big beefy brace looks modern and adds an edge to the design that works it much easier to wield and shoot your AK pistol of choice. The other option is an adapter that allows you to use any brace which uses a AR 15 style receiver extension. This opens you up to nearly any brace on the market including the SBA3 and SBA4 adjustable designs.
Either way, these braces attach between your receiver and pistol grip and do require proper placement. Do it right and it will make your AK pistol easy to handle and it most certainly easier to use with a red dot.
AK Sling
What kind of AK owner are you shopping for? The "Nyet, rifle is fine," type, or the "Let's make it modern type?" Either way, you have sling options available. From old school Soviet Russian Military surplus slings to the modern Blue Force Gear Vickers AK sling you got lots of options. My SIG 556R AK wannabe wears a Special Edition Vickers sling that is a little bit of both.
A sling is an invaluable piece of gear for any rifle and it makes a great gift, especially if you are really clueless on what kind of AK 47 accessories to get your AK fan.
AK Sling Attachment
What rifle is complete without a trusty sling? While some may argue that the AK is worthy of an old belt tied to it with bailing twine some of us prefer the finer things in life.Pinky up.
Enter the Echo 93 AK Sling adapter plate. Echo 93 offers 15 different varieties of adapters to fit numerous types of AK pattern rifles and pistols. Seen here is the original V1, a large, ambidextrous loop allowing for HK hooks, 550 loops, direct sling attachment, and many other types of connectors. The pictured adapter has been in use for over 5 years without fail.
Echo 93 was kind enough to make these as idiot-proof as possible, simply remove the pistol grip, slide on the adapter, and replace the grip.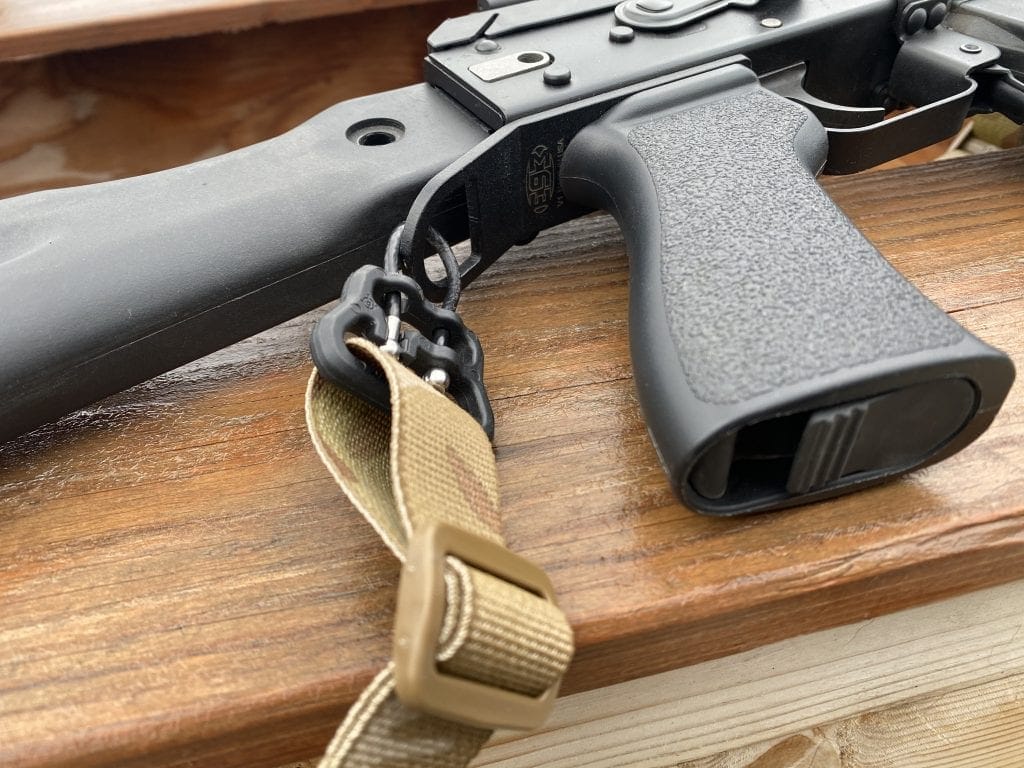 Authentic Russian (Or Eastern European) Optics
For the Die Hard AK47 enthusiast, there is nothing better than authentic optics. They can be tricky to find and are expensive, but they are an amazing gift. Kalinka Optics imports numerous optics that fall into this category. You generally want to look for the POSP Series of optics in a fixed 4 power configuration. Additionally, Kobra red dots are popular choices due to their Russian parentage as are PK-01 optics.
This is really for the hardcore AK enthusiast. The casual user or AK Fan may not be as impressed as the guy who can tell you the subtle differences in AKs from Yugoslavia and Romania.
Optics from this Century
I covered the Eastern European optics so my purists should be satisfied with that portion of the AK gift guide. However, if you want something a little more modern, and likely a little cheaper then check out the Holosun options. These modern red dots are perfect for an AK47 that's optics-ready or one that you're gonna make optics-ready.
Red Dot Sights
The HS510C is my favorite choice. The square-style design opens up your field of view and offers you an excellent option for a home defense AK47.
The multiple reticle choices give a few options, including a 2 MOA dot, a 65 MOA ring, or a combination of the dot with the ring. This is perfect for use inside of AK ranges. The HS501C is backed with a solar failsafe, a battery that lasts 50k hours, day and night vision settings and so much more at a lower price point. Pair it with an Aimpoint Magnifier for a pro-grade setup.
If you want something a little more budget-friendly then the HS403R might be the right choice for you. It's a simple, budget based optic that offers professional performance. The HS403R is a compact red dot with a 2 MOA reticle.
The HS403R presents 12 brightness settings with ten daylight and two night vision settings. The HS403R is a simple option that's plenty effective. It's not fancy, but it's tough and affordable.
Magnifier
Holosun makes a 3X magnifier that'll extend the range of your red dot. It's affordably priced and will get you set up for anything within 300 yards.
AK Cleaning Kit
Gonna need something to clean the thing!
Eventually. Probably. Cleaning gear should be a part of an AK gift guide, but we'll acknowledge ahead of time that it probably won't have to be used too often.
When Travis Pike was working with the Romanian military he watched their guys clean their AKs with diesel fuel, boot laces, and cut-up shirts used as rags. It worked. Smelled terrible, but it worked. You can take that route, and diesel is only a couple bucks a gallon… however, he suggests a little more refinement.
Rifle Bore Snake
Replace the bootlace with a Hoppes 30 caliber bore snake to clean out all that Wolf and Tulaammo crud. Keep that bore nice and shiny.
OTIS Smart Gun Care
The OTIS Bone tool is a simple scraper that allows you rough up the junk that stick, clings, and burns to the bolt throughout those long-range sessions.
Speaking of Otis the 30 cal Patriot cleaning kit is the way to go for cleaning your ole AKs. It's modern, easy to pack, and works.
We'll finish on Otis because for less than ten bucks they have this Rust Stopper storage bag that allows you to bury the AK for partisan needs….or just keep rust-free for traveling or long term storage.
Real Avid
Real Avid is a company I used for a lot of my gun tools. They make a ton of neat stuff that goes above and beyond what most companies get around to. The Real Avid AK 47 Micro Tool is a handy pocket-sized tool any AK owner should have.
It packs the following tools for the Kalashcovience, Pin Punch, Cutter, Gas Piston Shift Scraper, Front Sight Adjuster, Gas Piston Face Scraper, Gas Tube Removal Lever Extender, Ruler, and of course a Bottle Opener.
Gold AK 47
We're not actually sure where to get one of these. None of us have the budget for it.
It probably helps to know (or have helped end the career of) a warlord or narco though.
It wouldn't hurt to know an Arab prince or head of state from the Middle East. You know they have a gold AK-47 in every room with all the golden AK 47 accessories known to man.
Or at least some rooms.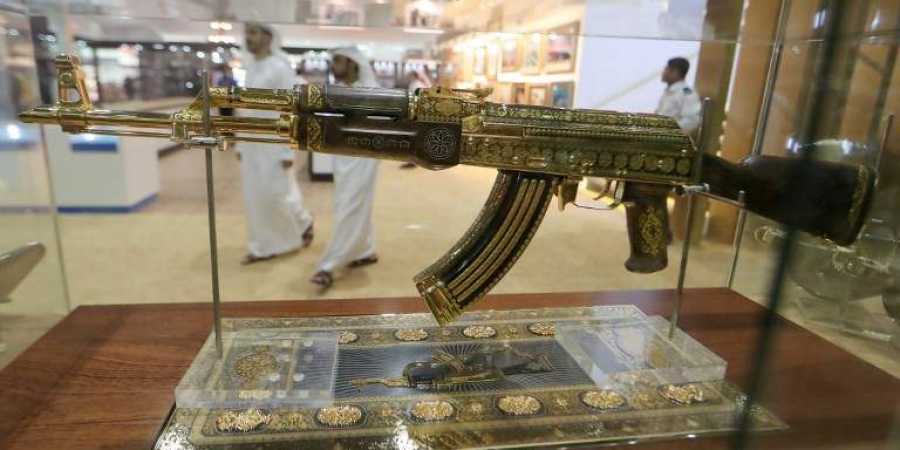 Anyway, we're pretty sure if you do get a gold Ak 47 you shouldn't leave it in a taxi.
AK Apparel
AK 47 Shirt
How about an AK47 shirt of some kind? There are many different types to be had!
Take this AK47 t-shirt. It's a 7.62 design, featuring the proper spelling of seven point six two by thirty-nine (7.62×39) with an old school AK portrayed vertically to the side.
The 7.62 Errrrbody AK 47 shirt is an homage to "His Imminence Kalashnikov the Eternal" by E Rock Apparel.
Happily, the shirt itself is far less expensive than a couple mags' worth of ammo.
AK Sandals
This may not seem overtly AK-ish at first glance, but it totally is. It's even in the name.
Those are the "AK-47 flip flop" (or sandals, whatever) from Combat Flip Flops. Got 'em some cast bullet casings, injection-molded arch support, and a well-deserved reputation for being absolutely terrible to run or fight in.
The AK Gift Guide for AK Folks
Merry Kalashmas, or Happy St. Kalashmentine's Day, or whatever to everyone! We hope your presents overrunneth like Afghans on Russian positions. Ouch.. too soon? The AK Series of rifles will always be prolific and have truly cut their way into world history.
It's by no means a stretch to call it the second most popular semi-auto rifle in the United States. Hopefully, our lit AK Gift Guide has made shopping a little easier for the Kalash enthusiast in your life, whether you found some awesome AK 47 accessories, mags, or apparel.