The terms 'fighting rifle' and 'rimfire' rarely collide. If you are using a rifle to fight, it's likely a centerfire and most likely in 5.56, or maybe 300 Blackout, or the AK's favorite 7.62x39mm. There are many options, but one might settle for a rimfire rifle. Let's dive into the rimfire fighting rifle and why one would choose a rimfire rifle as their fighting rifle.
Why A Rimfire Fighting Rifle
I wouldn't suggest any rimfire rifle to anyone looking for a serious defensive firearm. A rimfire fighting rifle is a niche weapon that one should only use if one absolutely has to. A cartridge like the .22LR does not provide expansion and does provide any secondary wounding effects. These guns just poke little holes. Sometimes little holes can be enough, but it's not optimal.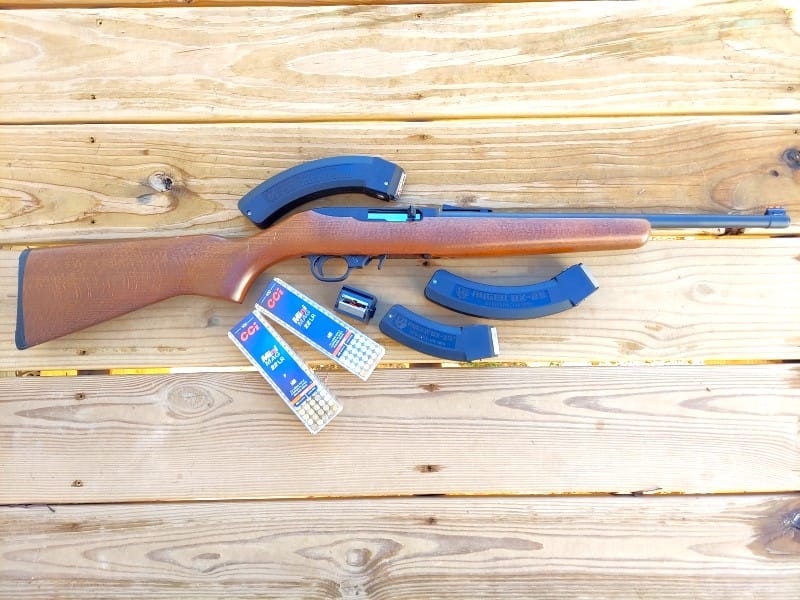 If you, or someone you know, cannot possibly handle a 5.56 caliber or even a 9mm delayed blowback rifle, like the MkGs, then you might not have other options. Some people are frail, not very strong, or disabled. These folks need a rifle they can effectively and safely handle. A rifle is easier to shoot than a handgun, and for a person who falls into the above category, a rifle makes a bit more sense than a handgun.
Additionally, maybe you are broke. Maybe you only have a .22LR rifle, and you have to make do. That's understandable. If that's the case, some of this list isn't going to be for you. If I had to put an emphasis on only two things on this list, it would be good ammunition and a light. Please emphasize those two points more than any other if your money is tight.
Which Rifle?
Good question. There are plenty of great options. The S&W M&P 15-22 is an option if you want that AR-like modularity. The Mossberg Plinktser is solid, and so is the Winchester Wildcat. There are lots of options. If you already have a reliable .22 LR rifle, there is no need to upgrade. If you were shopping today, I'd choose the Ruger 10/22.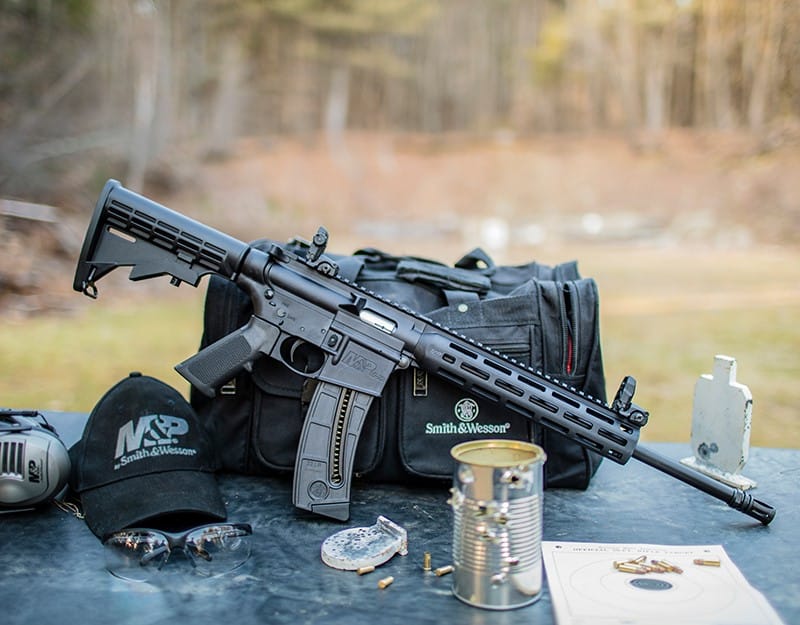 The Ruger 10/22 is the most popular .22LR on the market. It's legendary, and millions have been produced. They come in all shapes and sizes and are incredibly modular. They are also insanely reliable. 10/22s provide a lightweight and often compact frame for easy maneuverability indoors.
Ammo Selection
Here is where you need to be picky. Defensive .22LR ammo exists, and rounds like Federal Punch are great. They tend to be fairly light and fast, and it's designed for a short barrel. You have at least 16 inches of barrel length and can probably use a heavier projectile in the 40-grain variety. My suggestion would be the CCI Tactical 40-grain rounds.
These rounds are designed for semi-auto rifles and will ensure reliability. They fly fast at around 1,200 feet per second and will penetrate the necessary amount to reach something vital.
CCI makes high-quality ammunition, and that's a must-have for self-defense. One of the problems with rimfire rounds is their lack of reliability. Rimfire operation is less reliable than other forms of operations like centerfire. The higher quality of the ammo, the more reliable it will be.
Magazines
You want a reliable magazine, which means you probably want a factory magazine. If it's not a factory mag, there are very few companies I would trust. I would choose a factory magazine of 10 rounds over a ProMag that holds 30 rounds every day. This is a big reason why the Ruger 10/22 is a great option. The BX25 mags pack 25 rounds and are crazy reliable.
On top of that, they make a version that molds two magazines together for a jungle-taped style design. This gives you fifty rounds on the gun for a rapid and easy reload. It's a great option for home defense, and 50 rounds of anything feels quite comfortable in any caliber for defensive use.
A New Stock
Most .22LR rifle stocks aren't exactly modular or tactical, although some are, including options to tactical up your Ruger 10/22. A new stock isn't necessarily needed, but they do make it much easier to add accessories and slings. Of the things on this list, this is probably the least needed.
With the Ruger 10/22 in mind, there are plenty of stock options. Desert Tech makes a 10/22 bullpup stock to shrink the gun even more. Magpul's Hunter stock gives excellent ergonomics and M-LOK slots. FAB Defense makes a great option as well. These add modularity and mounting slots for all manner of goodies.
If your weapon has the means to attach accessories already, then you are ready to go. If not, finding a means to do so is a must which leads us to our next choice.
A Light
A light on a home defense handgun is an absolute must-have. A weapon-mounted light allows you to obtain positive identification of a threat before pulling the trigger. A shadow in the dark is never the target. The target should be appropriately identified and then dealt with. Lights can be a bit pricey, and you might need to shop around, but at the same time, consider there is a reason they are expensive. Don't be fooled by gimmick lights.
Streamlight is a great brand for affordable weapon lights. The Streamlight HL-X is about $125 but comes with a mount and a pressure switch. It's ready to rock and roll out of the box and casts one thousand lumens of white light forward.
An Optic (and Mount)
Like any modern weapon, the rimfire fighting rifle can benefit greatly from a red dot. At close ranges, red dots make shooting simple. Put the red dot on the target and pull the trigger. It's not super difficult and lends itself well to defensive shooting. Red dots vary greatly in design and size.
On a budget, it's tough to find a better option than the SIG Romeo5. It's a very simple red dot that just works. It's not fancy, but it's also affordable, durable, and reliable.
If you want to spend a little extra cash, the Holosun 407C is an outstanding option that's a bit smaller and packs a few extra features. It sticks tight to the gun and keeps weight and bulk low.
You'll need a mount that can vary from a simple Picatinny rail to a dedicated optic mount like the Rucker Machine mounts. It's entirely up to you, and what is important is finding a way you can afford to get the optic on the gun.
The Rimfire Fighting Rifle
Rimfire rifles aren't the best weapon to take to a fight. If it's the only thing you can handle, then it's what you have to fight with. Have no doubts a rimfire rifle can put a bad guy in the dirt quickly, but that relies on the user having some skills. All the gadgets and gizmos cannot make you a good shot or capable of proper shot placement. You need to get out and train with your platform, learn how to use it, and ensure the most effective weapon you have is the six inches between your ears.