The Holosun 507C has proven to be an extremely popular optic among RDS users — surprisingly so, to some. In fact, to many. Although most commonly mounted to a pistol, our team (among others) has successfully mounted the HS507C to other weapon platforms as well. Now available with the choice of a red or green reticle, Holosun's 507C red dot sight was added to the GMW lineup in large part because of the reviews you'll read below.
Scroll down or use the following internal links to learn more or to get one for your very own.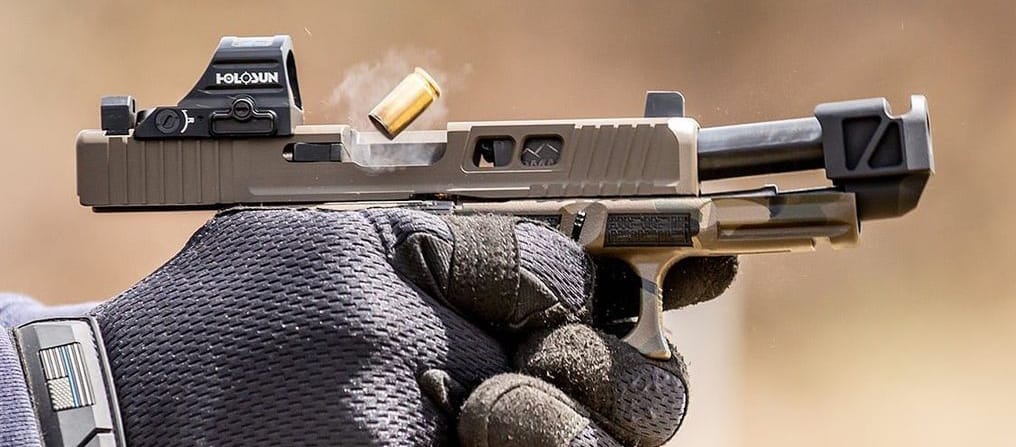 Holosun 507C Review | Pistol Red Dot Reliable
Daniel Bales, February 2020
I have been interested in Micro Red Dot Sight(ed) optics for some time. At my agency, I tested, implemented, and wrote policy for the carry of RDS pistols. When I first heard that Holosun had brought a Micro Red Dot to the market I was excited to see what it could do. I picked up a Holosun 507C at a local gun shop in short order and mounted it on a Glock 45 with a KKM barrel and compensator. I was hoping this would be a super blaster making me a ragged one-hole shooter at 25 yards. It didn't, but that's not the optics' fault.
Holosun 507c Features
Power
Let's talk about the Holosun 507c in detail. It's a micro solar red dot sight. Its housing is made from 7075 aluminum and powered by a CR2032 battery as well as the solar fail-safe backup, which works only in the auto mode when lighting conditions are present. The battery is supposed to run for 10 years on setting 6, in the dot-only mode.
With ten daylight settings and two night-vision settings, the 507c has two intensity settings: Auto (dot adjusts to ambient light) and Manual (user adjusts intensity for lighting conditions). To adjust from Auto to Manual you press and hold the plus button for three seconds. I leave my 507c in the Manual mode at all times and adjust to the lighting conditions. The 507c also has a shake awake technology that turns the unit off at programmed times and starts it up once the unit is moved.
Reticle Options
The 507c features three reticle types: 2 MOA dot only, 2 MOA dot with a 32 MOA ring, and 32 MOA ring only. This is changed by pressing and holding the minus button for 3 seconds. The dot with the ring is similar to the EOTech optics reticle.
I personally use the 2 MOA dot at all times. When switching between reticle options there is no need to re-zero because the 507c uses the same LED for each reticle.
I find that the dot and ring fill up too much of the window and cause me to feel my shooting is less precise. I also mostly use a single dot optic on every weapon system with a red dot, be it a shotgun, rifle, or pistol. So it's more of a preference than an issue with the optic itself, in fact I know a few friends using the dot and ring.
Mounting
The Holosun 507c shares the same mounting footprint as the Trijicon RMR. Because of this, you can mount it on any manufacturer's optic-ready pistol that accepts the RMR.
This is a great feature. The RMR has been a staple on pistols for an extended period of time, so the 507c is able to fit right in with all of these weapons. I really wish more companies would follow in Holosun's footsteps when designing new accessories. Doing so would reduce the options users have for mounting. It would also allow the firearms manufacturers to mill their slides at the factory, making for a more rugged "Slide to Optic" mounting interface.
Mounting the optic on the Glock 45 MOS was easy using the number 2 Glock MOS plate (RMR Plate). Holosun includes the needed mounting screws for the MOS platform, which is uncommon for most optic manufacturers. I appreciate this very much because finding the correct mounting screws for the MOS can be difficult if the local gun store doesn't carry them. The included mounting screws are Torx, and again, the tool is included in the package.
Zeroing
Once mounted, I first zeroed the 507c at 10 yards using Holosun's included sight-adjustment and battery-cap tool. With the tool the zeroing process is easy. I really like the audible and tactile clicks on the 507c. It didn't leave me wondering if I moved one, two, or three clicks each time I moved the dial. The adjustments remained in place and didn't move under recoil. Over the 6 months that I have been using this optic, I have had zero optic shift. I moved my final zero to 25 yards and again this was completed easily due to the audible and tactile clicks.
Drawbacks
The Included Tool is Too Easy to Leave Behind
So, let me complain about what I don't like: the included tool.
I don't like the size of the windage and elevation opening. It requires the included tool. I found that when I needed to adjust the optic I didn't have the tool and or forgot it at home after completing my first zero. I am used to using a piece of brass or a normal flathead screwdriver to complete this task. Second, the same tool works as a battery cap removal tool. Again when the battery did fail (during my testing I only changed the battery once), I didn't have the tool handy. It took me longer to complete the battery change than it normally would. It can be completed due to the secondary indents on the battery cap, but it isn't as easy.
HS507C: It's Trustworthy
Although I haven't thrown this optic on the ground from shoulder height it has held up to thousands of draws, rounds, and all weather conditions. I completely trust this optic on my duty gun.
507C Pricing
The cost of the Holosun 507c is quite a bit less than its competitors, making its performance vis-a-vis price very attractive.
If you are in the market for a new micro red dot for your pistol or you are looking to get into your first RDS pistol, you can't go wrong with the Holosun 507c. For the cost of this optic, you can get close to two RMR's. The battery life is great, and it comes with more options than a Telsa electric car.
So you should check out the Holosun 507c. I don't think you'll be disappointed.
HS507C: Literal Ramen Noodle Gun Optic
Travis Pike, February 2020
Trijicon RMR is, without a doubt, king of the mini red dot market. They are the most proven red dot on the market and the choice of many armed professionals. They've been challenged by the likes of Leupold and Meopta for the professional market, and companies like Burris, Vortex, and Swampfox have produced quality, budget-friendly optics that fulfill hobby-related roles. Then, out of nowhere, a company called Holosun exploded onto the market. The company started small, but somehow, someway ended up producing the Holosun 507C, a mini red dot that's challenged Trijicon.
Challenged them so much, so Trijicon has filed suit against them. I'm not a patent lawyer, and I don't pretend to be one on TV either. However, it's not like Chinese companies have a long history of respecting intellectual property. I recognize why one would not want to buy optics that support an oppressive regime. However, to give an objective review of the 507C, I put my personal thoughts aside.
The Holosun 507C in Living Color
The Holosun 507C is a micro red dot sight that weighs 1.5 ounces, is 1.78 inches long, 1.15 inches wide, and 1.15 inches tall without a Picatinny mount. There is an included Picatinny mount that makes it 1.54 inches tall. It uses the same footprint as the Trijicon RMR, so it's compatible with various risers, mounts, and handguns utilizing the Trijicon footprint.
The optic is unique among mini red dots in the fact that it comes with three different reticles. The reticles include 2 MOA red dot, a 32 MOA circle, and a combination of a 32 MOA circle with a dot. It's an interesting setup, that does make the optic handy for things outside of pistol, and has excellent results for those with astigmatism. Swapping reticles is very easy, and all the user needs to do is press the down setting button, and the optic will switch reticles.
The 507C has a dual fuel design with a solar panel on the top of the optic and a CR1632 battery. The optic will run for 50,000 hours via battery on the 2 MOA dot setting. The larger reticles will eat up the battery a good bit faster at 10,000 hours. One of the most compelling parts of the V2 design is the battery tray. It slides out of the side and does not require you to remove the optic to swap batteries.
The 507C has ten daylight settings and 2-night vision settings. The side-mounted buttons make it easy to change brightness levels, or you can use the reactive automatic mode to set the brightness level. The frame is made from 7075 T6 aluminum, and the optic has an anodized finish.
The 507C In Action
I'm not running this on a handgun like many but on a Benelli M4 shotgun. I'm using a Scalarworks Sync mount that is absolutely fantastic, by the way. The Sync mount allows for a low profile mount that co-witnesses with the M4's stock sights. I wanted a mini red dot on the gun, and the Holosun lined up with the sync mount, so it seemed like a natural fit. Twelve gauge shotguns aren't gentle weapons either, so I assumed it would be an excellent platform for durability testing on a long gun.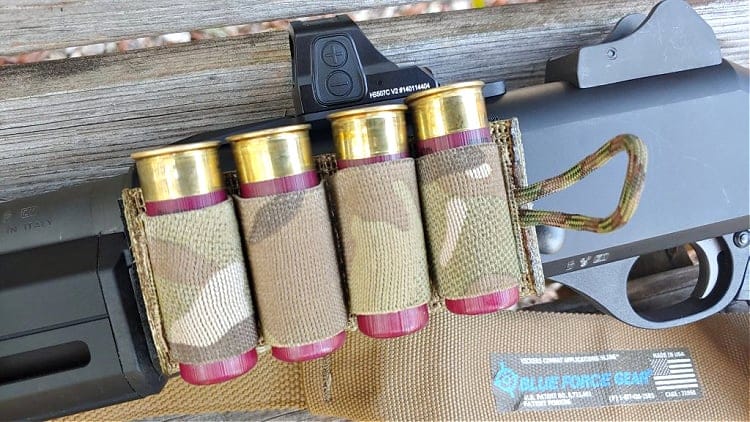 What initially appealed to me and drew me to making this a shotgun optic is the 32 MOA circle reticle. I've had this idea that I could use a circular reticle to pattern buckshot inside of at specific distances. The reticle would allow me to ensure I have complete pellet accountability. My load of choice is Federal Flitecontrol, eight pellet buckshot.
I won't dive too deep into the experiment, but I will say it worked. With my load of buckshot, I found the circle reticle allowed me to know for sure that every pellet stayed inside that 32 MOA circle at 15 yards, which is beyond the longest shot inside my home.
The multi reticle design is appealing and gives you something beyond a dot to aim with. As you can imagine, the larger reticle is easier to see and pick up with speed. As someone who has minor astigmatism, the bigger reticle is clearer and more comfortable for me to see.
Booming Along
I've tossed down a good bit of buckshot and birdshot through my Benelli this spring and summer since ammo for rifles and handguns is practically nonexistent. I initially mounted the optic to the included Benelli rail before receiving the Sync mount.
Zeroing is easy as expected, and zeroing a shotgun with the Holosun 507C V2 is even easier than most optics. The fun part was seeing if it held zero throughout a variety of buckshot loads. From the soft-shooting reduced recoil Flitecontrol to the powerful Hornady Black, I put a good amount of different loads through the gun and the optic.
The majority of the hard-hitting stuff was some el-cheapo Rio buckshot loads I bought for a song. I bought in bulk and had plenty of lead to chunk downrange, and a semi-auto shotgun makes it a rather easy endeavor. After a little over 200 rounds of various buckshot and Lord knows how much birdshot, I rechecked the zero using my initial Flitecontrol load and it was dead on.
There never a flicker of failure as the gun recoiled. This seems to indicate the battery contacts are tight and maintain a solid connection to the battery.
Along the way, I enjoyed how the small nature of the optic made port loads a mostly uninterrupted process when going over the top. I prefer an over the top port load for semi-auto shotguns so I can load the chamber and press the bolt release in one motion.
The Controls and Brightness Levels
I live in the swampy, hot, and bright state of Florida. Outside of the world's worst superhero and best meth, we are known for how punishingly bright it can be. This puts the brightness levels of most optics to the test. At high noon the 507C was perfectly suitable at its 8th daylight brightness level.
The automatic mode is optional and allows the optic to pick up ambient light around it and adjust as necessary. The automatic mode seems to be quite capable of detecting the proper amount of light and adjusts as needed. It swaps very quickly.
I'm not a fan of automatic modes on serious guns. With the 507C, my attached weapon light washes the reticle out, and the light does not adjust to the light forward of the optic. In low light scenarios, the automatic mode will dim the reticle, making it impossible to see when you turn the WML on. Through experimentation, I found the 5th setting to be the best compromise for indoor use for and night scenarios with and without using a WML.
Another downside of automatic modes is when aiming from a dark area in a bright one, and vice versa. Switching between modes is simple and requires you to hold the + for four seconds until the reticle blinks. That is all there is to it.
HS507C Success
Politics aside, the Holosun 507C V2 is a very well-made optic with a lot of potential to it. The side-loading battery, multiple reticle options, and dual fuel design make it quite appealing. It seems to be robust in my experience, but don't take my word for it. Get multiple opinions: Chamber's Customs has put 37,000 rounds through one, Aaron Cowan at Sage Dynamics abused the hell out of one, and John Lovell has likewise given it a big thumbs up.
It seems like the 507C is here to stay unless Trijicon wins the lawsuit — then who knows what will happen.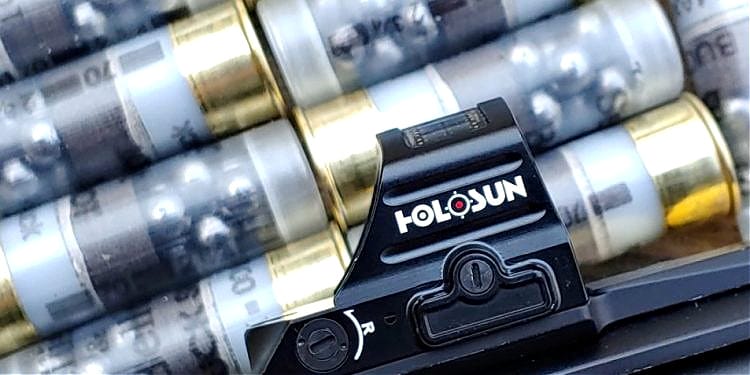 Holosun 507C – 6 Months and 1,500 Rounds Later
Travis Pike, February 2020
I purchased my Holosun 507C about six months ago with the intention of mounting it to a handgun. That intention was swiftly abated when I decided it would be more practical on a shotgun, specifically my Benelli M4. I initially reviewed the optic here and found it to be a surprisingly robust and affordable option that was well suited for a shotgun.
Since my initial review, the world's changed. We got a new puppet in the White House, ammo is scanter than ever, and Trijicon and Holosun have settled their little lawsuit. Oh, and you can no longer find the Holosun 507C V2 for a reasonable price. The end of the Trijicon and Holosun lawsuit was some sort of settlement in which Holosun has since redesigned their optics to vary slightly. The new 507C X2 replaces the ultra-large and ergonomic buttons with smaller variants. Other than that, the optic has remained the same.
The 507C and Scatter Gun Optics
Over time I've found the Holosun 507C to be one of the best shotgun optics you can get. I'm not fudd about red dots. I think any gun can be improved with a red dot and red dots on shotguns are especially Sympatico. Red dots and shotguns are both designed for close-range use. Close range combat is all about speed, and so are shotguns and red dots. The bead sights found on shotguns are not much different than red dots in purpose and design.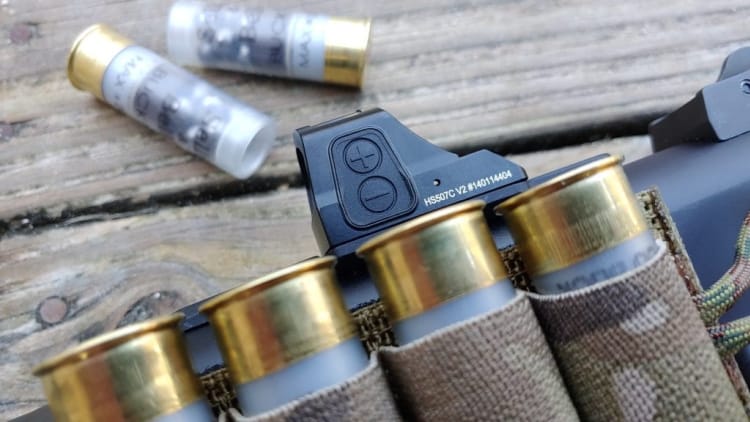 Beads don't require sight alignment, are very simple to see and use, and use target focus versus front sight focus. A red dot is used the exact same way as a shotgun bead but works better in low light, better catches the eye, and can be used for precise work with slugs when called upon.
The Holosun 507C on a Shotgun
My choice to mount the Holosun 507C to a shotgun was a wise one for a few reasons. First, in the midst of an ammo drought, I can still obtain shotgun ammunition and shoot at my heart's content.
That's lead to my favored Benelli M4 having a particularly impressive round count put through it this year. I'm well over 1,000 rounds of just birdshot through the thing, as well at least 250 rounds of Monarch 00 nine pellet buckshot, and lord knows what else.
Off the top of my head, I know I've put hundreds of rounds of Rio Buckshot through it, as well some hot 1,600 FPS Hornady Black buckshot. An educated guess puts my round count around 1,500 rounds through the Holosun 507C.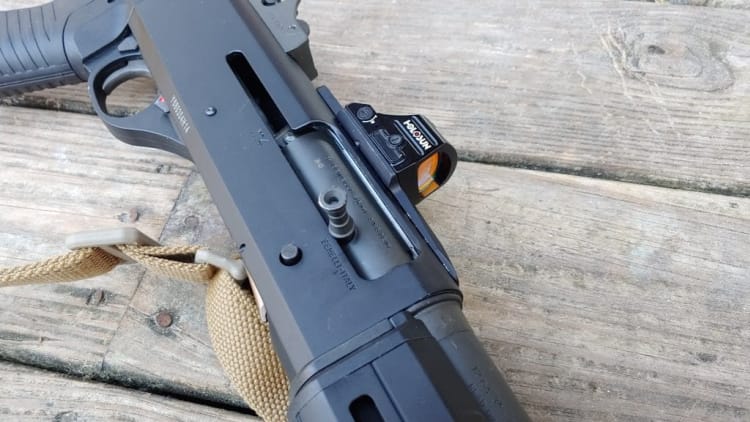 The second reason it's a natural fit on a scattergun is Holsoun's multi reticle system.
This system favors the shotgun in the best way possible. A plain red dot is fine, but the 507C's 32 MOA circle dot is perfect for a shotgun. Not only is it bigger and easier to see, but you can use the circle to pattern your load. I know that at 15 yards, every single pellet of my Federal FliteControl load stays within that circle. That creates perfect pellet accountability for home defense.
Zeroing and Patterning
Zeroing and patterning are different, but I did both at 15 yards with the 507C on a shotgun. Twelve yards is the absolute longest shot I can make inside my home, so a 15 yard zero and pattern is perfect. I confirmed at 25 yards and found the zero to still be dead on.
My zero has not shifted in that 1,500 rounds even a bit. It's still dead on and when using my chosen load patterns right inside that 32 MOA circle. I would feel completely confident in taking headshots or targeting small exposed portions of a target. The Holosun 507C holds zero very well with a shotgun. If the optic can hold zero with a shotgun, it will hold zero with a rifle or pistol.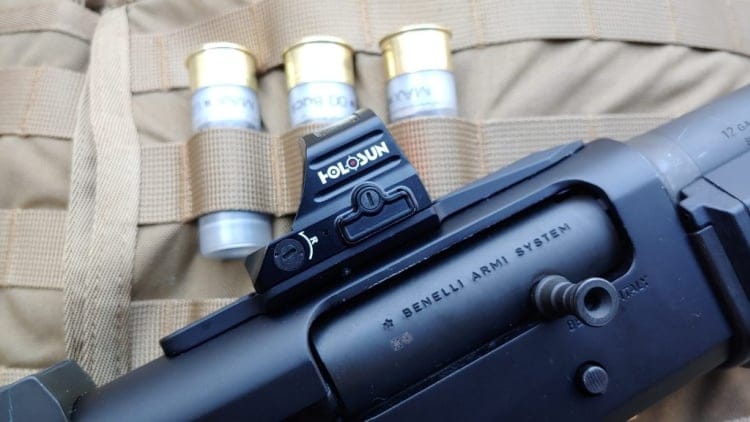 Red dots are adaptable to specific platforms, and wise users will zero their red dots to best compliment the specific platform. If I was using the Holosun 507C on a handgun, I'd have the red dot zeroed at 10 yards as a concealed carrier. I'd also know how rounds land at 15, 20, and 25 yards with a handgun. With a rifle, your range opens up substantially, and a 50-200 yard zero makes perfect sense with any red dot on a rifle.
Battery Performance
The Holosun 507C has two power sources, a traditional 1632 battery, and a solar panel. Battery life is 50,000 hours with the 2 MOA red dot and medium settings. With my bigger 32 MOA red dot, the battery life is cut to 10,000 hours.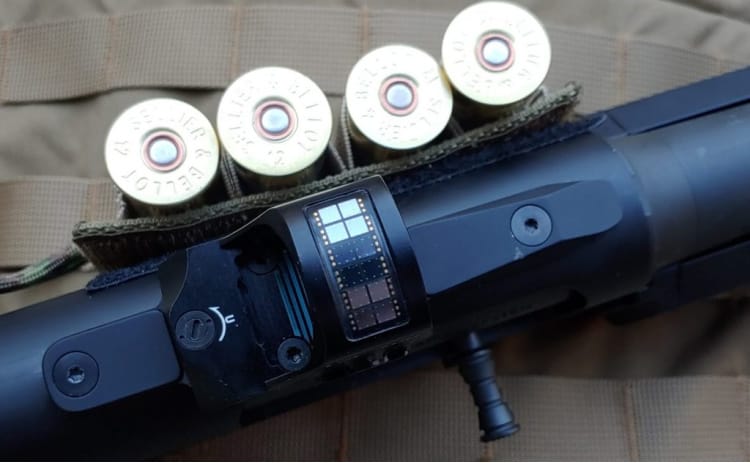 I leave my optic on all the time. This is my home defense shotgun, and I want the dot on when I grab the gun. 10K hours translates to a little over a year, and after six months, there is no issue with battery life.
To help preserve the battery life, the Holsoun 507C is equipped with shake awake technology. When the optic remains unmoved for a short period of time, it shuts off automatically. When the optic is moved ever so slightly, it springs back to life.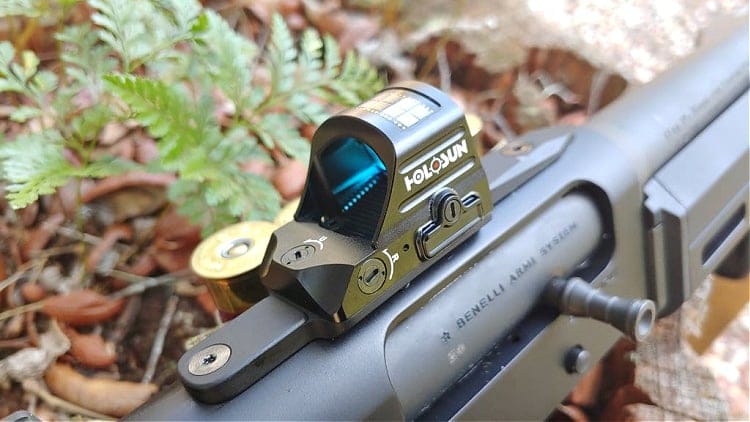 As part of my long-term test, I popped out the battery to just see what the solar panel can do. I was impressed by how easily the solar panel worked. It sprung to life and glowed brightly in the midst of a sunny Florida day. Even when a bit of overcast creeps in, the reticle functions without issue.
Used and Abused
The Holosun 507C has never flickered or fluttered when under pressure. Even when mag dumping seven rounds of 00 buckshot as fast as I could, the dot never blinked or gave up. It has yet to fail. For a Chinese-made red dot, the Holosun 507C is extremely well made and durable. It can take some significant abuse, and that's a must-have on a shotgun red dot. 1,500 rounds of 12 gauge are no joke.
Rain is also no issue for the Holosun 507C. I live in Florida, and it rains randomly, and weathermen are more like wizards than scientists here. Sometimes it rains in my backyard and not my front yard, and sometimes I get sick of it and just deal with it. That means I'm shooting in the rain and trying to take sick in the rain shooting pics so I can Instagram a picture and tag #ifitsrainingwe'retraining.
I've also made the mistake many a Staff NCO berated me for and rested my shotgun against walls, fence posts, and other surfaces. This often results in the gun falling and me clamoring over to save my uber-expensive Italian shotgun. The good news is after all these tumbles and falls, and the Holosun 507C seems not to care and shrugs it off.
I'm Sold
I was impressed a month into owning the Holosun 507C, and now six months in, I'm completely sold on it. It's a remarkably impressive design that's not only durable but innovative with its multiple reticle system and shake awake technology.
I wouldn't hesitate to trust the Holosun 507C with my life, and it sits on my home defense shotgun for a reason. I never thought I'd say that about a budget-grade optic made in China, but here we are.