Vertical foregrips don't enjoy the popularity they once did, but Firefield is looking to change that with their Rival Foregrip.
But before we get into the particulars of the grip, it's important to first look at why shooters have begun to choose other grip styles over classic vertical or 'vert' grips.
This article is from November 2018.
Waning Popularity
While nothing was seen as more tactical / 'tacticool' than vertical grips on automatic weapons in the 80's and 90's, shooters today prefer more ergonomic options like the angled foregrip pioneered by Magpul.

But that doesn't mean the concept behind the vertical grip is obsolete – not by a long shot.
Angled grips and more rearward swept grips do wonders on semi-automatic guns with minimal recoil. But big bore blasters and fully automatic firearms have their rapidly-climbing muzzles quickly tamed by a quality vertical grip like the Rival Foregrip.

This is because vertical grips allow shooters to easily counteract vertical recoil by pulling down on them. It's also while most of the original style vertical grips feature a swell at the bottom: added leverage.
Best of Both Worlds
A better solution than either is a grip that combined the muzzle climb reduction of the vert grip, with the added pointability of a pure angled grip. I've seen many in the past that work fairly well, but most of them share the same shortcoming: cost.
Sure, polymer offerings like those from Magpul are pretty affordable, but if a shooter wants something made of either aluminum or steel, it's a different story. Often they're going to need to cough up more than 50 bucks, with some companies offering special 'Gucci' grips for more than $100!
So what about the everyman who wants something in the Magpul polymer price range made of metal, and built to last?
One word: Firefield.
Firefield
Shooters can be forgiven if they've never heard of Firefield before. Founded in 2009, the small upstart company develops dozens of firearm accessories and optics for shooters in need of quality on a budget.
They don't have the name recognition of bigger companies, but in my limited experience, their stuff is built as tough as much more expensive alternatives.
Rival Foregrip
So when I saw a press release on it a few weeks back, I was excited. I wanted to give their newest product a closer look.
The grip is available in both a Picatinny and a KeyMod configuration. The Rival foregrip is built from aircraft aluminum coated in a textured finish. This has the benefit of adding extra grippiness to protect the Rival from wear and tear.
The design of the Rival is a mix between a traditional vertical grip and an angled or swept one. It features finger grooves for added retention and is skeletonized for reduced weight. According to the website, the Rival weighs 4.1 ounces. Despite sounding heavy, the grip added very little perceivable weight to standard-length carbines or SBRs. That is, provided it wasn't mounted as far forward as possible.
Through the Gauntlet
To test out the Rival Foregrip's effectiveness, I installed it on a registered SBR coupled with a registered automatic sear pack. The ultra-short barrel combined with fully automatic fire is a perfect test platform. It should be very difficult to control and suffer from excessive muzzle rise.
Without the Rival, the gun was fairly jumpy and tough to keep on target past 10 yards. With the addition of the grip, I was able to keep the muzzle from climbing too much. Given the high cyclic rate of short-barreled automatic ARs, this is remarkable.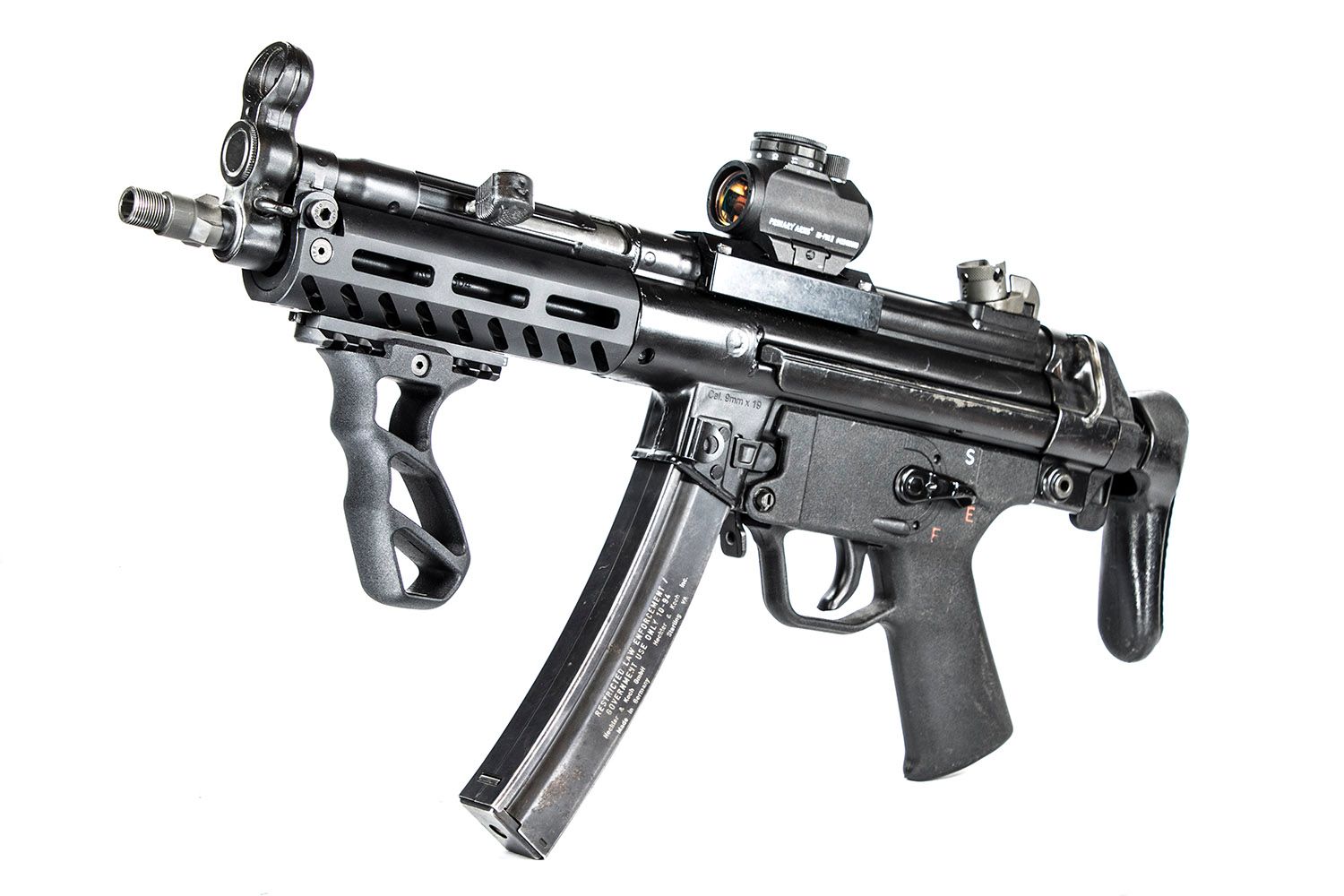 Additionally, I installed the grip on a full-sized shotgun and a semi-automatic MP5 SBR from Turner Fabrications. The grip was extremely comfortable and very natural feeling on the MP5, but the shotgun was another story.
Speaking of the MP5, check out the 30-round HK MP5 mag at the store.
While the grip did dramatically increase both how easily I could bring the muzzle down and how fast I could charge the action it had one rough shortfall. The recoil from a shotgun concentrated on an aluminum foregrip on a shooter's support hand is not very enjoyable.
Though in all fairness, this is the case with virtually every pump-action shotgun equipped with a foregrip.
Verdict
With an MSRP of $29.99, the Firefield Rival Foregrip isn't terribly expensive, and from testing is worth every cent. While I've only fired roughly 400 rounds through various firearms with the Rival Foregrip equipped, it shows no signs of wear or damage.
In fact, it has only one issue I would point out. The grip is made to such tight tolerances, it may be tough to install on rails with excessively thick coatings. Other than that, this new grip is a real winner.