The gun industry works in weird waves. Very weird waves. One big wave we've been riding for a few years is the PCC. I personally love PCCs and own several of them. They are fun, cheap to shoot, and they are coming in tons of different configurations. While that trend is popular, we are seeing a trend within the trend of PCCs. We are seeing smaller PCCs, like the Micro Scorpion, numerous K model MP5s, and of course the SIG Copperhead. I got my hands on a SIG Copperhead and have been putting it through its paces.
What's the SIG Copperhead?
The SIG Copperhead is a micro version of the SIG MPX. The MPX is SIG's current PCC model. They produce pistol variants, rifle variants, as well as SBR variants and actual submachine gun variants for the military and law enforcement folks. The MPX already has a K model with a 4.5-inch barrel, but the Copperhead is even smaller. The Copperhead is a pistol, but because of its design, I like to refer to it as an SMG wannabe. It's a bit different than your standard Glock, even though they are both legally handguns.
The SIG Copperhead sports a 3.5-inch barrel with a permanently attached flash hider. The Copperhead has a monolithic upper and handguard that doesn't give you very much space and no traditional rails. The use of a monolithic upper helps shorten its overall length. To shorten the length even more, it comes with a specially designed brace known as the Pivoting Contour Brace or PCB. The PCB is a PDW style brace that collapses to shorten. The gun's overall length with the brace collapsed is just a hair over 14 inches.
The Copperhead is a lightweight 4.5 pounds and comes in SIG's own special coyote cerakote finish. The SIG Copperhead is only 2.4 inches wide and 8 inches tall. It's a super short, light, and thin SMG wannabe. Its goal is to be a gun that packs more firepower than a traditional pistol, as well as a longer effective range, while still being easy to conceal.
It is easy to conceal, at least when compared to other SMG wannabes. It's certainly the smallest on the market when we factor in the provided brace. It's quite thin and very light. You can easily stash it in most moderate sized bags and packs. This includes backpacks, sling bags, laptop bags, and more.
Is the Copperhead for you?
This gun seems to have a very niche use, and it's one that might not exactly appeal to everyone. It's a gun designed to maximize concealment while giving you an increased level of control as well as a longer effective range when compared to a traditional handgun. It can be easily hidden and is light enough to be easy to carry.
Is it a niche I need met? Not really. I'm not the type to have a purpose for every gun I own. I own some guns just for the experience of shooting them and enjoying them as something new and different.
The Copperhead is most certainly something new and different. It's the most compact SMG wannabe I've ever handled and it's such a cool gun. Not only is it small, but it's incredibly ergonomic. It mimics the AR 15 in terms of controls and then makes the controls completely ambidextrous.
If you've ever handled a AR 15 you'll instantly know the control scheme. The magazine release, bolt release, charging handle, and safety are all AR 15 style with an ambidextrous touch. The grip is taken from the Rattler and is designed to be low profile and easy to grab and snag free when being retrieved from a bag. The grip is ultra-thin, and not uncomfortable, but it feels to be lacking. I have big hands though and this might be something personal to me.
Range Time with the Copperhead
The Copperhead is a ton of fun, I'll tell you that now. It's a ton of fun, and its small size makes it a very interesting weapon to handle and to shoot. Most PCC style weapons utilize a blowback action which requires a large bolt. That large bolt slamming rearward often creates more recoil than necessary. It's not hard hitting recoil, but you can notice it. The Copperhead uses a short stroke gas piston system over a blowback design.
You can certainly feel the difference in recoil from a gun like the Copperhead to the CZ Scorpion. The Copperhead is very mild and very controllable. Recoil is nil, as is muzzle rise. The goofy looking flash hider certainly does its job. The rotating bolt design is proven and is reliable. The gun runs cleaner and cooler than most blowback guns. It's a better system overall, but it also makes the price way higher than most PCCs.
The gun comes with one 20 round magazine. The magazines are made by Lancer and are made mostly from polymer, but they also incorporate metal feed lips into the design for increased reliability. The gun is so small you have to get a 30 round magazine just to see how goofy it looks. The thirty round magazine looks disproportional, like a forty rounder in an AR.
The Copperhead is reliable and a heavy hitter. You can spray and pray all day with little need for cleaning or lubrication.
Hot Range
The gun's AR like controls are familiar and easy to get used to. The gun doesn't come with sights, which to me is a bit silly on such an expensive gun. I added a simple Burris Fastfire I often use for testing and review purposes. The gun proved itself to be plenty accurate, more so than any handgun.
When I backed off to as far as 50 yards I had no problems engaging the chest area of a silhouette target. I could land most shots on a small steel popper at this range as well. This was when I misused the brace and used it as a cheek rest. It's rather short, so keep that in mind if you choose to brace it against your shoulder.
When strapped around the arm it's surprisingly comfortable. The pivoting design ensures you can shoot in a natural position. It's compact and small, but also soft and lightweight. This is my all time favorite in terms of comfort and design.
Because of the short barrel, you won't get a ballistic advantage compared to the 8 inch SIG MPX. The design and weight of the gun do give you a significant handling advantage. The muzzle device is permanently attached so you can't change it or add a can. You can switch the barrel to a 4.5, 6, or 8-inch model with ease if you want to go with a suppressor.
Getting Dirty With the Copperhead
I decided to test how it deployed from a bag with both my Vertx Commuter and my Blue Force Gear Jedburgh backpack. The sling bag was quicker overall because I could grip and rip it across my chest and dig the gun out. The Snag-free design does make it easy to remove the gun from the bag and get it into action.
The lack of external rails and mostly rounded surfaces keeps things easy to access. I will say the included 20 round magazine is well suited for bag carry. It makes it more compact and easier to store in smaller bags.
Successful deployment from a bag really depends on how you orient the gun. Hold the gun as you would with your firing hand and insert it into the bag. That will orientate it in the correct way to retrieve it. I would suggest some straps with velcro to stabilize the gun and keep it from bouncing around when carried.
Overall the gun is super light and easy to retrieve with a single hand. With a little practice, you can retrieve the gun, and extend the brace in a flash.
In the bag, I keep the chamber empty. I'm not personally comfortable with carrying a hot weapon in a bag without the trigger covered. An awesome accessory would be a trigger cover like the MIC that's attached to the bag and defeated when the gun is drawn.
Parting Shots
The SIG Copperhead is a very fun gun. it's so small, and different that it actually excites me. Oddly enough I could see this being an awesome beginner gun once a shooter is ready to step up from a .22 LR. It's short, lightweight, and low recoiling and a ton of fun to shoot. It's easy to handle, and the slick appearance and semi-auto action makes it appealing.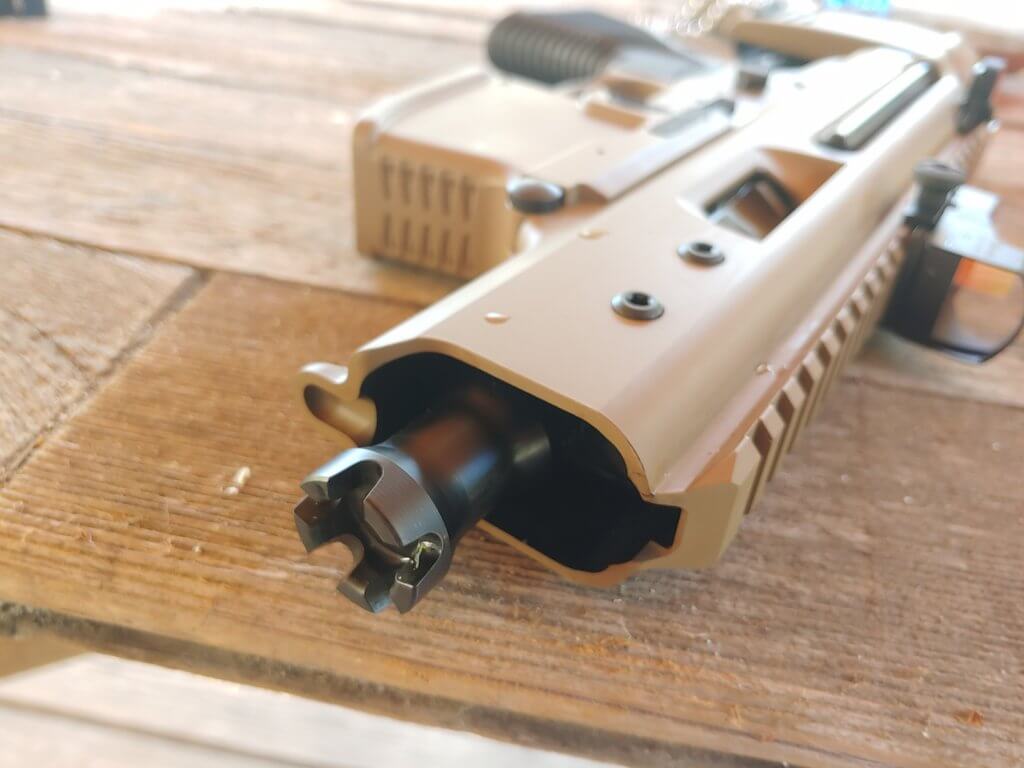 In terms of serious use, it's a niche weapon. There are larger PCCs, and SMG pistols that make more efficient use of the 9mm cartridge. The Copperhead is an awesomely fun gun. It's small and light so it is easy to conceal in most bags and vehicles. If the world becomes a post-apocalyptic Mad Max world then the Copperhead is an excellent road companion.
Wanna know more? We're not the only ones writing about it – check out the SIG Copperhead article over at On Target.