Global Ordnance has begun importing the Arex Delta Gen.2 series out of Slovenia, and it's a great example of how pictures can be deceiving. Global Ordnance sent me the very high-speed, 'tactical' model of the Arex Delta. At first glance, I assumed this just be another polymer frame, striker-fired, 9mm pistol, but after a few hundred rounds of 9mm and some extensive dry fire time, I've come away quite impressed with the Arex Delta. Competing in this market has to be tough, but the Arex Delta does enough to stand out and excel.
The Gen.2 series of Arex Delta series pistols come in numerous configurations, including a Longslide, a Glock 19 sized, and of course, as mentioned, the Tactical variant. The guns come in various colors, and the model I'm reviewing today has the OD or Ranger green grip module with a black slide.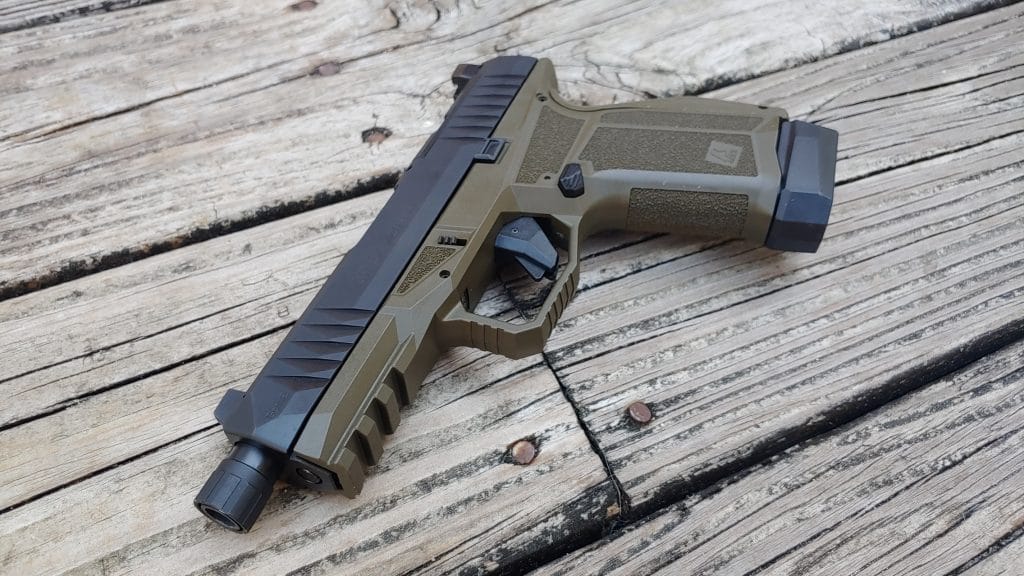 Diving Into the Arex Delta Tactical
The Arex Delta Tactical variant comes with all the bells and whistles you expect from a modern handgun. It's optics-ready with a system very similar to the Glock MOS design. You get five plates to accommodate a wide variety of optics, from products like the Sig ROMEO1PRO to the Holosun 507K and Shield mini dot series.
But that's not all. They wisely equipped the gun with a set of suppressor height sights for co-witness with the optic or to work with a suppressor. Not only did they make it optic ready, but the barrel is threaded and ready for whatever compensator or suppressor you want to toss on the end of it. To make sure the gun cycles Arex Delta includes a second recoil spring.
On top of that, you have four different inserts to change the size of the grip to better match your hand. The gun comes with two magazines and a nice mini-cleaning kit. It all comes in a case with cut foam to provide a spot for everything.
On the specs side, it's not a huge gun, but a little far away from being compact. The gun features a 4.6-inch barrel with an overall length of 7.7 inches, and it is 4.9 inches tall. The threaded barrel and sights help push the dimensions out a little further but don't add the associated bulk you'd normally expect from a gun this tall and long. At 21.3 ounces, it's no boat anchor, and at 1.2 inches wide, it's still fairly in the realm of 'thin.'
The Arex Delta Tactical — At First Grip
What first caught my eye was the thin design of the grip. It's much thinner than most standard polymer frame pistols. It's certainly thinner than Glock and on par with CZ, allowing for a nice high grip with a trigger guard undercut and a little overhang that might qualify as a beaver tail.
In Slovenia, they seem to know how hands work and how a grip should be designed. The texture is very aggressive and sticks to the hands. We even get some mini gas pedals in the form of aggressive texturing on the sides where your thumbs fall.
As far as controls go, you get the trigger, the slide lock, and the magazine release. Both the mag release and slide lock are placed nicely, and the slide lock is fairly small. While small, it's textured for an easy hit, and it doesn't get pinned down by my thumbs with a forward grip.
The magazine release on the Arex Delta Tactical is an extended variant that's not seen on the other variants. It comes equipped for right-handed shooters, but a left-handed model is included for wrong-handers.
At the Range
With only two magazines, I spent a lot of time reloading. We get a 15-round flush fitting magazine and a magazine with a +2 extension to give you 17 rounds of 9mm total. The trigger is surprisingly clean. It's smooth, with a little stacking and a clean break. In my previous experience with Arex Delta pistols, the triggers were never bad but weren't exceptional either.
The Arex Delta Tactical is a bit above average. It lacks the plastic-on-plastic feeling that's common with polymer frame striker-fired pistols. Arex Delta cleaned up the trigger quite nicely and combined with the metal three-dot sights, you get a gun capable of more than acceptable accuracy. Even when used fast, it's easy to keep hitting your target.
Drills like the iHack that challenge your transitions, recovery, and sight alignment weren't much of a challenge with this gun.
Beyond good sights and a good trigger, the gun recovers quickly and gets you right back on target. A good high grip goes a long way in keeping the gun low and on target. The Arex Delta can produce tiny groups, but more importantly, it is easy to shoot with practical accuracy. Out to 50 yards, I can make Swiss cheese out of an IPSC target and pass the Dickens drill.
At 25 yards, I kept a 10-inch gong constantly swinging and dinging round after round. In shorter order, I plan to add an optic and maybe a compensator, and I'd love to see where the performance ends up at.
Cyclic Rate
A gun with good ergonomics doesn't go far if it doesn't run. I loaded up several different types of 9mm. My current cheapo ammo is the criminally dry and dirty Winchester Forged, which made up the bulk of my shooting. I also ran some 124-grain NATO loads, some 124-grain JHP +P rounds, and some random rounds that gathered at the bottom of my range bag.
It didn't matter. The gun kept chewing through each and every round without complaint. After 400 rounds of Forged garbage, the gun is filthy but running. The various other loads didn't offer any cause for concern either.
Slithering in from Slovenia
I honestly know nothing about the Slovenia arms industry, but if the Arex Delta Tactical is any indicator, they can make some very nice weapons. Maybe we should keep an eye out east to see what comes next. A lot of the big current striker-fired 9mm companies aren't doing a whole lot different, but Arex still seems to be hungry, and they produced something that stands out in a crowded field.
Best yet, you can get it at a great price point.