I love PCCs and Subguns. Something about these little fellas just makes me happy. As a kid, I loved submachines in movies and video games, so maybe it comes from that. Maybe it's the fact that 9mm ammo is cheap. Or maybe it's because my home range only goes out to 100 yards. I have a blast shooting them, and when I got the offer to review the APC9K, I jumped on it.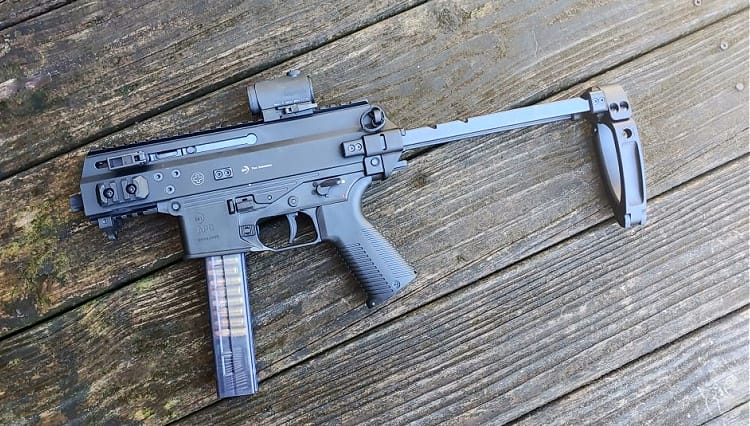 I waited anxiously for the gun to come to my FFL. I love guns, and if you hand me a budget-tier weapon, I'm still going to have fun with it. I was so excited with the APC9K that I was checking the tracking two or three times an hour the day it was scheduled to be delivered. I already dedicated a healthy chunk of my 9mm stash to the gun and was waiting eagerly for the little fella to fall into my lap.
Once it arrived, I could help but be impressed. The APC9K comes in a massive hard case, complete with foam. Sadly, it only comes with one magazine, but we also get a cleaning kit and a one-point sling. With that said, let's break down the APC9K.
Breaking Down the APC9K
The APC9 is the standard variant of this gun, and the K model follows that European meme of applying K to the shorter models. As far as I know, this meme comes from the Germans and the MP5K. K stands for Kurz, and Kurz means short in German. APC stands for Advanced Police Carbine, which makes sense for the SMG variant, but not so much for a civilian-made pistol.
How short? Well, the barrel is a mere 5.4 inches, which is a hair longer than your standard 1911. Heck, my long slide 1911 provides more barrel than the APC9K. The overall length without the brace extended is only 13.5 inches. With the telescoping brace extended, the APC9K is 21.25 inches total.
Weight-wise it's 5 pounds and 15 ounces. The short nature certainly makes it seem heftier. However, the gun is lighter than the CZ Scorpion and just a tad heavier than the SIG MPX. The magazine holds 30 rounds with the standard B&T magazine. Users can also purchase separate lowers to use Glock magazines or SIG P320 magazines. The upper receiver is the serialized portion, and the lowers can be ordered direct to your home.
The APC9K packs a full-length optics rail, a smaller bottom rail, and two M-LOK slots. You can toss on various rials, accessories, and whatnot. The barrel is also threaded with a 1/2×28 pitch for adding suppressors or other fun muzzle devices.
The Wonderful World of Swiss Ergonomics
B&T absolutely kills it in the ergonomics department. Every control is perfectly ambidextrous. The safety, charging handle, magazine release, and bolt release are all represented on both sides of the gun. Heck, we even get ambidextrous sling mounts on the gun! Not only is everything ambidextrous, but it's all large and easy to engage with.
The safety has a short throw and delivers a big lever that makes it easy to engage and disengage at will. The magazine release buttons are located in a position that's easy to reach with a hand around the magazine well or located on the main pistol grip. The same goes for the ambidextrous bolt release.
The pistol grip is also fantastic, and if I could, I would put this grip on all my other rifles. It fits my hand, but it is still thin and easy to grasp. I do have one complaint, though, and it comes in regards to charging the weapon.
The charging handles are great! They are large but fold forward when not gripped. The downside is the amount of effort required to charge the weapon. Blowback systems do require a hefty spring and bolt, and you feel it as you attempt to charge the gun. That's my only ergonomic complaint.
Accuracy On the Range
With a range bag full of ammo and a heart full of hope, I hit the range running. I have an Aimpoint mounted, so my first step was some slow fire to zero the weapon. I zeroed the gun at 25 yards and began my real shooting tests. First, I started with some simple accuracy testing, but from a practical starting point.
Offhand, in the standing at 25 yards, I created a single shot group of three rounds with the APC9K. The trigger is superb. I would go as far as saying it's the best trigger in the PCC market. On my trigger gauge, it comes in at a little over 4 pounds. It blows away the Scorpion and SUB 2000 and even edges out the Sig MPX and CMMG Banshee.
I dropped back to 50 yards and used my gong rack. I have an 8, 6, and 4-inch gong. From the standing, I moved from big to small and cut each one down in less than 4 seconds from the low ready. I experienced this consistent accuracy for round after round. It's absurdly accurate, and I got really sick of walking downrange to unwrap the 4-inch gong from around the post. Even 9mm makes that thing spin over the top.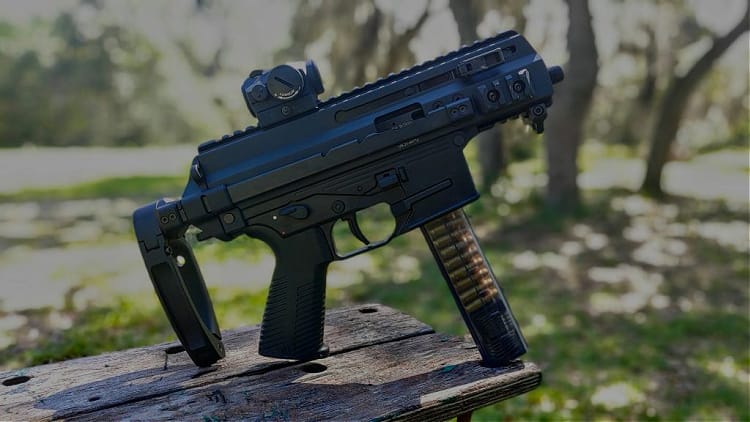 Just for fun, I moved back to 100 yards with an ISPC sized steel target bearing down on me. That shiny scum squared up with me and felt the pain. At 100 yards, 9mm has some drop, so I aimed at his head and dropped round after round into his chest. I'm not talking slow fire either, but ten shots in 8 seconds, and all ten went ding.
What About Recoil?
One of the biggest reasons people dislike straight blowback operations is due to the recoil. Recoil is often more than you'd expect and closer to that of a 5.56 rifle, which seems a fair bit much for a 9mm. However, B&T found some way to make it easier to handle and have a much lower perceived recoil than other blowback actions. Maybe it's that pesky and extremely stiff buffer spring.
ACP9KThe blowback design has surprisingly light recoil.When the Army adopted the APC9K, I thought it was odd to choose a weapon with a straight blowback action. However, I get it now. The APC9K doesn't have a ton of recoil and is pleasant to shoot.
Yeah, but does the APC9K Eat?
Oh, boy, does it. The APC9K doesn't care what you feed it. Steel-cased garbage ammo like Winchester Forged creates zero issues. Neither did 124-grain +P loads or 147-grain subsonic loads. While it was costly, I fed the gun 20 rounds of JHPs, and it ate its way through them without issue.
Hundreds of rounds from various companies delivered not a single issue occurred. If I pulled the trigger, the APC9K went bang. Interestingly enough, the handguard barely got past warm even after hundreds of rounds.
B&T has done a fantastic job of producing one helluva awesome subgun. Everything about the gun shows nothing but the highest quality imaginable. It's superbly capable, accurate, and easy to shoot and control. Plus, it won't tap out when you need it most. The downside most will face is the MSRP of $2,450 dollars. That's an expensive pill to swallow, but it is most certainly a premium experience wrapped up in metal and polymer.