Aero Precision has finally released a PCC. If you've read a few of my articles, it's easy to see I'm a PCC fan. I have lots of fun with them, often at a lower ammo price point than a traditional rifle. Aero Precision first showed their PCC at SHOT Show 2020, but only now has the EPC hit the shelves. Is Aero Precision a day late and a dollar short to the PCC game?
After building my own EPC and hitting the range harder than Russians in a cage match, I think not. Building a simple blowback AR-based PCC and calling it a day is easy, coughNoveskecough, but Aero went a slightly different route. Sure it's still a blowback AR PCC that takes Glock mags, but it has some integrated features that make it a little different than most.
What makes the EPC different?
The big thing is the level of customization you can utilize when building your EPC. Aero Precision is focusing more on selling the receiver sets and barrel combinations that allow shooters to build their own guns. The features that make the EPC different are mostly installed into the stripped upper and lower.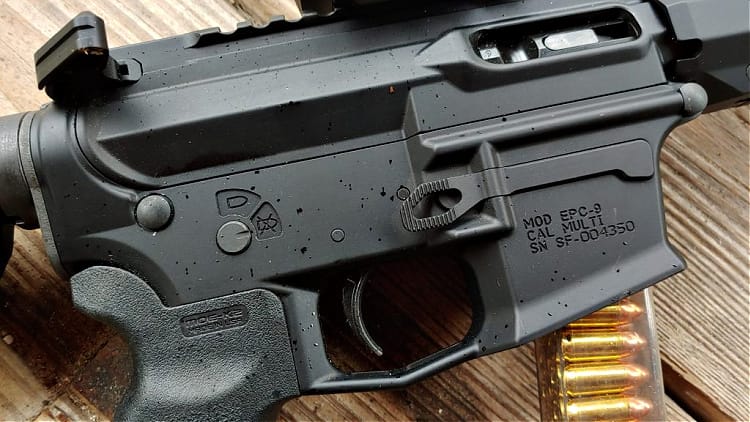 Like most ARs, the EPC is a plug-and-play affair, and Aero Precision ensured compatibility with most AR 9 components on the market. That being said, Aero also makes a wide variety of handguards, barrel lengths, and internals for the EPC to build the gun out.
The EPC Lower
Aero Precision's EPC lower is fully optimized for Glock magazines and pistol calibers. The preinstalled proprietary magazine release allows you to drive your trigger finger into it to drop mags. Glock mags engage at the magazine's front, making the use of traditional AR-type magazine releases impossible.
Aero pushed the magazine release rearward, so it sits in that traditional position with interesting geometry to ensure the magazine locks in and drops out easily. Sitting in comfort below the magazine release is a flared magazine well. You can funnel magazines into the gun faster than you can funnel coffee into my mouth on Mondays.
Blowback actions are rough and brutal and can cause extra wear on AR lower parts kits. To expand the EPC's life, Aero includes reinforced trigger pins that absorb that blowback action. They won't shred or break when abused and beaten over thousands of rounds.
The EPC Upper
The EPC's upper receiver houses one of the more unique features—a last-round bolt hold-open device. Glock magazines don't trip a bolt hold open in a traditional AR. So Aero found a way to move it into the upper receiver. Yes, the bolt release on the lower still works and allows the bolt to slam forward on the reload.
If you love a slick side upper, then the EPC is also for you. The EPC upper lacks a forward assist and dust cover. It certainly looks unique and admittedly makes building the gun substantially easier.
The EPC in Action
My EPC is made from mostly Aero Precision parts with a little Magpul here and there. Aero produces a wide variety of sizes with barrel lengths, including 5.5 inches, 8.3 inches, 11 inches, and 16-inch variants. Mine is the full-length variant ready for your next USPSA PCC match.
The pistol grip and stock are from Magpul, and the muzzle device is a brand new VG6 Gamma 9mm combination brake and compensator. The rail is an Aero Atlas S-One handguard that's superbly light and M-LOK compatible. An empty optic's railed was quickly filled by a Holosun 510C. This open design red dot is compact and lightweight, and perfect for a PCC. I also attached a Magpul foregrip and a Streamlight TLR RM1.
Making Tiny Groups
After a quick zero, I wanted to see what accuracy I could expect from the EPC. A 9mm is never going to be a sniper rifle, but the EPC proved quite accurate. At 25 yards, I swung a 4-inch gong and produced groups verging on being a single hole in the standing position.
Moving back to 50 yards, I had zero issues making headshots on an IPSC target and keeping some small steel plates ringing. In a supported kneeling position, I could ring that 4-inch steel gong most of the time. As long as I let it slow down its swing between shots, I had no issues.
Pushing way back to 100 yards is really pushing the 9mm round. At this range, bullet drop is well over a foot, and I certainly wasn't ringing a 4-inch gong. I could hit the broadside of both a barn and man-sized target.
The IPSC target stood proud until a half dozen 9mm rounds penetrated his chest. I aimed at his head, and the rounds dropped within the box of death of his chest. Moving to a kneeling or supported position most certainly helped keep those shots on target.
The trigger is pretty freakin' good. Light triggers in PCC don't often work well with all types of ammo, so when you can get a good reliable PCC trigger that doesn't suck, it's worth noting. The Aero EPC trigger has zero slack and just a stiff wall that you can break through smoothly.
Blowback and Recoil
Blowback gun recoil plagues PCCs. This can make most 9mm ARs feel like their 5.56 brothers recoil-wise. A full-sized PCC often feels a little calmer and less rough than an SBR or subgun style weapon. That holds true here. The recoil is slightly less than 5.56, and the brake design adorning the tip of the barrel takes some sting out.
While it's completely controllable, guns like the SIG MPX and their gas piston system do a little bit of a better job with recoil mitigation. The muzzle rise is nearly nil. Again the 16-inch barrel does a good bit to help, as does the VG6 Gamma muzzle device. The rifle hardly moves upwards, and you can certainly keep it on target.
Getting Your Ergos On
As mentioned above, this gun really does a great job of allowing fast reloads. The combination of the massive magazine release, the flared mag well, and the LRBHO allows you to drop and feed magazines on the fly. This thing eats mags faster than a fat kid chews through cupcakes.
Everything replicates the position of AR 15 controls, and it makes operating the weapon second nature for most of us. One of the more interesting experiences is the weight balance. The Atlas S-One rail is superbly lightweight. It's heavily skeletonized with both M-LOK cuts and weight-saving cuts.
The 7.7-ounce buffer in the rear of the gun weighs nearly as much as the handguard. This helps balance the gun really well. In fact, it feels heavier towards the rear than the front. Fat bottom girls make the world go round, and I'd rather have the weight in the rear than the front. Weight upfront will cause the support arm to fatigue faster. The weight in the rear is supported by your firing hand and shoulder.
Your EPC may vary, but the Magpul MOE SL stock provides a fantastic cheek weld. It's very supportive and locks onto Aero's receiver extension perfectly. There is no wiggle or waggle here. The Atlas S-One handguard is also rather thin and easy to grip. My EPC is set up for USPSA PCC, which I hope to try out this summer.
I Wanna Go Fast
Accuracy at various ranges is a great metric, but PCCs are all about close range and speed, so I went through some close range timed drills. I warmed up with the old box drill, a Mozambique drill between two targets at 15 yards. I was able to complete my numerous box drills in 3 seconds or so.
From there, we went to the VTAC 1-5 Drill. Check out the drill details here. It's 15 rounds on five targets with a different string for each target. It's done at 5 yards and meant for speed. With the full length of the gun, the muzzle device, and the fact it's a 9mm, this drill seemed too easy Getting under 3.5 seconds is the goal.
Doing so with the EPC is rather easy. My slowest time was 3.8 seconds on my first go around. Within the next run, I got 3.52, and every subsequent run after that was at 3.5 or below. The EPC barely moved between barks, and the short trigger pull made shooting fast and shooting straight quite easy.
Reliability — Ammo, and Magazines
The gun is reliable and operates without issue. For all the disadvantages, blowback offers reliability and is not one of them. Blowback operation is quite reliable and extremely simple. I had a failure to feed with a round of Tula seated too far into the case.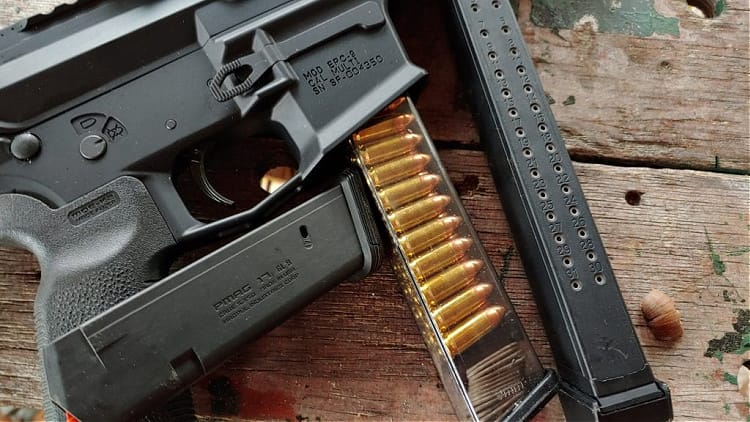 My only other failure involved steel case ammo and dirty KCI magazines. The follower failed to bring the ammo high enough to feed. Speaking of magazines, anything that takes Glock magazines should be tested with various magazines. I used Magpul, Glock OEM, ETS, and KCI magazines in my testing, and the gun functioned with all of them.
They all dropped free, all engaged the LRBHO and fed the weapon without much complaint. Just the minor issue with cheap ammo and a cheap magazine.
The EPC is Down With OPP
Aero Precision certainly took their time presenting a PCC to the world. However, that time has seemingly paid off in a well-made design. It's full of features to enhance ergonomics, make reloads a little faster, and make your shooting experience more enjoyable. Aero's EPC certainly stands out in a market full of PCCs.
Oh, and to answer the question that will inevitably come up in the comments, it will be released in 10mm soon.