Well, folks, it's either 2021 or December 49th of 2020, depending on how you look at things. We can all satiate in the doom and gloom that's been a rough year with unprecedented gun sales, an ammo drought unlike any other, and SHOT Show 2021 dying a miserable death. And while I can't deliver you the hotness from SHOT, I can revisit my favorite category of firearms, pistol caliber carbines, specifically the best pistol caliber carbines.
A few years ago, I wrote an article about what I thought was the best PCCs on the market. Well, two years is a long time, and a lot of new PCCs have come to be. I've reevaluated my list. Like last time, these are my takes based on my experiences with a variety of PCCs.
If yours isn't included, it's not been snubbed, I might just not have experience with it. I've heard the Beretta Storm is a great gun, but I have yet to handle one, so it's not on the list.
Best Pistol Caliber Carbines Redux
I've decided to open this list a little bit. Instead of just PCCs, I want to also fully embrace subguns, aka braced pistols, in our best pistol caliber carbines list.
These handy little guys are great and are legally pistols, but have PCC-like ergonomics. They outperform your standard format pistol, and are PCC-like, but not technically PCCs. Subguns perfectly envelops the lightweight, super-short design that makes the most out of a pistol caliber.
Our list of best pistol caliber carbines is also now broken down into categories, and titles have been bestowed upon them. This helps them be more distinguished and provide a better base for why I chose a specific gun.
1. Best Other Than 9mm PCC – CMMG Banshee Series
The CMMG Banshee series has a lot going for it. The radial delayed blowback reduces the need for heavy bolts and buffers and makes shooting the Banshee series a smooth and easy affair. The Banshee series also comes in numerous configurations and calibers. This includes calibers like the 5.7×28, the 45 ACP, 10mm, and 40 S&W,
If 9mm isn't your jam, then the Banshee series offers you a pistol caliber carbine, short-barreled rifle, or subgun options in various calibers and magazine platforms. These AR-type rifles allow for a good degree of modularity, and the handling and feature AR owners are accustomed to.
The Banshee series are fine firearms and certainly earn a place as the best AR choice as well on our best pistol caliber carbines list.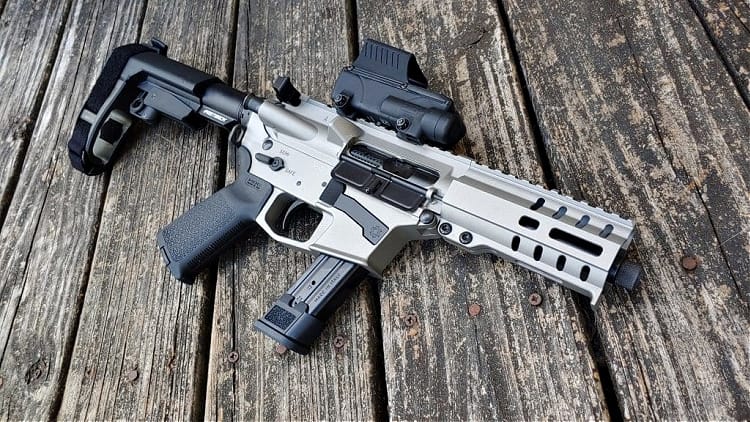 They are ultra ergonomic, reliable, feature-filled, and that scratch that pistol caliber itch. Especially if your chosen pistol caliber is something outside of 9mm. However, 9mm is also an option, and the Banshee series offers plenty of those.
2. The Supermodel – The DBX57
The DBX57 from Diamondback is the supermodel of pistol caliber carbines and sub guns due to its super thin and light design. This is one of the smallest and lightest platforms in the PCC realm at only 3 pounds total.
The DBX57 gets away with such a low weight and thin design because instead of taking the traditional and well known 9x19mm route, the DBX57 uses the 5.7x28mm round. You can argue it's a PDW round and not a pistol round, but I'd argue back if it fits into a traditional pistol platform, it's a pistol.
The ultra-small design comes in pistol form and is easily made into a braced subgun or SBR with a brace or stock attached to the rear 1913 rail adapter. The DBX57 is a dal gas piston design that is both reliable and refined well beyond a traditional blowback system. At SHOT Show 2020, the DBX57 proved to be very easy to handle and ultra-accurate at up to 100 yards.
That PDW/pistol caliber has some oomph to it, and it outperforms averages pistol calibers in the realm of range. It's also very light recoiling, somewhere in the realm of a hot rimfire load. The DBX57 uses FN 5.7 magazines, so you can pair your PCC/subgun magazines with your handgun magazines.
3. The Baller – B&T APC9 Pro
The B&T APC9 series is the baller PCC series with a few various models out there. The APC9K has been adopted by the United States military, and the Pro series has eliminated nearly any issue people had with the OG model. Heck, models of the APC9 Pro even takes Glock or SIG magazines.
The APC9 Pro reeks of quality. Holding and shooting one allows you to feel the immediate difference between it and other subguns. While it's still a simple blowback design, the APC9 Pro operates ultra-smoothly.
In fact, it seems to have none of the issues your average blowback operated gun has. No clunky or excessive recoil impulse to be found here. The APC9 is super ergonomic with excellent control placement and an easy operating manual of arms.
The APC9 Pro is super accurate, and it's backed by an excellent trigger, a modular design, and all the love a modern weapon should have. This is the Lexus of PCCs and subguns, and it's the first SMG the Army adopted in decades.
Plus, you can buy one too! This is the highest quality option on our best pistol caliber carbines list. The APC9 Pro is a baller PCC/Subgun with a baller price as well. Dave Merill at Recoil said it best the APC9 Pro is "what the MP5 wishes it was."
4. The American — Henry Big Boy X
The most American PCC is the Henry Big Boy X in 357 Magnum. This lever gun is an odd choice in the PCC department and one often overlooked. Lever guns were the first pistol caliber carbines and they made it easy to match your long gun round with your handgun round.
As fun as semi-auto carbines are, there is nothing like a lever-action rifle. There is some kind of real dopamine hit that occurs when you flick that lever into play. They are a total blast to operate.
The Henry Big Boy X series is also their 'tactical' series of lever guns. I know how that sounds, but more or less they are Henry's modern lever guns with polymer furniture, an optics ready design, high viz fiber optic sights, M-LOK and Picatinny rail options, and a threaded suppressor ready barrel. Lots of little features are crammed into the X series to make it a modern lever gun.
In states with strict gun laws, the Henry Big Boy X offers a rapid-fire solution in powerful calibers for home defense. I like the 357 Magnum and 38 Special, but the 45 Colt and 44 Magnum/44 Special is also available. The Big Boy X Series is a fantastic and well-made lever gun and earns its place as the only manually operated gun on our best pistol caliber carbine list.
5. Personal Favorite – The Returning Champ – CZ Scorpion
The CZ Scorpion was on my original best pistol caliber carbines list and remained so. Mostly because I get to write the list, and I enjoy the hell out of my CZ Scorpion(s). The Scorpion is a relatively affordable platform that has affordable magazines and a massively growing aftermarket.
The Scorpion is a sweet but simple gun. This blowback-operated PCC/subgun is reliable, easy to use, and quite ergonomic. The Scorpion is easy to handle with a good degree of ambidextrous and reversible controls. The gun is plenty accurate, although the trigger does suck, as does the safety lever digging into your hand. While the gun isn't without fault, it's still a fantastic firearm.
A big reason why this gun makes the list is the tons of different models and aftermarket support. There are rifles, pistols, SBRs, integrally suppressed models, K models, and beyond. There are numerous brace and stock options, magazines from Magpul, ETS, Manticore arms, various safety options, pistol grips, trigger upgrades, and more.
Hell, CZ and Manticore partnered to create a bullpup kit that works wonderfully.
The CZ under promised and over delivered with the CZ Scorpion, and the aftermarket has embraced it wholeheartedly. If you like to tinker and change things, then the CZ Scorpion is the PCC/Subgun for you.
The Best Pistol Caliber Carbines According to Me
I'm not sure why I've fallen in love with PCCs so much. I have a gun safe full of them and love each one. Ever since I got my hands on a Gen 1 SUB 2K more than 15 years ago, I've been a big fan of the idea. Sure, they aren't as useful as rifles, but they are a blast to shoot and tons of fun to handle. These are what I feel are the current best pistol caliber carbines on the market.
What say you? Let us know your favorites and why below.