TENICOR Holster for Glock 43/43x and Glock 48 Railed MOS Models now Available
If you carry a Glock 43/43X or Glock 48, TENICOR now has holsters for these models, compatible with the new railed MOS models.
So, if you're in the market, CENTRUM3, VELO4, and the ARX Holsters are your compatible option. But, don't worry, they're still offering a non-railed slim-line Glock model for AIWB, IWB, and OWB carries—for the Glock models listed above.
And while you're looking at these holsters, check out our Glock 43, Glock 43x, and Glock 48 magazines.
CENTRUM3 AIWB/IWB Holster
The CERTUM3 is one of TENICOR's AIWB/IWB carry holster, using their classic fold-over inside-the-waistband holster with up to 30º of cant. And if that's not enough, three cramming bars are included for even more personalized adjustments.
Optional attachments include the Tenicor T1 Belt Clip, Closed Soft Loop, or Snap Loop.
T1 Belt Clip
The Tenicor T1 belt clip can adjust vertically up to 0.80" (providing subtle ride height adjustments) and is compatible with 1.5" belts.
Closed Soft Loop
The Closed Soft Loop is a low profile option to help reduce unnecessary bulge. This attachment is compatible with 1.25", 1.5", and 1.75" belts.
Snap Loop
The Snap Loop is a  full loop option, allowing easy removal without taking your belt off. This option is compatible with 1.25", 1.5", and 1.75" belts.
VELO4 AIWB Holster
The VELO4 AIWB holster—intended to be worn around the one o'clock position, if you're a right-handed shooter—is intelligently designed, easy to conceal, and built for everyday use, according to TENICOR. We're also told this particular holster is an enhanced option for tailored or athletic-fit clothes.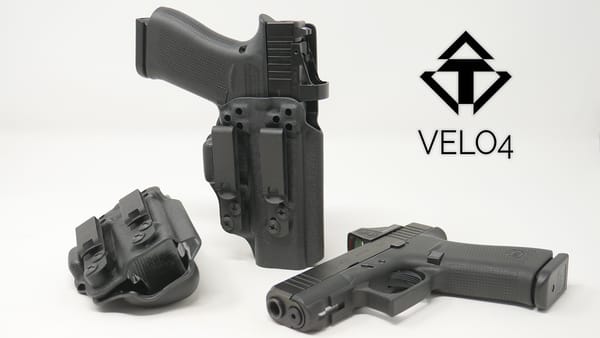 Attachment options for the VELO4 include a T1 Belt Clip, the Closed Soft Loop, or a Snap Loop.
T1 Belt Clip
The Tenicor T1 belt clip adjusts vertically up to 0.45" with the VELO4, providing subtle ride height adjustment and is compatible 1.5" belts.
Closed Soft Loop
Intended to reduce unnecessary bulge, the Closed Soft Loop is compatible with 1.25", 1.5", and 1.75" belts.
Snap Loop
If you need or want a holster that can be taken off quickly without removing your belt, the Snap Loop might work for you. This particular attachment is compatible with 1.25", 1.5", and 1.75" belts.
ARX OWB Holster
The ARX OWB holster is made for everyday use, according to TENICOR. And, it was intentionally made to be worn continuously while providing concealment.
This OWB holster has profiled wings and integrated belt slots that are meant to help pull the gun tight to the wearer's body while distributing the weight across the belt.
Another feature that makes this an everyday holster is the mid-ride sweat guard, which helps protect your body.
Offering a 10º forward cant, the grip of your gun rotates forward, and with the high-ride design, your weapon won't show below your garment—at least that's what they say.
TENICOR Holsters
TENICOR's Trucise fit gives the wearer a smooth and consistent draw (according to the company)
Each holster listed features a shirt guard to allow a high-thumb grip
CENTRUM3, VELO4, and ARX holsters support most conventional slide-mounted red dot sights—according to TENICOR—because they're profiled at the top
Dual tension screws included with each holster enables subtle adjustments and security
Lifetime Guarantee — If the holster fails, TENICOR will replace it.
Each holster is made in the USA
For more information on the CENTRUM3, VELO4, or ARX holsters, go visit TENICOR.

Ashley Bunch is the first Tennesse-born Mag Life…we think. She's an Air Force Security Forces veteran and former dog-handler-turned-journalist (like, real journalist, with an advanced degree and previous internships at big publications and everything). As you might expect from someone who works with us, she's a bit of a smartass, a dedicated student of the hoplological arts (and the recent recipient of a Masters Degree in Psychology!), an ardent traveler, and more than a bit of a foodie. Ashley is a dangerous girl, particularly if your first name is Channel, Flathead, or Blue — Bunch has kilt and eaten many an insolent catfish. She'd rather be camping and fishing than just camping, just camping rather than just hiking, and just hiking rather than sitting at home. If she is sitting at home, however, there's likely a big damn jar of sweet tea and a whole pile of books somewhere nearby.