Templar Knives out of Dallas, Texas announced their latest knife this week — the Templar OTF Cali Legal Micro knife. Templar Knives was started in 2018 as a family business with the drive to offer quality knives that serve their customers the best. They strive to produce a knife that lives up to their customer's expectations. With the latest in the OTF family, the Cali Legal Micro is just that, according to Templar.
Templar, which reportedly has the fastest growing brand in the automatic knives sector, has been looking to add to their every popular OTF or Out the Front automatic knives. President and Co-Owner, Shawn Cauble says, "People kept asking us to make the Cali Legal Micro. They would say, I don't want to carry a regular sized knife, I just want something I can open my Amazon boxes and mail with. So we complied and are grateful for the response the knife is getting in the market!"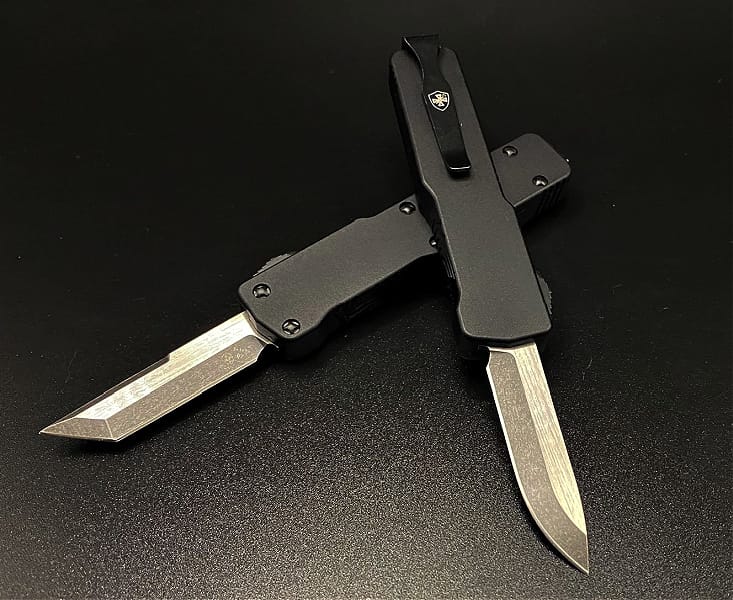 The Cali Legal Micro knife has re-engineered internals from other Templar OTF knives. The new internals allow for smoother and more reliable action. The handle of the new micro knife is made from solid billet machined aluminum. The handle also possesses Templar's knurling at the top and bottom to add to the comfort of the grip.
In order for the knife to be legal in the State of California, the blade needed to be less than 2" in length. This knife hits that mark with the blade coming in at just 1.85". The blade is made from Black Oxide Stonewashed D2 which is touted as having better edge retention and corrosion resistance. Additionally, there are two different blade options to choose from: Drop style or Tanto style. According to Templar, all of the other internal components are CNC machined to add to the precision of the overall action of the knife.
Precision is not just a talking point for the company. Each knife has a Lifetime Warranty and is designed and developed in Texas. With that, it is not too surprising their other popular designs include the "Don't Tread on Me" and the US flag, stating that there is a Templar knife for any one person's needs with the highest quality materials.
Templar OTF Cali Legal Micro Knife Specifications
Handle Material: T 6061 Aged Aluminum
Blade Material: Black Oxide Stonewashed Powder D2
Weight: 1.6 oz
Blade Length: 1.85"
Handle Length: 3.5"
Overall Length: 5.35"
Templar OTF Cali Legal Micro comes in with an MSRP of $102.99.