The Smith and Wesson M&P line is popular among concealed carriers due to the reliability and overall performance of the pistols. And while the vast majority of the line is made from polymer, and the line itself was founded on the basis of lighter weight polymer guns, there's also a metal option: The Smith and Wesson M&P M2.0 Metal. If you're looking for a seriously rugged, high-performing pistol, this might be the gun for you.
Details from the gun maker:
The lightweight and rigid metal frame of the Smith & Wesson M&P9 M2.0 Metal provides an extraordinary foundation for higher performance. Built on the M&P platform, it is compatible with all M2.0 magazines, slides holsters and palmswells.
Features of the M&P M2.0 Metal:
Optimal 18-degree grip angle for natural point of aim
Four interchangeable palmswell grip inserts for optimal hand fit and trigger reach—S, M, ML, L
Textured polymer front strap
Wide slide stop
Reversible magazine release
Slide cut for optics
M2.0 flat face trigger for consistent finger placement that allows for more accurate and repeatable shooting
Picatinny-style rail
Forward slide serrations
Low barrel bore axis makes the M&P pistol comfortable to shoot, reducing muzzle rise and allowing for faster aim recovery
Enhanced sear for lighter, crisper trigger let-off
Accurate 1 in 10 ̋ twist barrel
M&P's patented take-down lever and sear deactivation systems allow for disassembly without pulling the trigger
Comes with two 17-round magazines
Fits standard M&P9 holster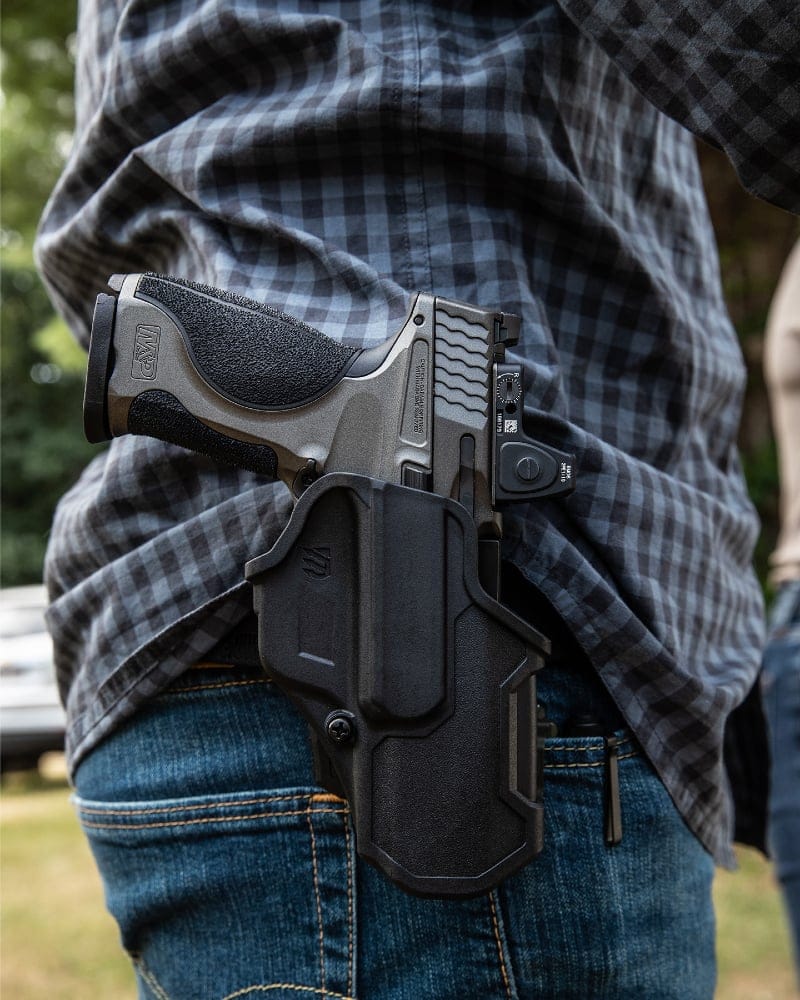 This pistol is offered chambered in 9x19mm Parabellum with a 17 +1 capacity. Its metal construction makes it more durable and the additional weight also helps mitigate felt recoil and muzzle rise. Interchangeable grip inserts make it simple to customize the size of the grip to the hand of the user. Classic Smith and Wesson serrations are located at both the forward and rearward portions of the slide. This is a solidly-built, carefully-designed handgun made for dedicated shooters interested in self-defense, range time, and general use.
Specifications
Model: M&P M2.0 Metal
Caliber: 9mm Luger
Capacity: 17+1
Optics: Yes
Color: Two-tone
Safety: No thumb safety
Length: 7.4 inches
Front Sight: Steel White Dot
Rear Sight: Steel White 2-Dot
Action: Striker Fire
Grip: Interchangeable Palmswell Inserts (4)
Barrel Material: Stainless Steel with Armornite Finish
Slide Material: Stainless Steel
Frame Material: T6 Aluminum
Slide Finish: Tungsten Gray Cerakote
Frame Finish: Tungsten Gray Cerakote
Barrel Twist: 1 in 10 RH
Barrel Length: 4.25 inches (10.8 cm)
Weight: 30.0 ounces
What do you prefer, the classic polymer M&P or the all-metal design? Tell us what you think in the comments.