Streamlight has been in the illumination game for quite some time. They offer a variety of lights, including lights for everyday carry (EDC), tactical lights, weapon-mounted lights, and headlamps. You name it, they've got a light to help you do it. And they're among the most economical lights, balancing out economy and durability. I've used their products for years and they've held up wonderfully in the elements and under hard use. Today we'll be taking a look at the Streamlight ProTac 1L-1AA handheld light.
Power Source Options
This light allows to use a few different power sources. We can pop in a CR123 lithium battery, which will give us the brightest performance and the longest run time. On the high setting, we'll enjoy 350 lumens for a run time of 1.5 hours. The low setting will be 40 lumens for 14 hours. The strobe will work for 3.5 hours.
With a AA alkaline battery, the High setting is 150 lumens for one hour, 20 minutes. Low gets us 40 lumens for 7.5 hours. The strobe will work for 3.5 hours.
If we use a AA lithium battery, we get 150 lumens for 4.25 hours. The Low setting is 40 lumens for 14 hours. So using a lithium AA battery is superior in performance to the alkaline variety.
I really love the flexibility of the different batteries that can be run in this light, as it gives me choices. Most often, I just run AA alkaline batteries that are leftovers from other devices; they're mostly expended in powering other gadgets, but in an LED light such as this, they still have plenty of life left. Granted, the light is not usually performing at its brightest, but for most of my needs, it works well enough.
AA-type batteries are among the most available in our supply chain, so the fact that the light uses easy-to-find batteries is a huge plus in my book. On the other hand, if I want to step up the performance with the CR123 batteries, I can.
Even better, grab a set of SureFire rechargeable CR123 batteries with the charger and you're set for a long time with this light. The charger set with two included rechargeable batteries is not expensive at all. Pop one in the light and have the other as a spare, and you're good for quite a few hours of run time with this light. And when it's time to recharge, you don't have to buy new batteries.
I've been carrying this light daily for over a year now. It's my most common go-to light at the moment. The prevalence of AA batteries plays a huge role in that. However, there are a few other features that really make me love this light as well, and we'll get into those.
Streamlight ProTac Specs
The ProTac 1L-1AA's length is 4.25 inches (10.8 centimeters), so it fits very comfortably into my pocket. It's there when I need it, yet is not obtrusive or in the way. Weight is a whopping 2.8 ounces (79.38 grams), making it incredibly lightweight. Again, this lends to it being a real pleasure to carry.
The housing is made from anodized machined aircraft-grade aluminum, so it's very sturdy. I won't be breaking this light anytime soon; in fact, it's taken everything I can throw at it and laughed it off.
The color is a pleasing Coyote Brown, which gives the light an overall cool look. In fact, the machining that's involved with this light makes its architecture interesting. If you like "tacti-cool" gadgets, you may find this one to be appealing.
Flat areas machined into the bezel/head make this one anti-roll, so if you set it down, it's not likely to get away from you.
The glass lens is impact resistant, and I've not had any issues in that department with this light.
The light is a C4 LED variety and is rated for 50,000 hours of use.
The ProTac Tail Switch
The area around the tail switch is raised, so that the switch is recessed and surrounded by a metal, scalloped area. This is nice because it protects the switch from accidentally being activated.
The switch itself is like most others in the industry, in that it is rubber-coated. For the Momentary On function, just push the switch part of the way in. It will turn the light off when you release pressure. Incidentally, the first push of the switch gets the High setting on the light.
Push the switch all the way in so that it clicks, and we get Constant On (this works for whichever setting the light is on at the time).
A second push of the switch brings us to the Strobe function.
Push it a third time, and we get the Low setting.
It's simple enough and it works very well. If you desire to lock out the light so that it won't go on, just twist the tail cap counterclockwise and it will be locked out.
There are three different programs that the user can program the light for: High / Strobe / Low (factory default, which is what I use), High Only, and Low/High.
The ProTac Clip
The ProTac features an outstanding clip! It can be carried bezel up or down, your choice, because it is reversible. As well, it can be attached to other gear, such as the visor of a hat. Because it is light weight, clipping it onto your cap won't be an imposition, and you'll enjoy hands-free operation.
The clip is plenty durable and will give years of service.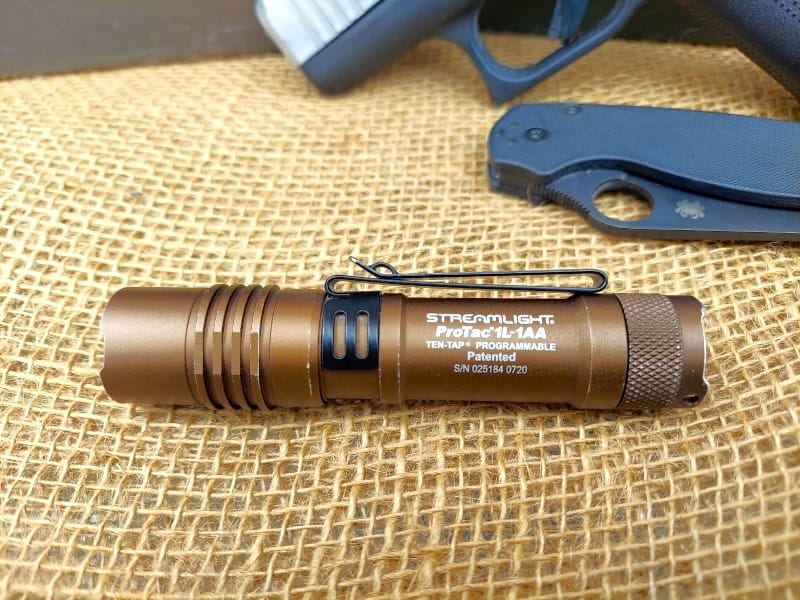 What can you use the Streamlight ProTac 1L-1AA for?
In my estimation, this light falls under a few different categories of possible uses.
Use it as an EDC light!
It can simply be used for Everyday Carry, which is one of my main uses for it. Calling the dogs in from the yard at night is one of the main tasks that I use it for. Searching for a myriad of assorted junk in the house is the next most frequent use. Honestly, I used my light probably a half-dozen times on a low-use day, and often more than that. I can't imagine being without a flashlight.
Tactical / Law Enforcement
Certainly, if we're dealing with or hunting bad guys, this light would be an excellent tool. It's bright enough to blind people. The functions of the tail switch (Constant On, Temporary On) certainly are mandatory for tactical use. The fact that we can program it to the brightest setting as the first selection is also mandatory for dealing with the dark side of the force.
Search & Rescue
The various brightness settings, power source versatility, sturdy construction, and long run times definitely lend themselves well to Search & Rescue (SAR) applications.
Defense
Aside from illuminating and blinding bad guys who might try to harm us, there is another use for the ProTac as part of a defensive carry package. And that is as a striking instrument.
The tail cap and bezel would be useful when held in the fist to strike attackers. It would certainly be better than using one's empty fist, generating far more power. The durability of this light would definitely stand up to the rigors of close combat.
And if you're heading into areas where you're not allowed to have a firearm or knife, a flashlight might be your next best alternative. A striking tool is far better than nothing. I've never been barred entry into a secured venue while carrying my flashlight. While there's a first time for everything, it's not likely to raise any alarms.
In Summation
To sum it all up, this light is good enough that I've been carrying it daily. In fact, with this light, I'd say the light adds up to more than the sum of its parts.
I'm in love with the various power source options. If I'm planning on a very long outing, I can throw a few spare batteries into my pocket or carry bag and have hours upon hours of operation. And AA batteries are about the most available batteries in existence, so if I need to stop by a convenience store or grocery store to grab some, it's no big deal.
The light can blind attackers or bludgeon them (user's choice) effectively. The beam is versatile, in that it has a very bright hot spot that reaches out, and yet has a wide flood for illuminating threats or objects that are in the periphery. Streamlight got the beam just right!
On top of it all, Streamlight is a very responsive company should you ever need to contact them. They offer a limited lifetime warranty on all of their equipment, and they stand behind the products.
As I write this, the Streamlight ProTac 1L-1AA is available from GunMag Warehouse for $41.99. What are you waiting for??? It's a stellar deal for a great price.
Actually, as I type those words, I'm now thinking to myself…I could actually use another one of these lights! You can never have too many, you know!