Black Beard Belts makes an awesome belt that is very versatile. It works as an EDC belt for concealed carry but it can even double as a competition belt. The Warfighter Gun Belt features a ratcheting buckle and ladder strap system allowing for a wide range of adjustment.
The Warfighter belt is a polymer coated nylon material.
Our belts are made from a near indestructible Polymer coated nylon material which ensures no roll over or folding, zero stretch, and impermeable to all weather conditions, unlike natural leather belts. It resists water, sweat, dirt, chemicals, blood, and most other liquids and substances. Cleaning only requires mild soap and water.
As advertised I did not notice any stretch or rolling of the belt. Black Beard Belts uses a light tan colored ladder strap and black ratcheting buckle. I wish the buckle was also some shade of tan. You may be familiar with these ratcheting style buckles and ladder straps. They are the same type used on ski boots and rollerblades.
By lifting this part, you can incrementally cinch the belt tighter.
To loosen the belt you simply lift the flush release latch.
The polymer coated nylon belt is rated for up to 4500 lbs whereas the ladder strap is rated for up to 500 lbs.
At first glance it seems the ladder strap gets in the way of carrying my G19X AIWB.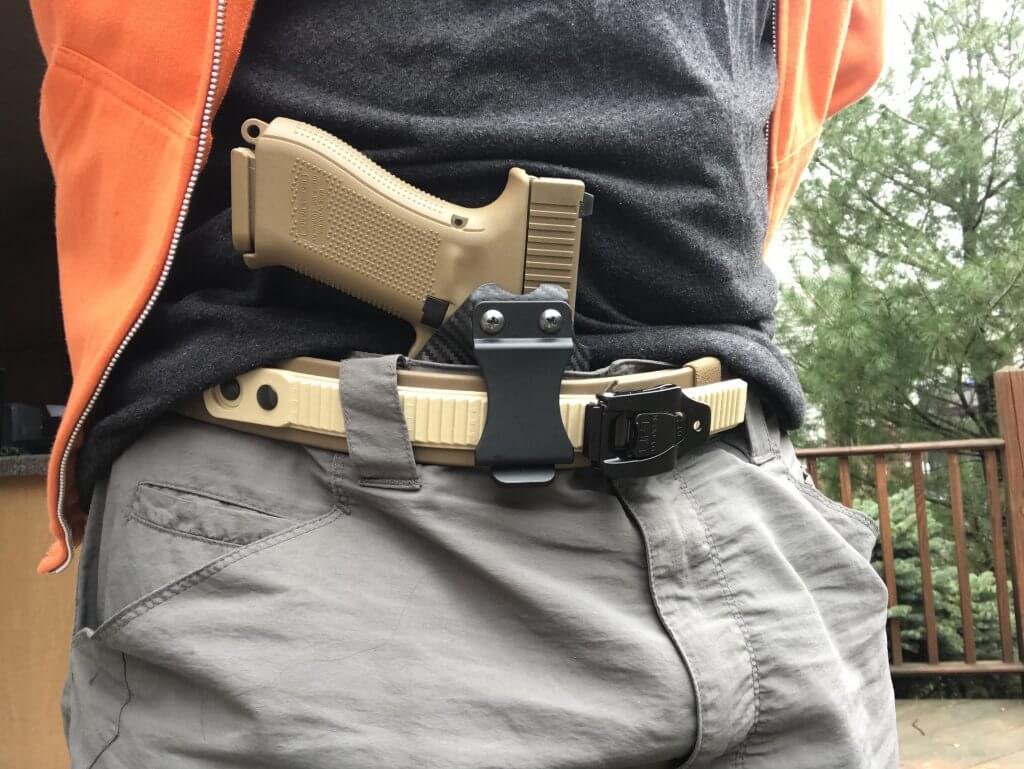 However, if you slide the belt clip in between the ladder strap and belt, then everything is fine.
I was concerned about the thickness of the ratcheting buckle. It is thicker than regular belts but once I wore it every day I do not notice it. You could always rotate the buckle around to your side so it doesn't stick out the front.
Of course you can use OWB holster with the Warfighter Belt.
One small issue with the Warfighter Belt is the thickness the ladder strap adds to the belt. Because of this, I cannot thread the belt through the belt loops of my SureFire Master Fire holster. So I have to unscrew the ladder strap from the belt to feed it through the loops. Then I re-attach the ladder strap to the belt.
Here is the Warefighter belt with my Safariland 014 holster.
I have used other ratcheting gun belts before. I have a Nextbelt ratcheting belt and while it is more discrete, it is still a leather belt.
The Warfighter Gun Belt may have larger than normal hardware found on a belt, but the belt material beats out other belts. It works great for carrying a handgun or even as a a gear belt. One added benefit is that you can manipulate the belt and buckle with one hand.
The Warfighter gun belt retails for $109.99 but is on sale right now for $89.95. They range from 30″ to 44″ waist size.
When purchasing a Warfighter Gun Belt, order your pants size. This will put you about dead center of the belt. If you're between sizes, order the next size up. If you plan on carrying a bunch of stuff, also order one size up.

IF YOU PLAN ON USING THIS AS AN INTERNAL BATTLE BELT/RIG SET UP, GO UP 2 SIZES FROM YOUR PANTS SIZE.
I highly recommend this belt for daily EDC. Plus it can double as a perfect belt for competition.