Spyderco, being a company that never rests on its laurels, is one to constantly adapt and change its designs. Many of their knives have started out as full-sized examples, which they have evolved into smaller implements.
The Native is one such knife that has undergone a number of changes since its introduction in 1997. It began as an affordable working man's knife that, to me, always seemed to add up to more than the sum of its parts. Over the years, the Native went through several model changes, and at the time of this writing, we are at the Native 5 version.
Handle materials have ranged from FRN (Fiberglass Reinforced Nylon), stainless steel, carbon fiber, and G-10. There are probably a few that I'm forgetting or don't know about. On top of that, it's been offered in an array of different steels over the years.
Personally, the Native is one of my very favorite knife designs on the entire planet, from any maker. It's simple and works incredibly well, and just speaks to me.
Fast forward to 2017, and Spyderco is doing what they do best — evolving. They went ahead and shrunk down the Native into what is named the Lil' Native. The end result is a very compact, almost cute, knife that just like its bigger brother, amounts to more than the sum of its parts. This little knife cuts like nobody's business!
Spyderco Lil Native Construction
The blade length on the Lil' Native is 2.5 inches. What's the advantage of having such a short blade? Some localities are restrictive and don't allow blades over a certain length, and that length just happens to usually be 2.5 inches.
So the Lil' Native is a knife that falls within legalities that cuts like a knife much larger than its size. Just like its bigger brother, the Native, the Lil' Native somehow manages to perform like a knife that is larger than it is. The fact that it's a flat grind blade that is somewhat wide for its length seems to contribute to this.
The knife weighs 2.4 ounces and the overall length is 5.94 inches.
The steel of the Lil' Native, S30V, is not the latest super-steel, but at one time, it was the most advanced steel for cutlery. When it hit the industry, it was huge news. These days, people yawn at S30V, but it's as good today as it was when it was introduced. It still holds an edge respectably and performs admirably, offering a very good value for knives. Many people get caught up in the latest, greatest steels and tend to ignore the older steels, which is a shame.
Are there advantages to a shorter knife blade?
Getting back to the small blade length, there are other advantages beyond the legal realm. Sometimes we might like to have a knife that does not alarm those around us. "Sheeple-friendly" is a term that is often bandied about nowadays. So having a good cutting tool without scaring the pants off of those around us might be a nice thing to have in certain circumstances.
My current job calls for me to do a lot of cutting of plastic shrink wrap on pallets of merchandise, and one of the 4-inch bladed tactical knives that I've carried for years is, quite simply, overkill. A smaller, more precise blade fits the bill in this arena for me and just makes more sense.
So how does the Lil' Native cut?
Damn well!
Seriously. It's hard to believe that the blade is as short as it is and still allows the knife to cut so well. It zips through plastic pallet wrap like it's not there, and does a fair job on cardboard too. That full flat grind (FFG) really shines here.
Be aware that the blade is not the thinnest in the Spyderco lineup, so it's probably not their best slicer, but it's really good. Also, the slightly thick blade (and other materials of the knife) make this a fairly stoutly built folder, which appeals to me—a gentleman's folder with a tactical flair. I love solidly built knives, and that aspect of this one is another factor that endears it to me.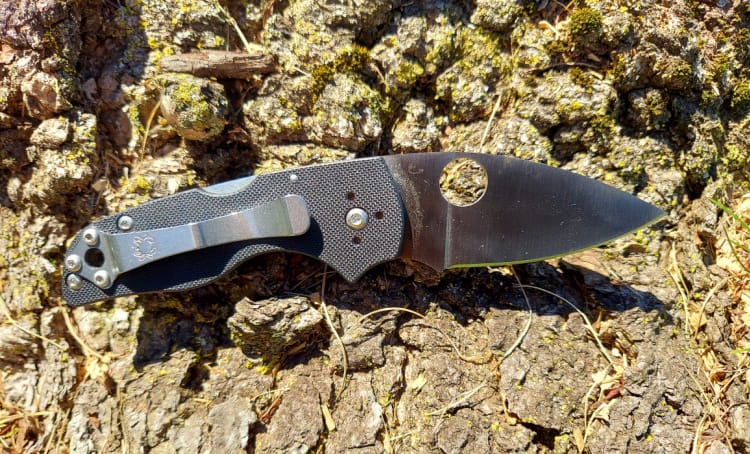 Since I normally carry two knives with me at all times, I also have a larger folder with me in case I want or need more cutting power. Options are always nice to have.
Aside from that, over the years, my tastes have changed a bit. I still love tactical/combat knives, they're simply cool and useful for defensive purposes. These days, though, I'm going through a phase where I'm into smaller knives. I enjoy gentleman's knives with a tactical flair, as I mentioned. Spyderco fills the bill perfectly because their knives perform, and are also made of great materials, ie., G-10 handles, high-quality steels, effective locking mechanisms.
The Lil' Native line offers some nice variety.
There are two blade finishes; one appears to be a type of satin finish, the other is DLC (Diamond-Like Carbon), a black finish. There are plain edges and serrated edges. There are lock backs and Compression Locks. And who knows what sprint runs Spyderco will concoct in the future, so the possibilities are limitless.
My current Spyderco Lil Native is a back lock, just like the full-sized Native, and is one of my favorite knife locks because they are so strong and never seem to fail. Since I'm raving about locks, I have to say that the Compression Lock is my other favorite lock because it is also very strong and I've never seen one fail.
I own knives from several makers, including liner locks and frame locks (including custom knives), and I've had both types of locking mechanisms fail at one time or another. Often, the problem is the lock bar can slip off the tang of the blade. I have never seen a compression lock or back lock fail. This is another reason why I love Spyderco; the fact that their locks never seem to fail, and they offer their knives at a fraction of the price of many other makers.
The Lil' Native is linerless but uses Phosphor Bronze (PB) washers, which tend to smooth out over time. From the factory, my knife is pretty smooth, but becoming smoother over time is an attractive thing. The PB washers are a nice touch because they indicate quality and will last a lifetime.
Pocket Clip
The Lil' Native's pocket clip is excellent, and even on this tiny knife, it can be positioned tip-up or tip-down, on either side of the knife (totaling four positions). It is of what many refer to as the "hourglass" type of clip, as opposed to the wire clip that many of their knives currently wear. I commonly carry my Lil' Native in the change pocket of my jeans, it tucks away and I barely even know it's there.
The Lil' Native Handle
Part of the marvel of this little beauty is the handle. Somehow it allows us to get a full grip on this tiny thing. The choil is the key here, as it allows us to get a serious grip on the knife by choking up for a lot of leverage and precision with cuts. Aside from the choil, the other curves of the grip really add to the ergonomics of the handle and the comfort of using the knife.
The G-10 is grippy and really aids in the grip factor of this knife, and seems to be the best material available for the job. In short, this handle is a true miracle. When closed the handle appears to be so small that I'd never be able to get a four-fingered grip on it. When opened, not only can I get four fingers on the grip, there's actually a little handle left over, so it's more than adequate for my hand size and would be comfortable for people with slightly larger hands than mine.
Are there any drawbacks to this knife?
I'd like to see jimping on the back of the blade where the thumb is placed. While it's not a big deal—the grip really does a nice job of locking the knife into one's hand—jimping would still be a nice thing to have. Certainly not a deal-breaker, by any means, but an observation. Aside from that one detail, I cannot see anything else that I'd wish for with this knife.
Another thing–people who love to incessantly flick their knives open might not enjoy the Lil' Native so much because of the nature of the lock, as the blade does not fly open due to mainspring tension. Personally, I can't see the allure of flicking a knife open constantly because it tends to beat up the stop pin of the knife if that specific model has one. To each his own; it's a free country.
Overall, the Spyderco Lil Native is a spectacular lil' knife that offers a large potential in a very small package. At the time of this writing, I bought one new for $136, which represents a solid value for the money. It offers a user a folding knife that can be legally carried pretty much anywhere that you're allowed to have a knife. And instead of merely "having a knife", you have one that will accomplish serious chores.