On the heels of SHOT Show 2018 Smith & Wesson again showed that they have been listening to what consumers want in a defensive carry gun when they released the M&P Shield .380 EZ.
The new member of the M&P family is on an easy-to-carry carry compact frame. Since the EZ is chambered in .380 ACP the frame is large and shootable in comparison to other .380s. The pistol is topped with an easy-to-rack slide, a bottom hinged grip safety. You can purchase models with or without a thumb safety. It has already proven to be a popular handgun and excitement will continue to grow.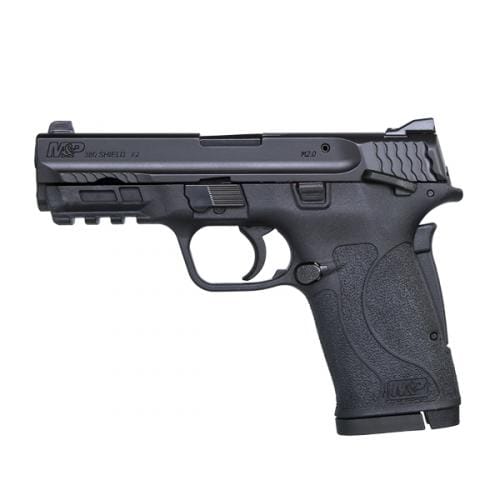 380 Shield EZ Safety Advisory
Unfortunately, the M&P 380 Shield EZ has attracted a bit of unwanted attention with Smith & Wesson issuing a "Consumer Safety Alert" on April 6th.
The issue revolves around the possibility of the manual thumb safety unintentionally engaging when the M&P 380 Shield EZ is fired with certain ammunition.
The M&P EZ is designed as a defensive handgun and this is what makes the inadvertent engagement of a safety problematic. If you are engaged with a threat, need to continue shooting that threat, and the safety unexpectedly engages you have a problem. You will be forced to disengage the safety before continuing to fire.
The safety lever would only take fractions of a second to disengage. The bigger issue is the amount of time it could take the user to recognize the reason that the gun isn't firing and then disengage the thumb safety. The recognition is likely to take the better part of seconds instead of fractions.
The M&P 380 Shield EZ is available both with and without a manual thumb safety. Customers that purchased a model without a thumb safety need not worry. Contact Smith & Wesson through the advisory to determine if your gun's manual safety gun is affected.
If it is, Smith & Wesson has engineered a replacement safety that is "less susceptible to the influence of ammunition weight, velocity and loads," and the upgrade is free.
The issue seems like a minor one compared to some other issues that have cropped up with defensive handguns in recent years and Smith & Wesson's response leans much more heavily toward safety and customer service than the typical industry reaction.
Quality Customer Service
Thus far, Smith & Wesson has handled this situation well by first recognizing the issue, then finding a solution, and finally communicating with their customers. It is this approach that will continue to develop a strong, trusting relationship between Smith and their customers.
If you have a M&P 380 Shield EZ, make sure to take a look at the advisory and take whatever action you need to ensure proper function of your handgun.