My EDC CCW is a Sig Sauer P938. I have modified it a bit so I pay attention to any interesting developments with the pistol. Step in Eric Galloway of Galloway Precision. He machined a Sig P938 slide and made a mounting plate for a Shield Sights JPoint MRDS. With a tall front sight, we have a slide-mounted red dot with cowitnessing irons on a Sig P938!
The Shield Sights JPoint is the smallest red dot that I know of. When mounted onto a Glock MOS, the factory Glock sights will co-witness with the JPoint. No other mini red dot sight (MRDS) can claim that. So I see why Eric went with this optic over other red dots. The optic plate and custom milling also works on the smaller Sig P238 pistol.
My only complaint is the front sight does not have the tritium insert like the factory irons. I am not a fan of black blade sights. I prefer some contrast. Even a fiber optic rod would be better than this. But that is merely my personal preference. I'm really using the JPoint 99% of the time and the irons are just there as a backup.
Right now Galloway Precision has a 10 percent sale on the custom milling and optic mounting plate.
"Our in house work package includes optic mount plate, milling of the slide, front sight and installation of all for $225 which includes return shipping and insurance. Email [email protected] for any questions and shipping instructions."
Eric also works on M&P Shields.
The Shield is a simple custom milling job. No mounting plate needed like for the P938. As you can see below, the slide still has the factory iron sights.
And yes, the factory iron sights still co-witness the JPoint.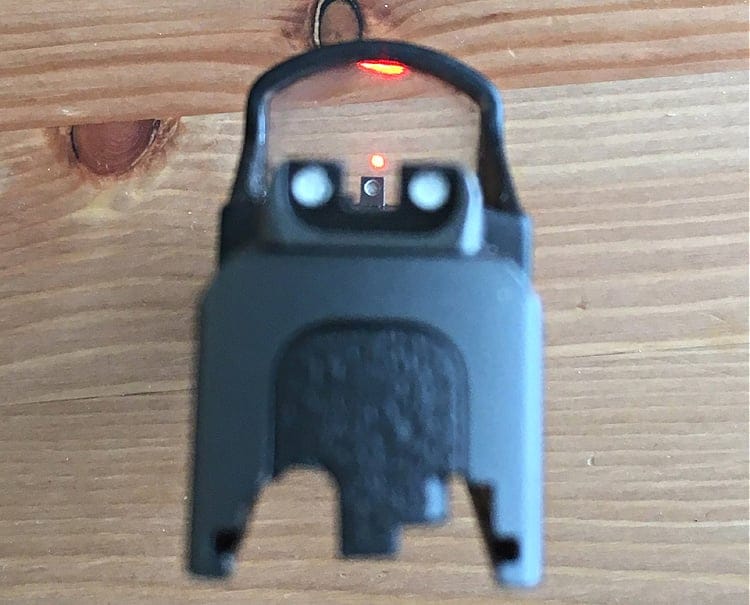 Here is the M&P Shield compared to my M&P9 CORE. Both have the JPoint red dot.
It is only when you look at them from the top, you can really see how much smaller the Shield is compared to the full-size CORE.
While the M&P Shield customization is not listed on Galloway Precision's website, you can contact them about this custom mill work.
For all your M&P Shield magazine needs check out our website, they are currently on sale.