Skinner Sights offers tough, no-nonsense sights made of quality materials right here in the U.S.A. The small business is headquartered in St. Ignatius, Montana, some of the most beautiful mountain country you've ever laid eyes on.
Andy and Sheila Larsson, owners of Skinner Sights are two of the nicest people you could ever meet. They are both honest, down-to-earth good folks. Andy, a lifelong shooter, hunter, and accomplished machinist was asked by Mr. Skinner to help make a few sights years ago. He obliged and delivered the goods for inspection. The gentleman carefully examined Andy's metal work, declared that Andy's sights looked good, and suggested Andy buy his company. And that's how the Larsson's entered the world of custom rifle sights.
Aperture Rifle Sights
Skinner Sights offers tough aperture sights that are machined from solid steel, stainless steel, or brass bar stock for just about any rifle resting in your safe. Lever actions, bolt guns, single shots, they have a long list available on their informative website located at SkinnerSights.com.
The aperture sight, or peep sight, is one of the most useful sighting systems one can install on a rifle, particularly a rifle or carbine used for close, rapid shots. This is the sight I prefer on my lever actions, it is fast and accurate. For those not accustomed to the aperture sight, it is simply a hole you look through while focusing on the rifle's front sight. The human eye automatically centers the front sight in the hole. Your focus on the front sight will show crisp and clear while it (typically a post or bead) is held on the preferred spot of impact on the target.
I've used the aperture sight on lever guns for hunting, for training at Gunsite Academy, for shooting paper in the square range, steel in real-world shooting scenarios, and on hostile targets in the shoot house. It's fast and it works.
More Sights!
The rugged aperture sights are not the only options available at Skinner's. Almost everyone I know has seen the classic movie "Lonesome Dove." You'll recall the scene where Gus is chased by a group of outlaws, all started by a nearby bullet impact that set his horse into full-on bronc mode. After the short rodeo Gus remounts and spurs his horse in an effort to outrun the killers. He ends up having to kill his mount to afford himself cover from a hail of bullets. The outlaws hold up at a great distance and taunt the old ranger who skillfully flips up the ladder sight on his rifle, and skillfully rainbows a bullet into one of the miscreants.
Want a ladder sight similar to Gus's so you can amaze your buddies on distant targets at the range? Skinner Sights manufactures them out of solid steel bar stock.
Front sights are also available made of steel and brass at a variety of heights to accommodate sighting requirements. Or perhaps you want to scope your rifle and have good sights installed for backup purposes. Or maybe you want detachable rings so the scope can be easily removed when open sights are required. No problem, Skinner's also offers scope mounts and even scopes for their customers.
Skinner Sights Gear and More!
I've had the pleasure of spending some time around the Larsson's the past year or so. Andy is always looking for ideas on improving equipment and gear. Lever action shooters in particular will notice that it can be a challenge to find a good soft case for your carbine. For me, it seems they are always too long for some of my lever actions. Skinner Sights has a sewing shop and offers a variety of gun cases and gear to fill the voids in the daily lives of hunters and shooters. Their gun cases are well-thought-out, functional, and affordable.
The soft case with a strap for shoulder carry is another great product. This is an efficient way of packing that pristine lever action in the field without scratching it up. I hunt big, open country, and that entails a lot of walking and glassing. Once my buck is located, a stalk is planned. Carrying a rifle or carbine in this fashion frees up your hands and protects the gun as it is set on the ground for long periods of glassing hillsides and canyons.
Their cartridge pockets are one of those things you see and say, "Now, why didn't I think of that?" The small pouch, made of lightly padded Cordura holds four rounds and easily fits in a pocket for carrying extra ammunition. This $12 innovation eliminates clanking cartridges riding loosely in our shirts, jackets, or pants pockets. We used these on a recent African safari and the professional hunters were impressed with the simple, yet functional concept. They also offer an equally efficiently designed ammo pouch of the same material.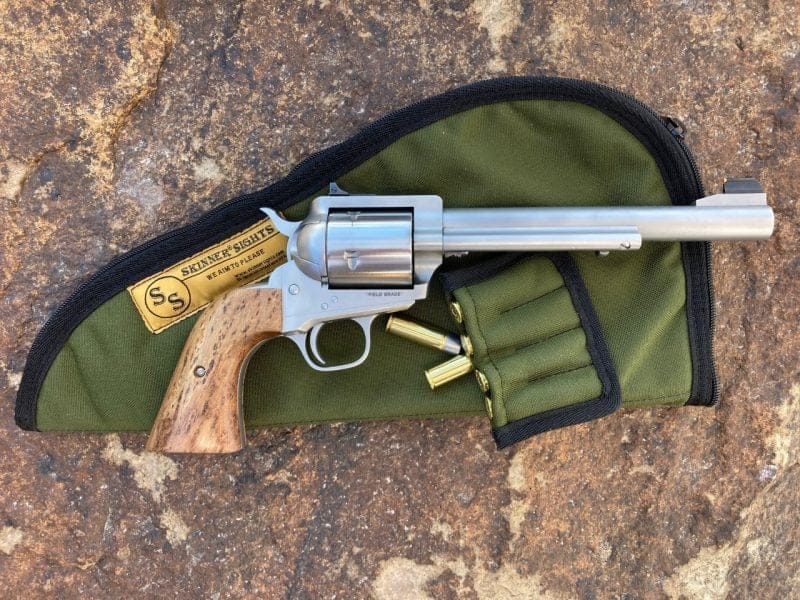 One more item on the topic of good ideas brought to fruition is the Tactical Garment Bag. I just returned from a shooting event where I packed my rifle case to and from the hotel room each day. Now in some places, this will not draw a second glance from a passing resident. In others, it might cause a great deal of commotion. The Tactical Garment Bag allows for carrying such items as your rifle, handguns, and magazines under the guise of a garment bag carrying pressed travel clothes.
As you might expect, Andy Larsson is quite knowledgeable on all things "gunny." He has some excellent videos about lever actions on their YouTube channel, @skinnersights302.
Skinner Sights offers quality sights and gear made right here in the United States by good people, and as Andy likes to say, they're "saving the world, one gun sight at a time."