As always, Sig Sauer is doing big things. This time around, they've achieved two historical milestones, in delivery and with the United States Military.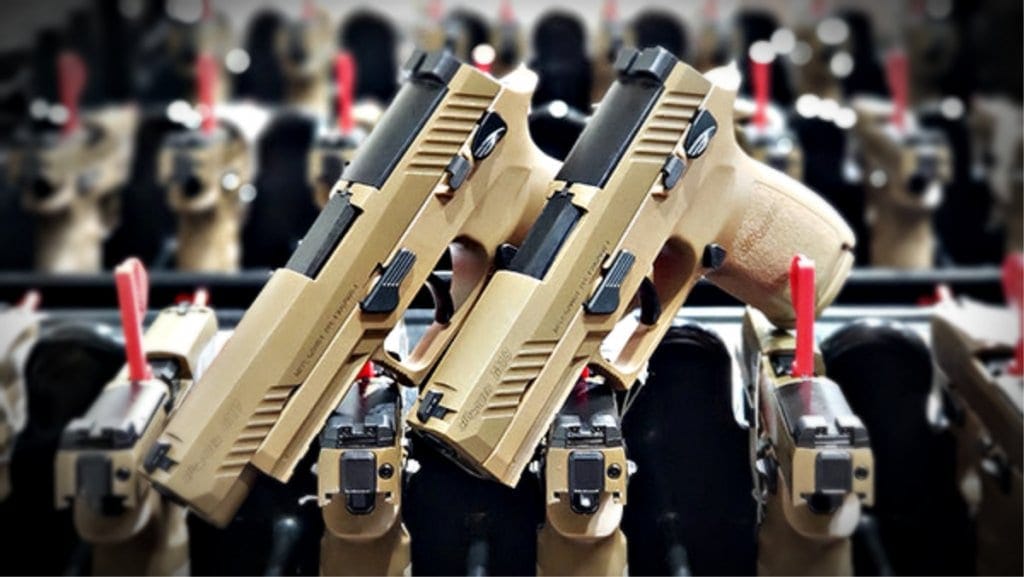 Sig Delivers 200,000th MHS with Simultaneous Delivery
First, Sig Sauer has delivered their 200,000th modular handgun system (MHS). And now they've just hit their first month delivering to all U.S. Military branches simultaneously.
"These milestones are a testament to SIG's ability to adapt and succeed amidst the extraordinary circumstances we have faced throughout this pandemic. Our supply chain was challenged, and the strength of our manufacturing systems has proven that we will, without hesitation, continue to outpace the stringent demands of the delivery schedule of the MHS program."

-Ron Cohen, President & CEO, SIG SAUER, Inc.
Modular Handgun System
What falls into the MHS category? The M17 Full-Size and M18 Compact 9mm, both striker-fired pistols. Each weapon system comes with a P320-platform, features a coyote-tan PVD coated stainless steel slide, and black controls.
"Throughout this period, our factory operations and our employees have been faced with unimaginable adversity. Despite the unpredictability, we continue to consistently deliver M17 and M18 pistols that surpass the requirements for accuracy, and exceed expectations for both quality and reliability, to ensure our nation's soldiers are prepared for the rigors of the battlefield."

-Cohen
P320-M17, M18 Magazines, Sights, and Safety
Even better, both modular systems use a 17 or 21-round magazine, have SIGLIGHT front night sights, and the rear night sight plates are removable. Also included is a manual safety, like other military-used handguns previously used.
For more information and to check out Sig Sauer's MHS, click this link: Modular Handgun Systems