With the cold air blowing and the holiday hangovers ebbing, it must be that second-most magical time of the year. Yes, that is right, January means the return of the ever-present itch to go to Vegas. No, it's not for THAT; it's for SHOT Show 2022! With last year's SHOT Show as a virtual Show, plenty of folks are jonesing to get back in person and get their hands and eyes on the new products.
As you scroll down you'll find the newest gear that came out leading up to and coming out of SHOT Show 2022. But take note: this article will change pretty often with updates from companies around the industry so make sure you check back often for the latest knives, optics, holsters, ammunition, and accessories. Right below here you will find some quick links to get to the category you really want to see.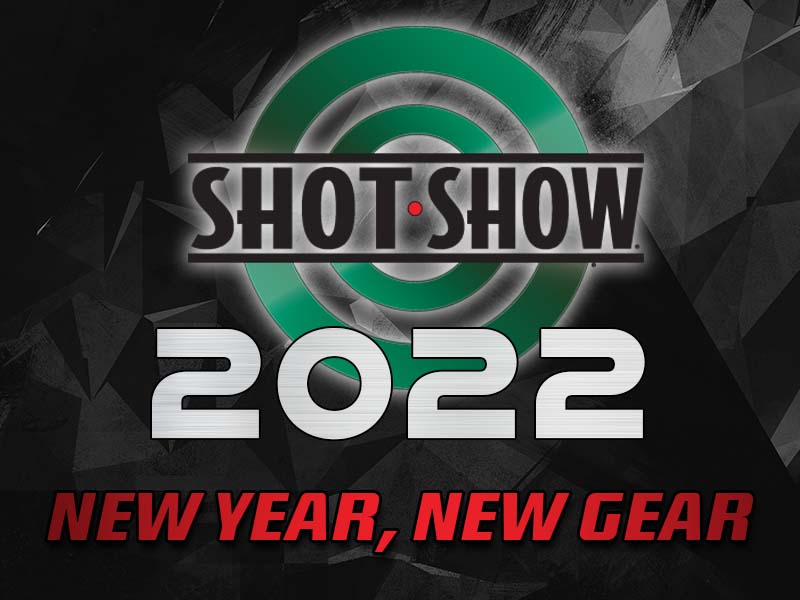 As folks start converging onto Las Vegas once again for SHOT Show 2022, there will be some that can't make it, or can't make it around to find all the newest and coolest products for this year. Fear not, we're here to help you out. You get to hear and see the new and exciting gear coming out of the Show, all while not catching the SHOT Show plague, or something worse, by attending in person.

Even though this year's SHOT Show still could be a little different since some larger companies have recently announced they won't be there, surely there will still be enough new things and news coming out to make it work. NSSF, who puts on the SHOT Show, has been working hard to make sure that this in-person event will be just as good as Shows in the past, with a few modifications.

SHOT Show 2022 is sure to be different, no matter what. The Show floor space has expanded from what was just held in the Venetian Expo space to include space at the Caesar's Palace with a shortcut between. NSSF is saying that this is the largest SHOT Show they have had with over 2,400 exhibitors and 800,000 net feet of Show space, there will be lots to try to keep up with.
Optics/Lasers
Here are some of the new optics and lasers coming out at SHOT Show 2022.
Brownells MPO 1-6x Rifle Scope
ATN ThOR 4 384 1.25-5X
Burris XTR Pro Riflescope
Brownell's MPO 1-6x Donut
Aimpoint Duty RDS Red Dot Sight
BROWE Micro Reflex (BMR)
BE Meyers & Co. KIJI

Ameriglo Haven Red Dot Sight
Steiner Optics Micro Pistol Sight Red Dot
SIGHTRON S6 1-6×24 30mm & 34mm Riflescopes
Meopta MeoSport R 3-15×50 RD
Lucid Optics L7 Riflescope
Riton Optics 1 Primal 4-12×50
Riton Optics 3 Primal 3-12×56
Riton Optics 3 Primal 4-16×44
March Scopes 1.5-15×42 in MIL Scope
March Scopes 1-10×24 Shorty FFP Dual Reticle
iAiming Smart Thermal Scope
Ultradot 4
Barska Optics 10-30x50mm Precision Monocular
Hawke Optics Sidewinder FFP Riflescopes
Hawke Optics Airmax 30 WA SF Riflescopes
March Scopes 5-42x56FFP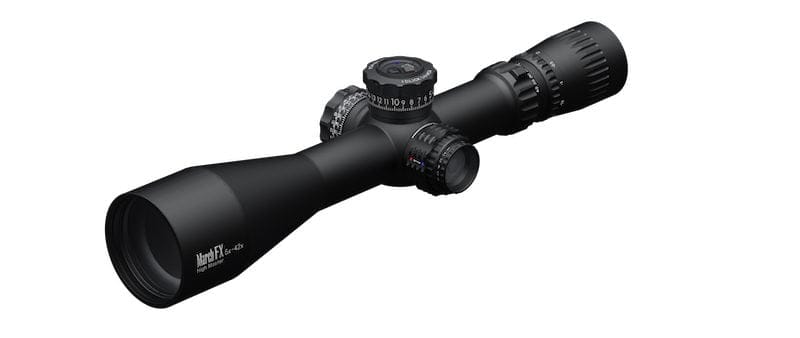 Holsters
SHOT Show 2022 has an offering of new holsters as well.
Galco UnderWraps Elite
Galco High Ready Chest Holster
Galco Concealable 2.0 Belt Holster
Galco P365/P365XL Shoulder Holster
Sig Sauer P365 Pocket Holster
Sig Sauer P365 IWB Mag & Pistol Combo Holster
Galco Hornet Belt Holster
DeSantis Uni-Tuk IWB Holster
CrossBreed Holsters Rogue Holster System
Comp-Tac CT3 Level III Duty Holster
Comp-Tac Sport-Tac Holster
Galco IWB Holsters for S&W SCX Pistol
Comp-Tac Dual Carry Holster (DCH)
Dillon Rifle Company Jalapeno
DeSantis Rifle Scabbard
Ammunition
Here are some of the offerings of new ammunition out of SHOT Show 2022.
Winchester USA Ready Defense
Winchester AA Diamond Grade 20 Gauge
Winchester Defender 12 Gauge
Winchester Silvertip 22 Win Mag
Browning Pro22
Browning 6.8 Western
Browning Wicked Blend
Browning TSS Tungsten Turkey
Browning X-Point Defense
True Velocity 6.8TVC Cartridge
Berger 30 Caliber 245 Grain LRHT Bullet
Remington Ammunition
Remington Ammunition's new products feature advancements in manufacturing and technology that meet the needs of every hunter and shooter. Products being released include:
Rifle
• Core-Lokt Tipped
• Core-Lokt: 350 Legend, 450 Bushmaster
• UMC Rifle: 450 Bushmaster, 300 Blackout, 224 Valkyrie
• Premier Match: 224 Valkyrie, 6mm Creedmoor, 6.5 PRC, 6.5 Creedmoor, 6.5 Grendel, 260 Remington
• Premier AccuTip-V: 224 Valkyrie
Rimfire
• Remington Magnum Rimfire: 17 HMR
Shotshell
• Peters Paper
• Premier TSS
• Premier STS Low Recoil
• Gun Club Low Recoil
• Premier Magnum Turkey High Velocity: 20 Gauge
• Premier Nitro Sporting Clays: 20 Gauge, 28 Gauge
Handgun
• Golder Saber Defense
• Remington Range Clean
• High Terminal Performance (HTP): 30 Super Carry
• UMC Handgun: 30 Super Carry, 327 Federal Magnum
• High Terminal Performance (HTP) 20 Packs: 41 Remington Mag, 44 Remington Mag, 45 Colt
Federal High Over All
Federal 30 Super Carry
Federal Personal Defense Punch
APEX Ammunition TSS Shotshells
HEVI-Shot HEVI-Hammer Bismuth-Steel Dove Loads
GAMO Air pellets
Accessories
The newest, belts, MOLLE, carriers, and so much more from SHOT Show 2022.
Garmin Fenix watch with flashlight feature
Silent Pocket Faraday Phone Sleeve
Features:
Patented Silent Pocket Faraday Cage with Multishield® Faraday Shielding
Blocks 100 dB+ Blocks Cellular, WiFi, Bluetooth, GPS, RFID, NFC, EMP, and EMF Radiation.
Shielding is MIL‐STD‐188‐125‐2 compliant, based on High-Altitude Electromagnetic Pulse Protection Testing
Weatherproof nylon or top grain leather
Blocks CDMA, GSM, DCS, PHS, 3G, 4G, LTE, 5G
Blocks WiFi (2.4 – 5 GHz), Bluetooth (2.4 GHz), and GPS (1-2 GHz)
Blocks RFID and NFC in 13.56 MHz
Blocks Carrier, hardware, and OS agnostics
Silent Pocket Faraday Backpack
Unity Tactical FAST OMNI Magnifier Mount
Premier Body Armor Elite Executive Vest
Features of the Elite Executive Vest:
Designed and Made in the USA of domestically sourced materials.
NIJ Certified Level II

Plus Special Treat tested against

Winchester 9mm 127gr +p+
9mm Speer 147gr JHP
357 SIG Speer GDHP
40 S&W 165gr Speer GDHP
45 Auto 230gr Remington BJHP

Thickness: 0.16in
Aerial Density: 0.65 psf
Wicking aerospace mesh outer cover with an antimicrobial finish and flexible spandex side panels
Additional 5″x8″ trauma pad included on the front for added blunt force trauma protection of the wearer's vitals
YKK Zippers on both sides
The outer carrier is Machine Washable
Ridgeline Defense HOGleash
Multitasker NANO2 tool
AR-TT Takedown Tool
Magpul DAKA Single Pistol Case
Badger Ordnance C1 Max Mount lineup
Magpul Tejas Gun Belts
Vortex Optics MICRO6X Red Dot Magnifier
Magpul DAKA Utility Organizer
XS Sights Armorers Block
Crimson Trace Laserguard for Ruger Max-9
Raven Concealment MATBLOCK IR Signature Reducing "Government Kit"
Magpul DAKA Lite Pouches
Haley Strategic Thorax Plate Carrier
High Speed Gear Core Cummerbund
Agilite AG Pouches
Samson Manufacturing Rapid Precision Scope Mount
High Speed Gear CORE Plate Carrier
Wilde Custom Gear's CZ Scorpion SIG MPX 30 Round Placard
High Speed Gear APEX Sling
High Speed Gear Navigator Tech Pouch HL
SURVIVOR FILTER All Terrain Filtration Bottle
Elite Survival Systems Avenger GunPack
Otte Gear LVZ OVT Plate Carrier
Tac Shield RZR Molle
Tac Shield Tactical Gun Belt
Cleaning Products
SHOT Show 2022 has some new cleaning products.
Otis Elite Pistol cleaning kit
Liberty-Tuff CCK Compact Cleaning Kits
Ear/Eye Protection
Below you will find the newest ear and eye protection coming out of SHOT Show 2022.
Otis Technology EarShield Ranger Earmuffs
Revision LazrBloc Protective Eyewear
Revision Military CALI-C Glasses
Macks' LIVE FIRE BTX Electronic Shooting Earmuffs with Bluetooth
Mack's Live Fire Stealth Electronic Shooting Earmuffs
Flashlights
Shining some light on the new stand-alone flashlights and gear lights out of SHOT Show 2022.
Streamlight Sidewinder Stalk Light
Streamlight BearTrap Multi-Function Light
MagLite ML150LRS
Knives
SHOT Show 2022 has some new knives to help you quench your blade love.
Buck Knives 110 Slim Pro TRX
Buck Knives 110 Hunter Sport
Buck Knives 112 Ranger, 50th Anniversary Edition
Remington Knives
GiantMouse ACE Sonoma V2 Blackout
Templar Knives CALI Legal Micro knife
Spartan-Ronin Shoto
Terrain 365 Invictus-ATB
Halfbreed Blades MIK-02 Fixed Blade
CRKT Clever Girl Kukri Fixed Blade
CRKT M16-03DB
Spartan Blades Harsey Folder 3.25
RMJ 3V Syndicate Sparrow
Suppressors
The newest suppressors on the market, fresh off the SHOT Show 2022 floor.
Nosler Suppressors
Silencer Central Banish 46 and 338 Suppressor
Elite Iron ASSET Suppressor
Radical Firearms Sinter Titanium Suppressor
B&T USA RBS SMG Suppressors
Sylvan Arms Warthog 30 Cal. Titanium Suppressor