While at SHOT Show 2020 I had the opportunity to meet with the folks from Revision Military Eyewear. I was glad to take a look at their line up of products as I am always looking for quality PPE to use on the range. To me, the most interesting offering they have is the two-lens Shadowstrike Ballistic Sunglasses. I'm working to simplify things in my life. I have a steep set of requirements for what passes the grade and what ends up in the giveaway pile. When it comes to the glasses that serve as my personal protection equipment, the requirements are even more difficult to achieve.
The Shadowstrike glasses piqued my interest.
My Revision
-ist
History
I was fired up to take a look at the Shadowstrike Ballistic Sunglasses for a couple of reasons. First off, Revision isn't a new company to me. Of course, I was happy that I received these ballistic glasses gratis. In the past, I have shelled out my own coin for Revision specs. I purchased a set of Hellfly ballistic glasses with clear lenses in early 2019 and they have been my go-to glasses on the range when the sun isn't out. They are solid performers. The only real drawback is that they are a clear lens and that means I need to have two pairs of glasses in my shooting bag.
At the same time, my typical sunglasses for the range (another brand) have taken a beating and are seriously scratched to the point of distraction. So, this made the Shadowstrike even more interesting as I need eye pro for sunny days. Well, I live in Northeast Ohio and it's winter so sunny days are kind of a theoretical thing. You know, it's possible.
My past experience with Revision and my need for simplification and some shades make the Shadowstrike a great solution for my situation.
The Shadowstrike Ballistic Sunglasses Details
The Shadowstrike is an interchangeable-lens protective eyewear system. There are plenty of interchangeable-lens glasses out there, but the Shadowstrike is a bit different. Most glasses depend on bending and twisting the frame to pop the lenses out and put a fresh set in. For the Shadowstrike, though, Revision opted to open and close the frame with the nose piece, instead. The nose piece simply lifts up and unlocks the frame to provide access for switching lenses. There is still a touch of bending that needs to happen, but it is simple to swap lenses.
This means that the lens is completely surrounded by the durable frame which, in my opinion, adds protection from impact.
Several kits are available so you can tailor your purchase to your needs. Frames are available in black, gray and of course, FDE. All kits include:
Clear lenses

Gray tinted lenses

Retention strap

Hard case

Microfiber sack

Microfiber cloth

Anti Fog cloth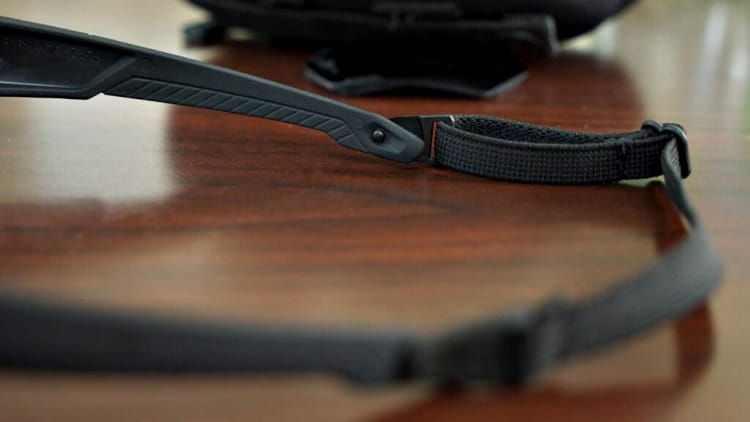 The frames are low profile and work with all the various headgear they may encounter, from ears to lids to coms.
Shadowstrike Kits
Some kits have additional options. The Deluxe has an additional yellow lens set. The Shooters Kit has an extra vermillion tinted lens pair. There are also kits available with polarized or photochromic lenses as well as a kit with APEL (DoD Approved Eye Protection List) lenses.
MSRP for the basic kits starts (as of this writing) at $114.99. The polarized and photochromic kits range up to $149.99. The Deluxe and Shooter packages fall in the middle at $139.99.
Additional lenses are available for $24.99. This makes it an inexpensive proposition to add more lens options to your kit or to replace scratched lenses.
About Scratches
At the Revision booth, I was pleased to receive a bit of education about this topic. It was one of the more interesting aspects of our conversation.
The most important job our range eyewear has is to protect our eyeballs from injury. This is why glasses need to meet impact standards. The lenses need to stop fragments from hitting our sensitive eyes. To do this lenses need to be soft enough that they don't shatter when hit with fast-moving particles. But this creates an issue. The softer the lens the easier it is to scratch it.
Finding a Balance
Making the lenses harder reduces scratches but at the same time reduces the ability to protect the eye. Remember my old scratched up range sunglasses? This is why. It makes sense, but it pisses me off.
Revision has an advantage here. It the only eye pro manufacturer that actually makes its own lenses. The company has the ability to custom-tailor lens hardness for maintained protective qualities and increased scratch resistance at the same time.
My Hellfly clear lenses have been in service for close to a year and they are optically outstanding with no noticeable scratches. Now I know why.
I'm expecting a similar performance from the Shadowstrike.
Anti Fog
I mentioned above that the Shadowstrike glasses come with an anti-fog cloth. So far I haven't needed it. The lenses have an "Occumax" coating from the factory that is anti-fog. This coating is long-lasting anti-fog protection that also helps to protect the lenses from scratching. I'm not the easiest guy on gear and so far 100% of my Shadowstrike use has been during cold snowy weather while wearing a hat.
I shot for a couple of hours just yesterday in the cold while testing my Defense Mechanisms Rifle Sling and I was pleased.
This kind of use tends to fog glasses easily as all my hot breath tends to get trapped under the glasses by my hat. So far no issues, which makes me happy.
My Only Complaint
I guess if I were to levy a complaint about Revision's Shadowstrike it would be that I look a bit goofy. The frames are thick and dark and they really stand out. Yeah, cause it's Revision Military's fault that I look like this…
To be continued…
I've made a commitment to spend three days a week on the range this year regardless of conditions. This means a lot of time wearing PPE in less-than-stellar conditions. The result will be a lot of testing of the limits of my gear. The Shadowstrike ballistic sunglasses will be no exception. I'll keep you posted as I continue to wear my Shadowstrike. Now if we could just get some sun so I can test the tinted lenses.