SGM Tactical Steel AR15 Magazine Review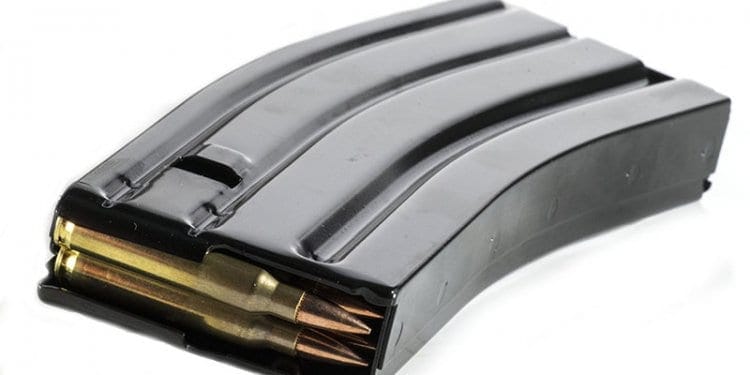 Steel, in my AR mag well? More likely than you'd think.
I'm a sucker for steel magazines – as a long-time Kalashnikov owner, I can't help but admire the overbuilt, nostalgic nature of steel mags. Sure, they're not as high-speed, low-drag as polymer mags, but their increased durability and added heft just ooze quality.
Sadly, most magazine manufacturers today don't make any magazines for the AR15 in anything other than polymer. Some companies like Okay Industries manufacturers aluminum magazines, but these feel flimsy compared to their magnetic counterparts.
Strangely, SGM Tactical, a company known for its solid quality, yet ultra-affordable polymer Glock and Saiga magazines, has answered my prayers and is now producing high-quality steel magazines for the AR15.
I know what you're thinking: "That's neat, but I'm sure they're expensive and I have plenty of polymer mags, what do I need with these heavy steel things?"
Well, now that the presidential election has concluded in the favor of gun-owners, shooters don't need to stock up on the cheapest or most plentiful mags. They can now afford a bit of luxury with these heavy-duty mags.
Oh, and about that expensive part – retail on these mags is lower than the price on a Magpul Dynamics PMAG. Manufactured in Korea, these magazines are built from SK5 Steel, and are fully STANAG-compliant.
I personal tested the new magazines in several guns to ensure that it's in spec. The magazines locked up and ran flawlessly in SIG piston AR15s, Israeli X95 Tavors Armalite AR-180s, even Zastava NPAP 5.56 AK's with STANAG mag-wells. Ostensibly, these magazines seem like aluminum 30-rounders until a shooter gets a closer look, and handles them.
The first noticeable difference between them and their aluminum brethren, is the outer finish. Unlike most aluminum AR15 magazines that feature a semi-matte gray finish, these are draped in a high-gloss obsidian-black coating.
It almost looks like an ultra-black blued finish, but it's actually a proprietary electrodeposition coating designed to resist corrosion and abrasion. Basically, a scuff-resistant, glossy black, rust-proof finish. Remember, original aluminum mags can't rust per se, they can only oxidize. So, instead of eating through the entire material, aluminum just develops a matte gray dulling that actually protects the aluminum underneath.
Steel is obviously different, so a new finish had to be utilized. While it does seem a little flashy for a magazine finish, but as a pragmatist, if it holds up well, I don't care what color it is.
Overall, with an MSRP of only $12.95, these magazines are sure to be a hit. They offer fans of heavy duty or simply more traditionally-styled magazines a competitively-priced alternative to polymer mags.  As someone whose spent triple that on HK-brand steel magazines, this new SGM product is a welcomed addition to the world of STANAG magazines. Look for them at SHOT Show 2017, where they'll be formally announced.
Jim is a freelance writer for dozens of firearm publications, the host of the YouTube channel Burst Review and the youngest author to write a cover story for Shotgun News in its 86-years of operation. Jim loves anything that goes, 'boom' but particularly enjoys military firearms from the Cold War and WW2. When he's not slinging lead downrange he can be round hiking in the mountains with his wife Kim and their vicious attack dog, Peanut.